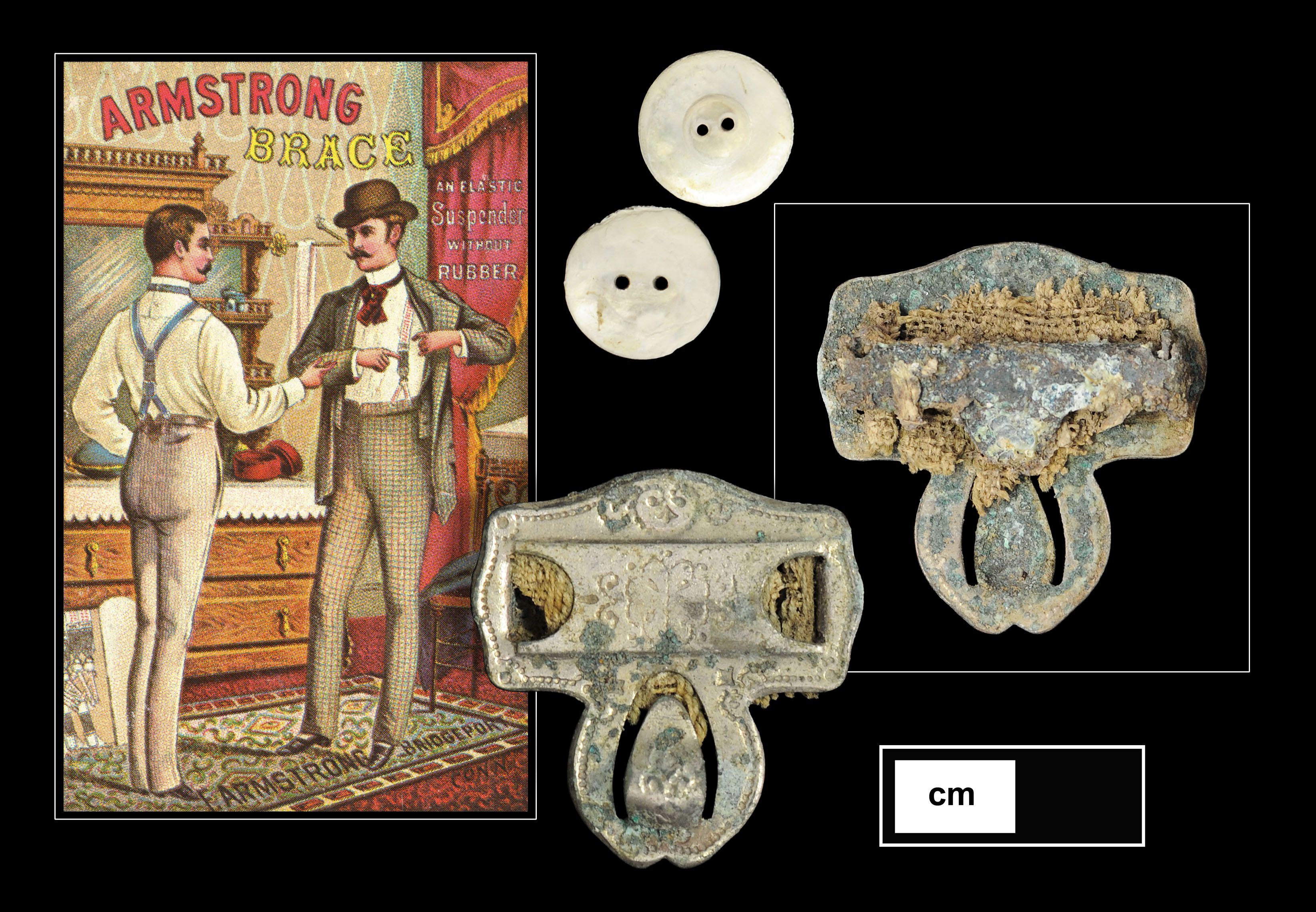 Clothing Fasteners
Three artifacts recovered from this feature were used as fasteners to secure various pieces of clothing.
Suspender Clasp
Suspenders were an essential means of keeping garments in place, along with providing fashionable accessories. Men, women, and children wore suspenders to secure both outer and undergarments. A single suspender clasp stamped from copper alloy sheet metal, plated with a white metal, was recovered from this shaft feature (Cat # 8.47.12). The clasp features a detailed, stamped decoration consisting of beaded bands with a small floral and scroll motif. A wide, flat hook projects from one long edge and would have connected to a large metal ring to secure the ends of the suspender. This mechanism would allow the suspenders to be unhooked at the ring, while the straps and ends remained secured to the pants.
A fragment of loosely woven webbing remains adhered to the back surface of this clasp and likely represents a portion of the original suspender fabric. The clasp portion measures approximately 1 inch in width, making the width of the suspender less than 1 inch. In the early twentieth century, men's suspenders typically measured 1.2 to 2 inches wide, suggesting that this clasp may have originated from a pair of suspenders for a child or adolescent. 1
Shell Buttons
Two heavily weathered shell buttons, each measuring about 0.52 inch in diameter, differ slightly on closer inspection (Cat # 8.51.17). While both feature two holes, referred to as a "sew through" type attachment, one has a round, raised panel around the holes, while the other has a slight groove cut across the surface encompassing the two sew holes.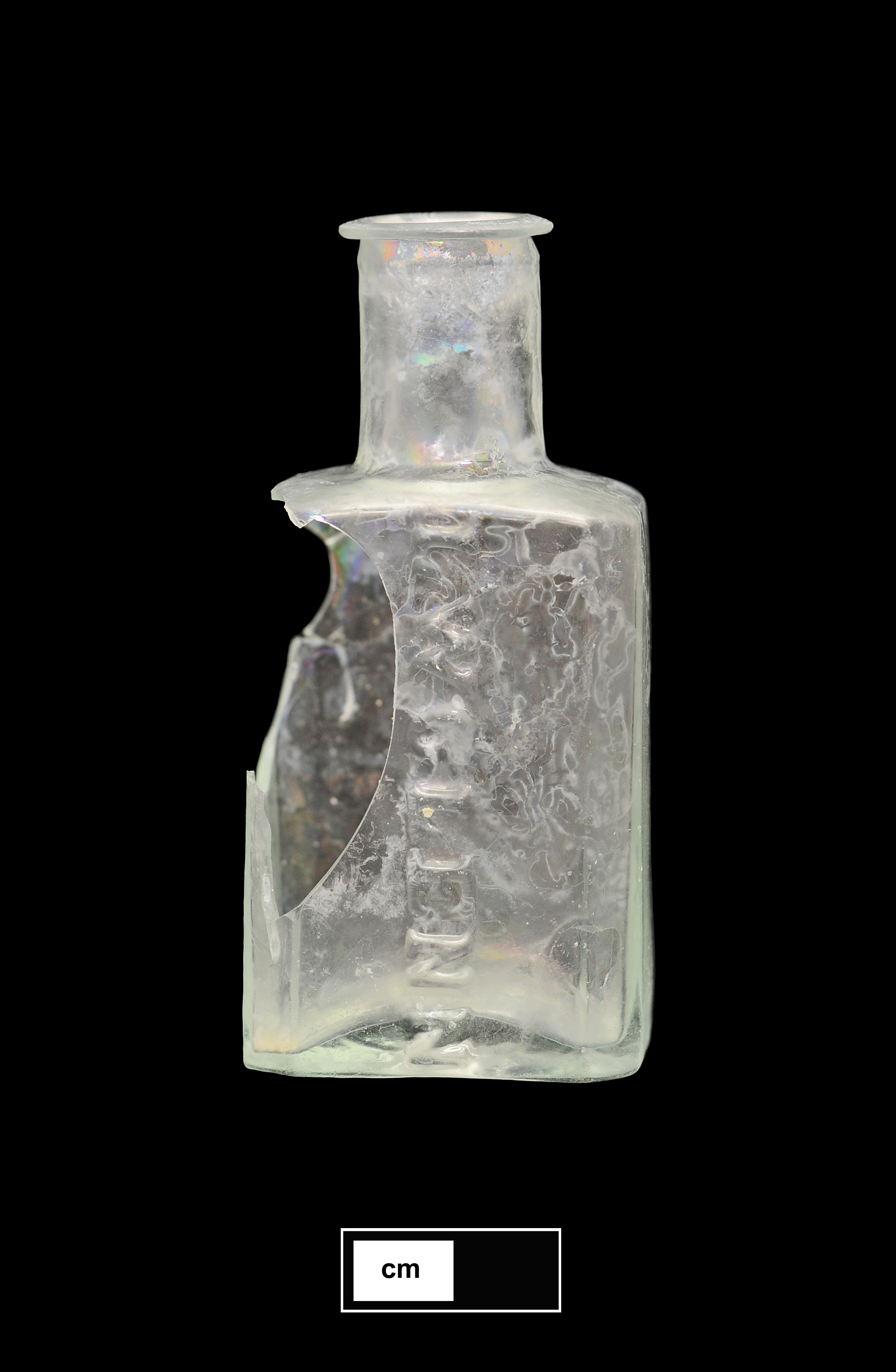 "L. W. GLENN" Bottle
Feature 5 also produced a small aqua bottle (G-0965) embossed "L. W. GLENN" on its front. Rectangular with chamfered corners, this bottle features a thinly flared finish, a blow-pipe pontil scar on its base, and was blown in a two-piece hinge mold. Its form and method of manufacture closely resembles the unembossed aqua bottles discussed elsewhere.
Lewis Washington Glenn was born in Baltimore, Maryland, around 1802, 2 but appears in the Philadelphia city directories by 1833 at 84 South 3rd Street as a "Manuf. of Perfumery." 3 Glenn worked as a "perfumer" on South 3rd Street and later South 4th Street through 1856, when he relocated to Chestnut Street, between 7th and 8th Streets. 4 Glenn is listed on Chestnut Street as a merchant and finally in association with "Perfumery & Soap" until 1863, 5 after which time a business address is no longer given and he is listed merely as a gentleman. Glenn died in 1868 and is buried at Woodlands Cemetery in Philadelphia. 6
The bottle recovered from Feature 5 could certainly date from Glenn's entire career as a perfumer (circa 1831/1832–1863), though bottler/product information embossing on bottles was rare prior to the mid to late 1830s. 7 It is more likely that the bottle was made and circulated sometime from the mid-1830s into the 1850s, and contained any number of products ranging from cologne/perfume or hair oil to bath soap or other cosmetic product.