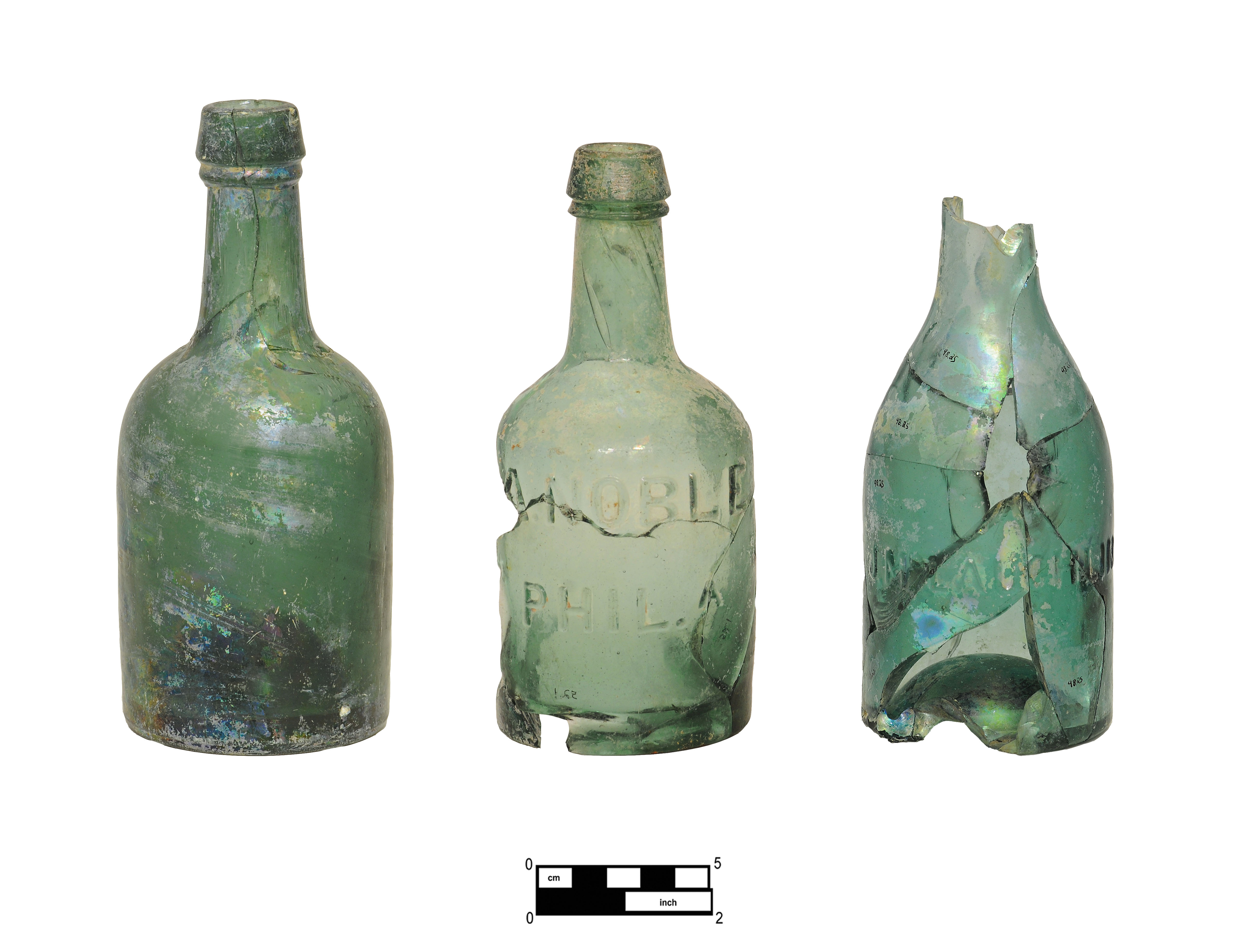 Beer Bottles
Portions of three green mold-blown beer bottles were recovered from Feature 5. All three have bare iron, or "improved," pontil scars and typify the forms commonly used to bottle beer (ale, porter, stout) in the eastern third of the United States from the mid-1840s through the 1870s. 1 The iron pontil scars on their bases date the Feature 5 bottles to the earlier part of this range; however, they were likely made and circulated from the mid-1840s into the mid-late 1850s. With the exception of the most complete bottle—an unmarked porter-shaped example (G-0967) that can be dated only between circa 1844 and circa 1860, based on the attributes of the bottle alone—the remaining two beer bottles feature proprietary embossing for specific bottlers, which helps refine their likely production/circulation date ranges.
The other porter-shaped beer bottle is embossed, "A. NOBLE / PHIL.A," and, as with the unembossed example, features an applied mineral (or double tapered) finish. Alexander Noble is first listed as a bottler in the Philadelphia city directories in 1844 at 48 North 6th Street, 2 until he moved to 2nd and Chestnut in late 1846, 3 where he remained until his last listing in 1851. 4 Noble was born in Ireland around 1820 and, as of the 1850 census, was living on Allen's Court in the city's Lower Delaware Ward with his wife Louisa and five-month-old daughter Ann. 5 The bottle could date from any time during Noble's short career as a bottler, from circa 1843/1844 to 1851.
The third beer bottle (G-0966) features the embossing "J. McLAUGHLIN," and while it is missing its top, it likely would have also had an applied mineral finish. John McLaughlin's career reaches back into the late 1840s, 6 but given the form of this bottle—frequently known as the "late lager" shape—it was likely produced and circulated between 1851 and 1859. By the early 1850s, McLaughlin was operating a tavern on North 3rd Street in Philadelphia, 7 and is listed in association with a "Tavern & Bottler" at 1216 North 3rd by the time of his last appearance in the city directories in 1859. 8 John's wife Ann took over the business in 1859 and "A. McLAUGHLIN" bottles have, in fact, been recovered elsewhere in the project area.