Schwerin's Annihilating Powder Bottle
Two small, unusually shaped bottles, bearing the vertical embossing "SCHWERIN'S / POWDER," were recovered from Feature 1 (G-0818). Schwerin's Annihilating Powder was first advertised around 1859 as the "only Remedy in the whole World" that was "sure to exterminate Roaches, Bed Bugs, Mosquitos, Flies, Ants, Fleas, Garden Insects, &c." Pills were also offered for the "destruction of Rats and Mice," but based on the narrow bores of these bottles, they likely contained the powdered product. 1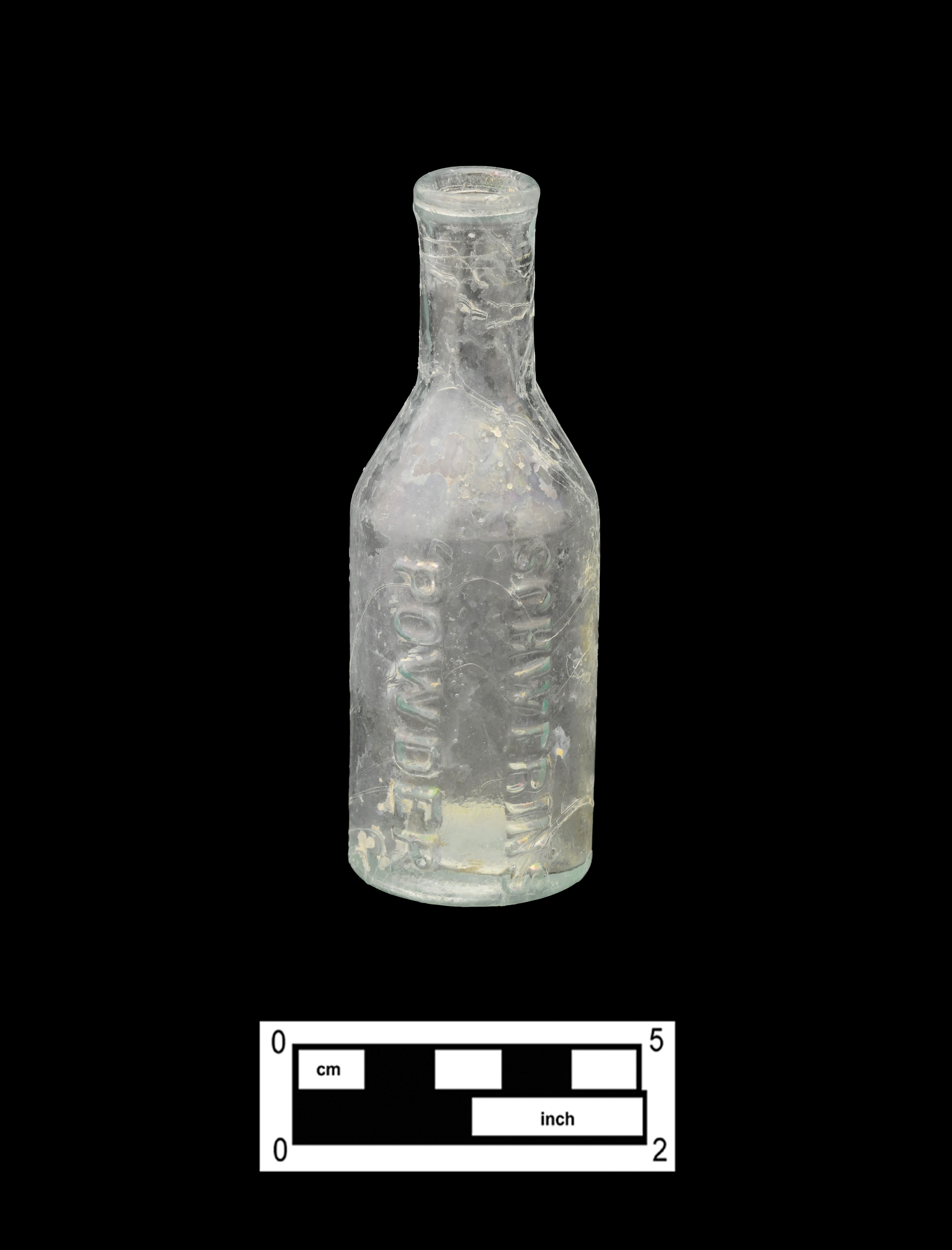 Schwerin's advertisements state that he was formerly the partner of E. Lyon, manufacturer of a similar product known as Lyon's Magnetic Powder. 2 Lyon was based in New York City, and Schwerin's powder seems to have been a Philadelphia version, as the depot is listed at 304 Race Street in 1859 and 124 North 2nd Street in 1860. 3 While newspaper advertisements for the product are concentrated in the late 1850s and early 1860s, other known Schwerin's Annihilating Powder bottles exhibit features characteristic of late 1870s and 1880s manufacture, evidence of continued production at least through the early 1880s. A poem accompanied one advertisement from 1860, and reads:
Corrosive Sublimate no more
Is used, the Bed Bugs to destroy;
The whole world goes to Schwerin's store,
This Powder now we all employ.

'Tis poisonless to mortal man,
But kills all insects as sure as fate,
An no imposter ever can—
This powder truly imitate. 4
Both of the recovered bottles feature post-bottom molded bases without pontil scars, rolled/folded-in finishes, and lack any evidence of air venting. These bottles likely date from the late 1850s, at the earliest, to no later than the mid-1870s. Barring a lengthy period of curation, the bottles recovered from Feature 1 are likely related to either the Cathers (late 1850s–1864) or McCaulley (1864–1882) periods of occupation at 339 (pre-1865)/1625 (1865–1885) Richmond Street, and provide evidence that the entire community was plagued by the common pests associated with nineteenth-century urban life, regardless of socioeconomic status on the block.