Several artifacts recovered from this feature provide us with insights into some of the activities that the occupants of this household engaged in during their leisure hours.
Painting Accessories
Painting was a popular activity in the nineteenth century, and different types of paint boxes were available to suit the professional and amateur artist. Watercolor boxes were also made and marketed for children. Two ceramic artifacts found in this feature represent accessories from an artist's paint set. A small, round porcelain disk with a shallow depression on one side matches the "color cups" found in wooden paint boxes during the middle to late nineteenth century (Cat # 8.31.171). These small dishes were used when reconstituting solid blocks of paint and while mixing colors to create new shades. Color cups were available in various sizes, depending on the dimensions of the paint box. Another artist's accessory recovered from this feature is a fragment of a paintbrush rest formed of refined white earthenware (Cat # 8.31.219). The recovered section of this brush rest measures 2.5 inches in length and features a series of shallow notches along the top edge, providing spaces to prop at least five paintbrushes. 1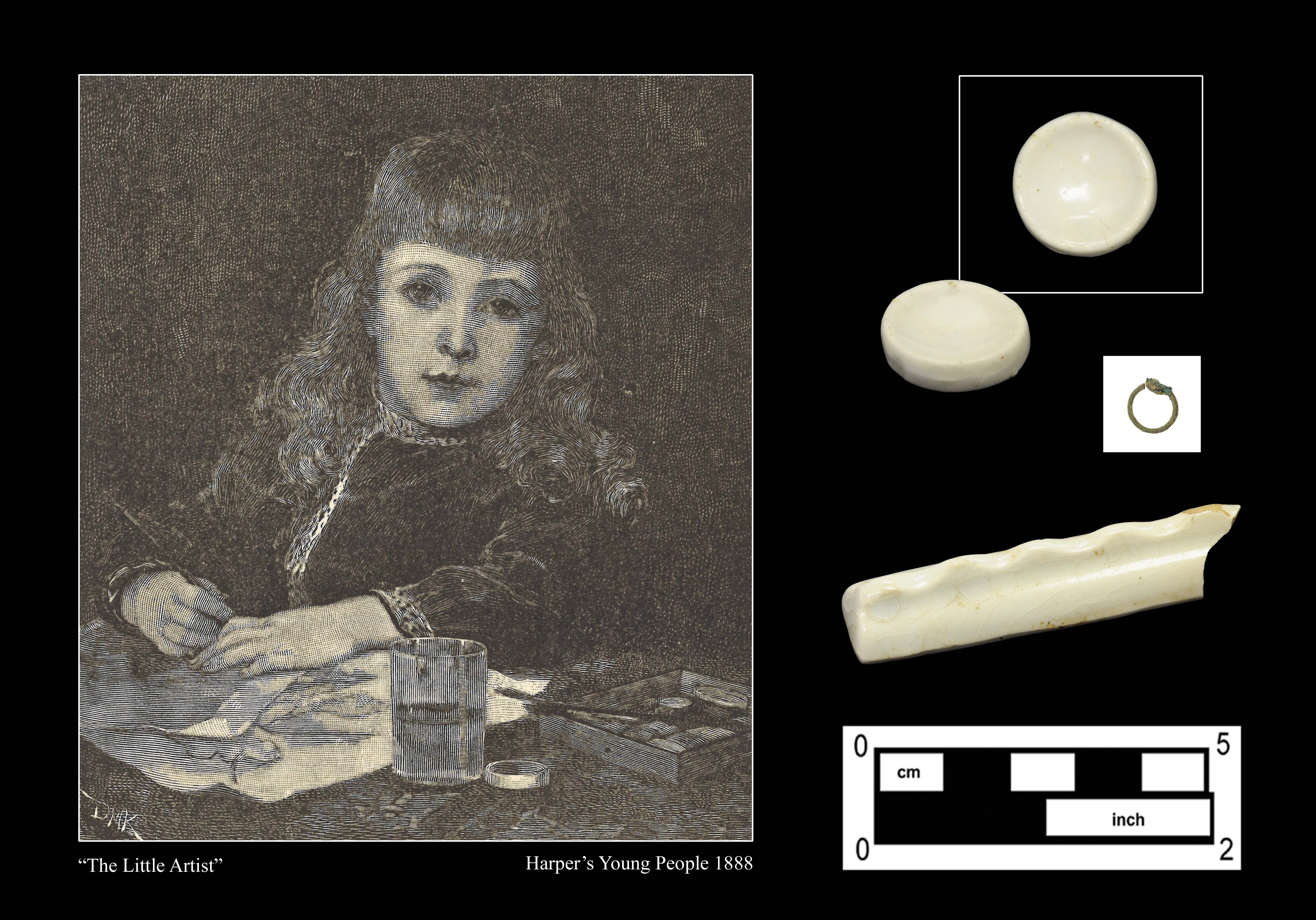 Further research into nineteenth-century painting and paint sets suggests that another artifact from this feature may be related to this activity. Paintbrushes used during this period consisted of animal hair bristles attached to a wooden handle by means of a section of quill. The quill was secured to the handle with a small loop of wire. Although no evidence of the handle or quill was found, a small loop or ring of cooper alloy wire was recovered that might be part of a quill brush (Cat # 8.31.284).
Poker Chip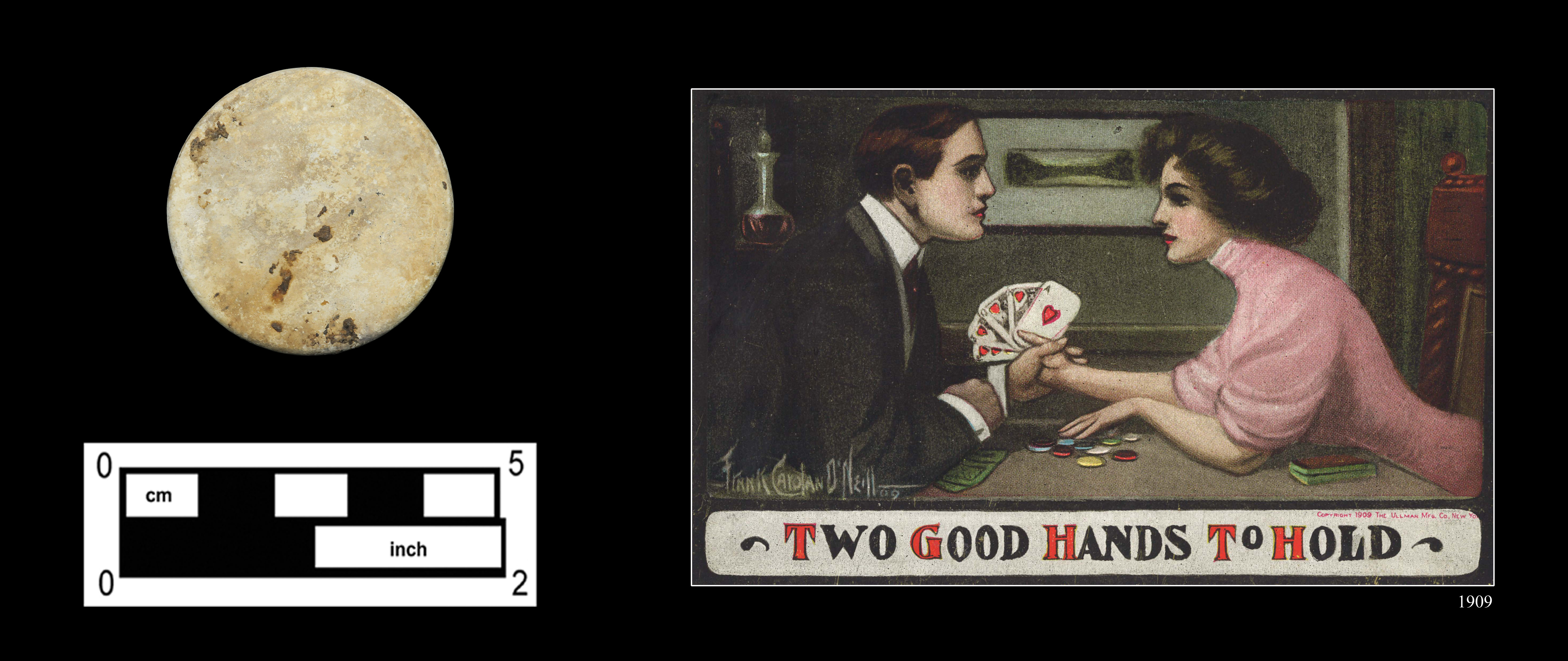 Another unusual artifact from this feature is a thin, flat disk measuring 1.5 inches in diameter, with a thickness of 0.13 inch (Cat # 8.31.251). The disk is soiled and appears off-white to tan in color, with no other distinguishing marks. During the nineteenth century, the game of poker increased in popularity and moved from the back rooms of bars and gaming houses into the home as a parlor entertainment. Mass production of these gaming pieces to meet the increased demand led to standardization in the size of the chips. The trade journal The American Stationer published an article, dated June 11, 1896, providing this description: "The dimensions of a standard chip are 1.5 inches in diameter, and one-eighth of an inch thick and there is seldom a call for any other size than this." 2 Over the course of the nineteenth century, poker chips were made from a variety of different materials, such as ivory, clay, pressed paper, and celluloid. The excavated disk is the same size and thickness as a clay poker chip; however, the unidentified material weighs less, suggesting that it was made of paper or some type of composite material.
Harmonica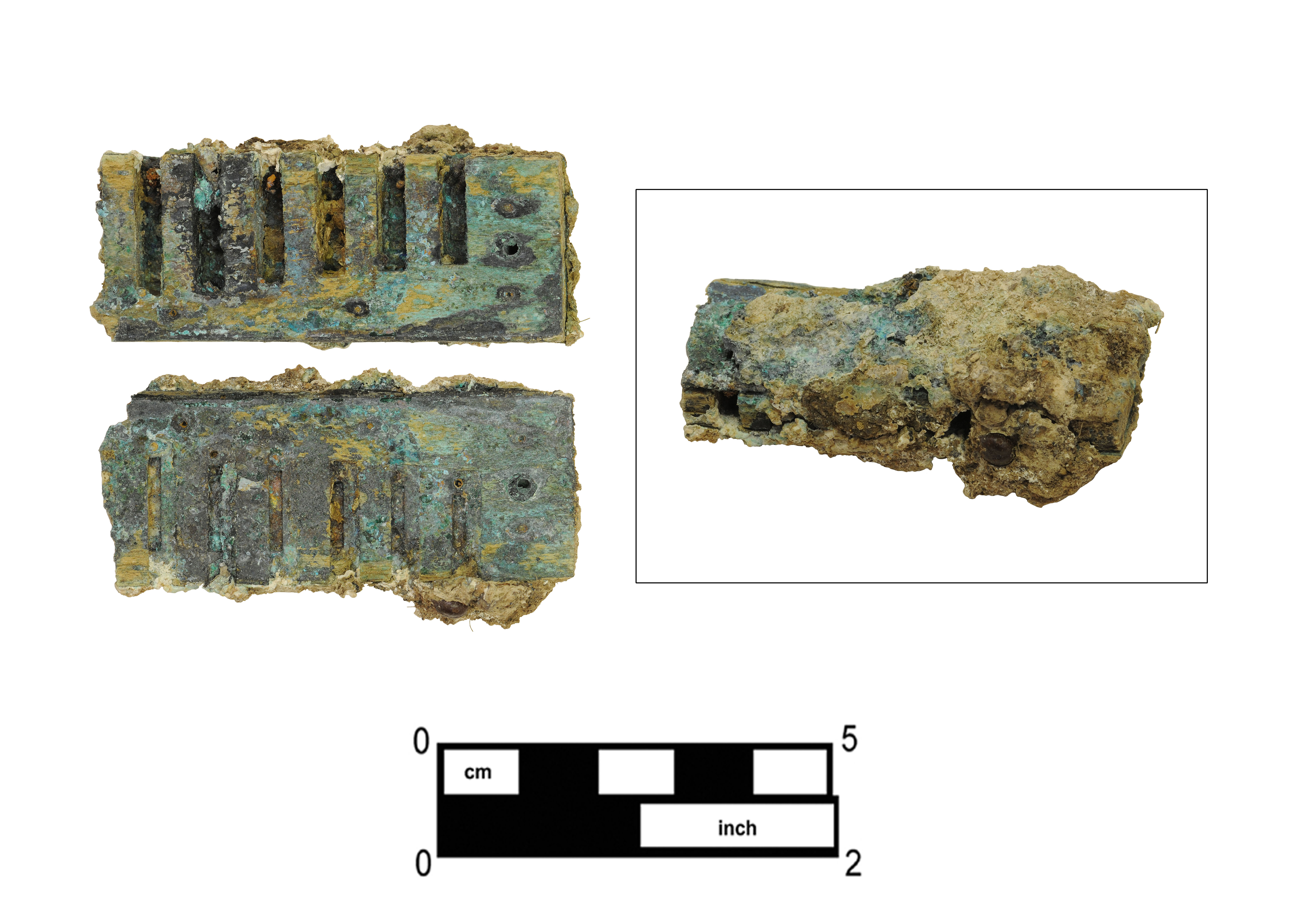 The broken piece of a harmonica recovered from this feature hints at another form of leisure activity (Cat # 8.31.278). The 1895 catalog for Montgomery Ward & Company dedicated a full page to advertising different types of harmonicas. 3 Based on the catalog descriptions, it was possible to identify the recovered fragment as part of an instrument that contained 10 single holes, 20 reeds, and brass reed plates. Only 6 single holes and 12 reeds are intact on the harmonica from this feature. The harmonicas illustrated in the catalog had the name of the manufacturers embossed on the metal covers; heavy corrosion on the surface of the recovered example prevents further identification. An early version of the harmonica was advertised in Philadelphia in 1830, where it was promoted as "delightfully sweet and exact, and may be played with ease, and carried in the pocket." 4 By the late nineteenth and early twentieth century, harmonicas were popular with amateur and professional musicians.
The harmonica is commonly deemed a toy and is chiefly sold and used as such; but good music can be got out of a good harmonica, and it is more or less used as a musical instrument and played with other instruments or as an accompaniment to the human voice. 5
Masonic Pipe
A unique pipe bowl recovered from Feature 1 bears a raised, molded motif incorporating numerous symbols of Freemason iconography (Cat # 8.30.27). This white ball clay bowl was likely from a single-unit, straight-stemmed pipe, and features a spike-shaped spur. The left side of the bowl features the square and compass, two tools symbolizing virtue and wisdom among the Freemasons. 6 The square and compass are superimposed over a crossed hammer and trowel, and all are beneath a five-pointed star. This entire composition is bounded by four stars above and three stars beneath. These seven stars typically represent the seven liberal arts and sciences: grammar, rhetoric, logic, arithmetic, geometry, music, and astronomy.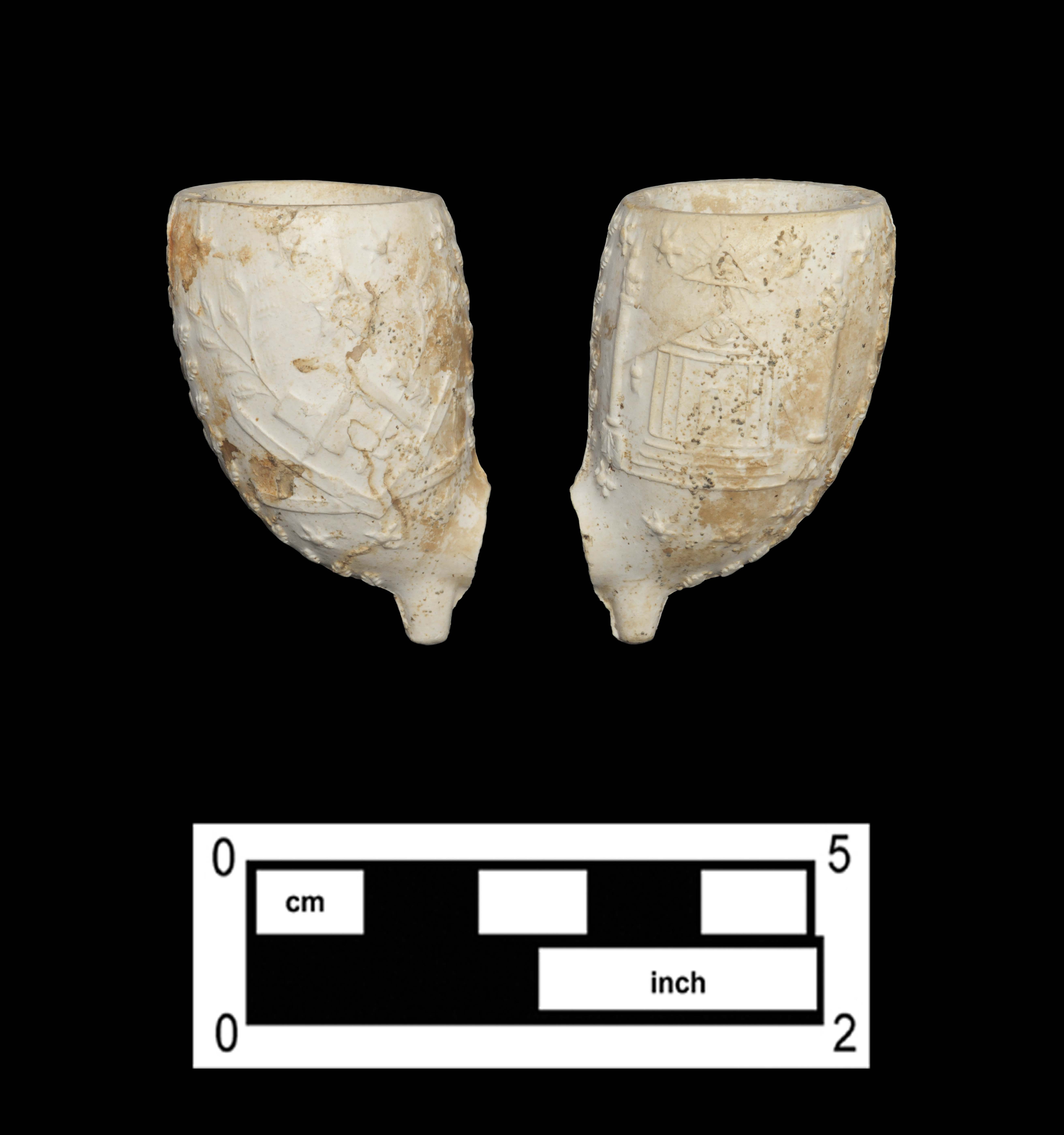 The right side of the bowl bears a depiction of the Temple of Solomon, an image that is prominent in the Masonic mythos. Indeed, every Masonic temple is intended to represent the Temple of Solomon. The all-seeing eye of Providence floats above the temple, with two stars to either side. Flanking the temple are two columns, understood to be Boaz and Jachin, the pillars at the entryway of King Solomon's Temple. Four stars form a curved line below the temple.
Single lines of floral garlands mask the mold seams on both the back and front of the bowl. The interior of the bowl shows little signs of use, as there is virtually no evidence of charring or smoke staining.
The motif on the right side of this bowl has also been found, in a nearly identical design, on a pipe bowl recovered from the 1100 block of Richmond Street, a bit farther south near the traditional Kensington-Port Richmond border. While this particular pipe cannot be attributed to any one specific resident of 2925 Richmond Street, the recovery of two Masonic pipes along Richmond Street speaks to the presence of the Freemasons in the neighborhood, and the alignment of certain individuals within Port Richmond with this secret society.
Sewing Thimble
This large white metal thimble—sized for an adult—was discarded or perhaps accidentally dropped in Feature 1 (Cat# 8.30.105). Thimbles, still standard accessories used in sewing and other types of needlework, are worn over the fingertip for protection and to provide a firm surface to push a needle through fabric. In her book, A Treatise on Domestic Economy, Catherine Beecher recommended keeping two thimbles in a workbasket in the event that one was misplaced. 7 This thimble measures 0.9 inches in height, with a diameter of 0.7 inches.  The white metal may represent a nickel alloy formed from copper, nickel and zinc—a combination referred to as nickel or German silver, despite the absence of silver. 8 The lower edge or skirt of this thimble features a panel band ornamented with floral designs. Nickel thimbles were sturdy, resisting wear and corrosion. 9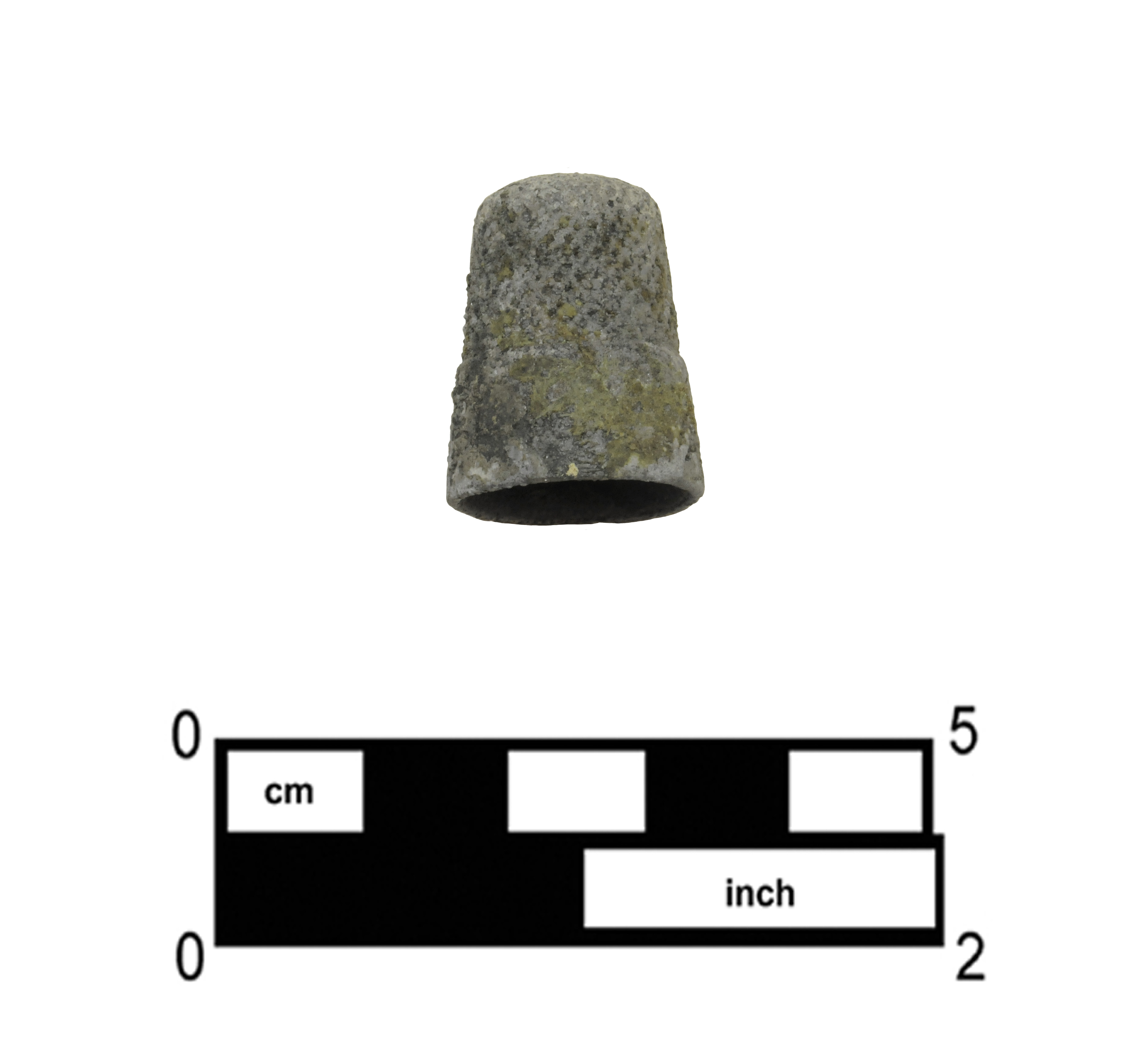 Sewing was an important domestic skill to have prior to the invention of the sewing machine and readymade clothing. Even in households with a sewing machine, clothing and household linens often needed to be mended by hand. Although mending was a chore commonly done on a weekly basis prior to doing the laundry, thimbles were also worn while creating other types of needlework during leisure hours. Patterns for embroidery and a variety of needle crafts were available in women's magazines.
A Measure of Leisure
Period newspapers and merchant catalogs provide information about the different types of leisure activities and related merchandise available during the nineteenth century. The artifacts recovered from this shaft feature provide us with insights into the activities some of the occupants of 2925 Richmond Street enjoyed.