This site contains information gathered from a wide variety of sources, and this section is devoted to describing the different types of resources and reference material we examine during research efforts for this project. As you will see, different types of records were kept over time—some still available, while others have been lost. Though records are more complete for Center City Philadelphia, there are gaps in the documents related to the Northern Liberties, Kensington-Fishtown, and Port Richmond neighborhoods. We have made attempts to find ways to fill in as many missing pieces as possible. (If you have or know of additional sources that might be of aid, please contact us at support@diggingi95.com.
Maps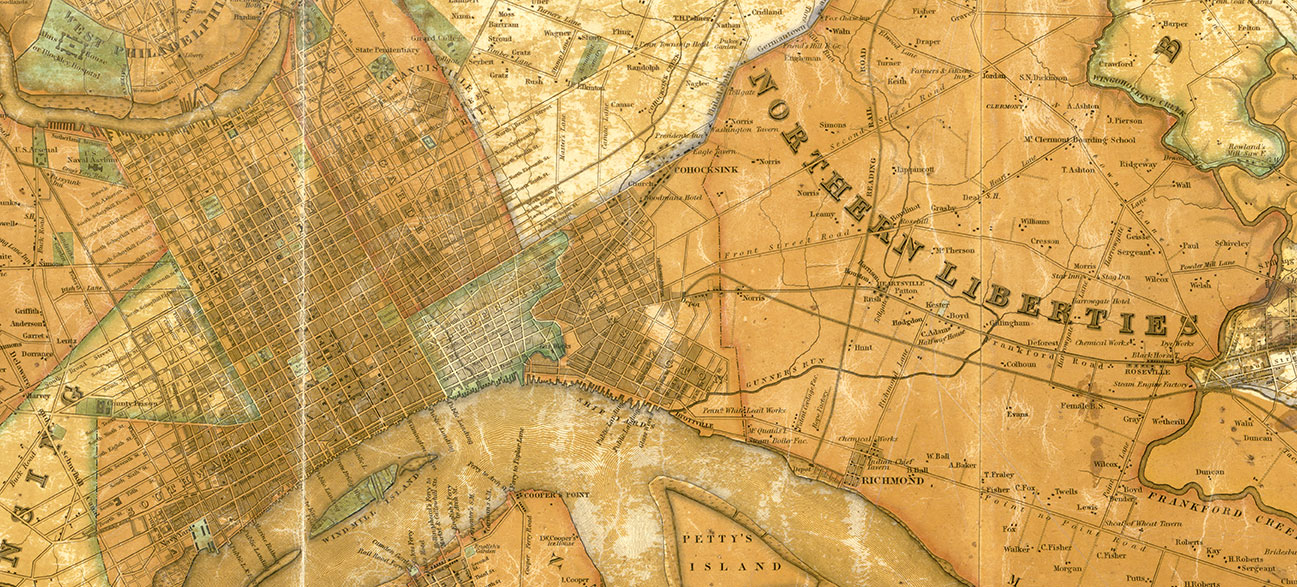 Philadelphia and its neighborhoods have changed greatly over their history—streets, buildings, and place names have come and gone with time. Historical maps illustrate the changes that Philadelphia has undergone and help us better understand and visualize not only where the people in our project area lived, but how they lived. Some maps are simple drawings that may only show the opening of new streets or the locations of settlements, while others—such as maps made by Hexamer & Locher, G. W. Bromley & Company, or the Sanborn Map Company—give detailed information about the height, size, and materials of a building. Despite this wealth of information, we need to be careful when we view maps, as accuracy varies between one and another. Even though the block of East Wildey Street between East Berks Street and East Susquehanna Avenue was not opened until 1888, with houses in the place of the current street, an 1862 map by Samuel Smedley shows Wildey running across the block.
Census Records
The United States Federal Census, taken every 10 years, is a very important source of information for learning about the lives of the people who lived in the project area. Though the information collected varies from census to census, the names, ages, occupations, and places of birth for everyone living in a household were recorded after 1850. The value of this information cannot be overstated, as many other records focus only on the heads of households or working adult men, leaving a majority of the residents otherwise unknown to history. In addition to common mistakes like misspelled names or misreported ages, a disadvantage of the census is that it is only taken every 10 years—a long gap in neighborhoods with a high turnover rate for residents. This means that anyone who moved into and out of a house between census years will not be known without the use of other records. The one exception to this is the 1890 census, which was destroyed by fire, leaving a 20-year gap for researchers to fill between 1880 and 1900.
City Directories
The historical equivalent of the phone book, city directories were published in Philadelphia for most years between 1785 and 1935. Entries might include the name of a person or business, an occupation or line of business, and an address. The directories are a crucial tool for our researchers, as they track an individual's occupations or movements between residences in years not covered by the census. While the importance of directories to our research cannot be overstated, like all primary sources, they should be treated with caution. Early directories may not include outer sections of Philadelphia, such as our project area, or list a specific address. Also, the names of people or streets can be misspelled, or house numbers can be printed wrong, causing researchers to pursue false leads if they are not careful. One such mistake that our researchers discovered can be found in the 1862 directory, which lists James McCarty at 1625 Richmond Street. A quick glance at the 1861 and 1863 directories shows, however, that this is most likely James McCarter, who lived at 1625 Richard Street.
Wills and Probate Records
Often, when individuals in the project area died, they left wills stipulating who would inherit their personal possessions and real estate. Sometimes, these wills include inventories of a person's possessions and their estimated monetary value—something that was much more likely if the person had died without a will or had a contested inheritance. These inventories can be very detailed, even noting what books are on the shelf or what pictures are hung on the walls of a room, providing priceless information about the material goods of a household. Unfortunately, many individuals in our project area did not have enough possessions or real estate at the end of their lives to require a will or the appointment of an administrator to handle their estates.
Vital Records
While a child's birth might be inferred from the census, or a death reported in the newspaper, birth and death certificates provide a wealth of generally accurate information about when and how an individual entered and departed this life. Though they existed as early as the late eighteenth century, Philadelphia's death certificates became more detailed as time went on, and by the late nineteenth century were giving a person's age, marital status, occupation, place of birth, and place of burial in addition to the date and cause of death. Death certificates of children (or adults, once Pennsylvania introduced state-wide death certificates in 1906) also can give crucial information about their parents, enabling further reconstruction of family trees. Birth certificates, while they often have less availability than death certificates, provide similar information. Related are marriage and burial records, which can also be a wealth of information about individuals, their place of residence, and lineage. Even when not detailed, marriage records may provide the only time that a woman's maiden name is recorded—an extremely important detail when trying to learn more about her life before she married.
Religious Records
Often similar to (or one in the same with) vital records, local congregations would record information relating to baptism, marriage, death, and membership. Especially for the years before the Civil War, these may be the only records available for some individuals, and often are above average in accuracy.
Genealogies and Family Lore
While some of the more historically prominent families and individuals from our project area have had genealogies written for them, in recent years genealogy websites have enabled average people to explore and share their heritage. Our researchers have at times consulted with descendants of residents from the project area, who have been invaluable in sharing their own research, family lore, and even family photographs, helping to bring the stories behind the artifacts we find to life.
Compiled Histories of the Area/Region
While the neighborhoods in our project area have not received as much attention as other parts of Philadelphia, over the years, many have written about them in books, journals, newspaper columns, and pamphlets. These works often summarize information and data in easily understandable and digestible ways, bringing together any number of different sources. In some cases, they provide a first-hand account of individual lives and experiences, or present information that would not otherwise be recorded in "official" records—greatly enhancing our understanding of the past. That being said, any history is only as good as its sources. Early histories are often rife with inaccurate or unsourced material, and while later neighborhood histories may be more accurate, some are still obviously biased by the author's own memory or nostalgia. In some cases, it is even worth checking the sources of modern academic works, as mistakes do slip through.
Property Records
Our researchers consult a number of different records that provide information about the properties themselves, including deeds, tax records, and building permits. Deeds to a property tell us who bought and sold the property, when, for how much money, the location and size of the property, and, in many instances, if any buildings were on the property and how the person selling the land acquired it. Tax records vary greatly in the information they provide, but often they will tell who owned the property, who lived on it, and give an estimate of how much the property was worth. Some records might make mention of what buildings existed on a property or even if the resident owned a dog. Finally, building permits are available from the late nineteenth century onward, though earlier ones are often not as detailed and permits before 1906 are not indexed, making them harder to search. Nonetheless, they provide highly specific construction (or demolition) details about structures in the project area that would otherwise remain unknown. It was through evidence gleaned from building permits, for example, that our researchers discovered that the frame house at 1026 Shackamaxon Street was not demolished, but moved to the rear of the property when a brick house was built in 1898.
Newspapers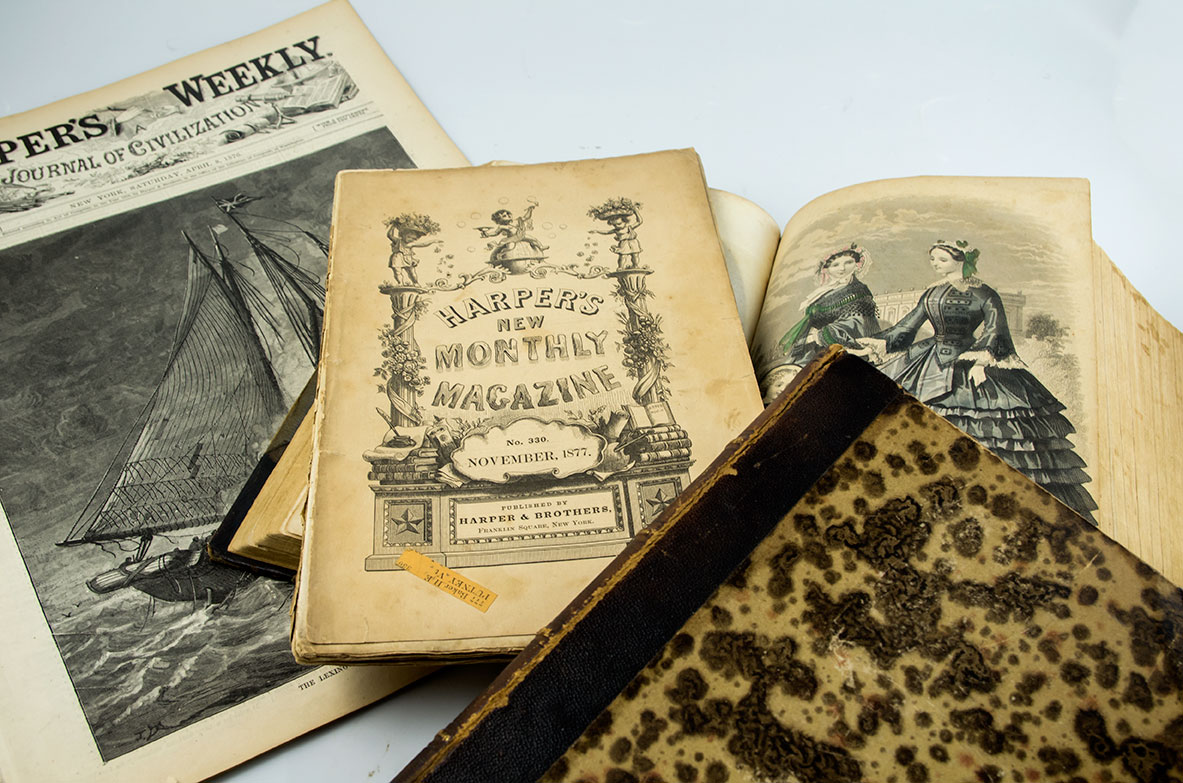 In its history, Philadelphia has been home to dozens of newspapers, both city-wide and neighborhood focused. These newspapers are priceless sources for first-hand information on events, and often provide colorful or even lighthearted stories from the project area that help bring out the human dimension of the project. Unfortunately, historical newspapers present our researchers with a number of issues. If there are worries about political bias and sensationalized bad news in the media today, it was often even worse in the past. Stories were often exaggerated, distorted, or even made up. In numerous instances, our researchers have found stories regarding the same event in different newspapers with details so different, the casual reader would not connect the two. Beyond the headlines and current events, newspapers provide a look at all aspects of life in the vicinity of the project, the Philadelphia region, and beyond. Newspapers also help us gain a unique sense of time and place. They provide information about when and where objects (artifacts) were made and what was available, in addition to giving clues about who might have used specific items and how they were used.
Patents
Some artifacts are marked with either a patent number or a patent date. U.S. patent information is available online to allow searching by number or date—and also general searches, such as "suspender or lamp burner." Patents provide the name of the applicant, date and place the application was filed, and description and drawing of the object or machinery to be covered by the patent. They help us determine when some artifacts were manufactured. Some earlier patent applications are not available due to fires in the U.S. Patent Office in 1836 and 1877 that destroyed some of the original documents.
Books
Collector volumes document specific types of objects and methods of manufacture, while also providing information that helps with dating certain types of material. We have found that books on such topics as English ceramics, stoneware, American glass, dolls, and toys are helpful in identifying the various types of artifacts recovered during this project.
Trade Catalogs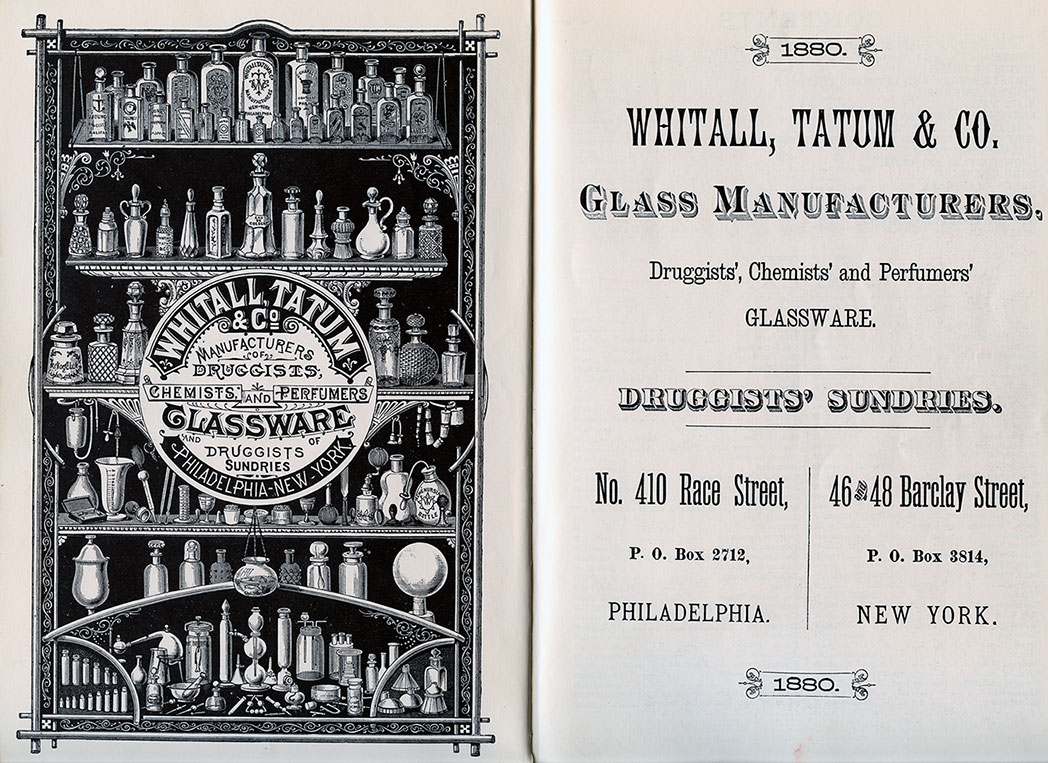 Dated examples of trade catalogs are particularly informative, providing illustrations of different types of objects, the contemporary names for items, and occasionally price lists. Whitall Tatum and Company glass catalogs and Gillinder Glass catalogs are just two examples of sources offering useful information for artifact research.
Contemporary Journals and Books
We have also consulted the popular publications of the mid to late nineteenth century to gather a sense of how the ideals of homemaking coexisted or clashed with the realities. A variety of books make recommendations on how each room of a home should be furnished, as well as how to plan meals, care for infants and invalids, and train housekeepers.
Historical Photographs Related to Artifacts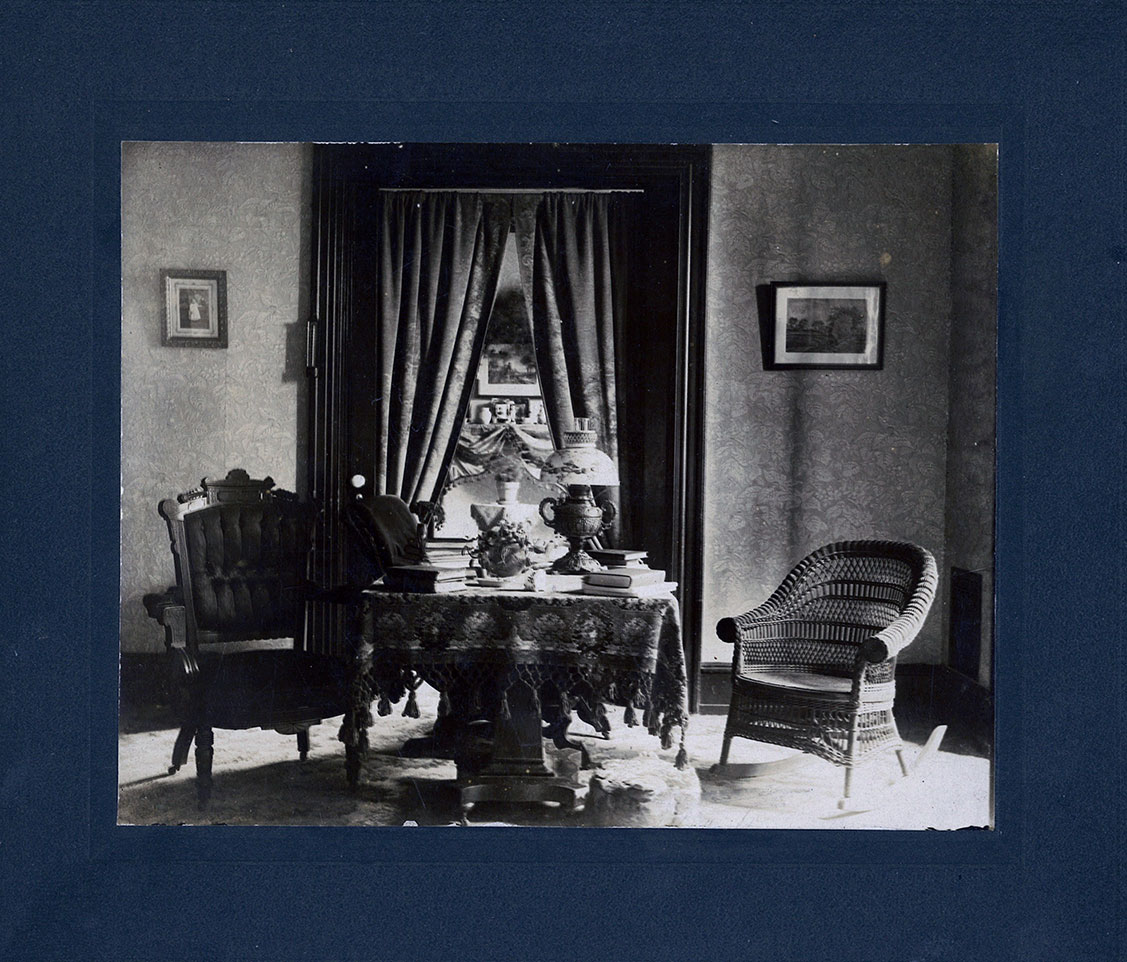 Some historical photographs show the exterior of homes and businesses that lined the streets in and around the project area. We are also interested in viewing images of the interiors of nineteenth-century homes, although these photographs are more difficult to find. Some of the early images used here represent "found photos" of unknown origin that date to the late nineteenth century. These black-and-white photographs, glass slides, and stereoscopic views capture details and afford us the opportunity to explore every corner of a room, from gas lamps attached to the ceiling to the elaborately patterned carpets covering the floors. We attempt to select images from the time periods of the households and artifacts we are researching. These images are intended to illustrate aspects of everyday life that are difficult to convey in words.
If you have images of family members or the homes in the neighborhoods mentioned on this site, we would like to hear from you at support@diggingi95.com.
Trade Cards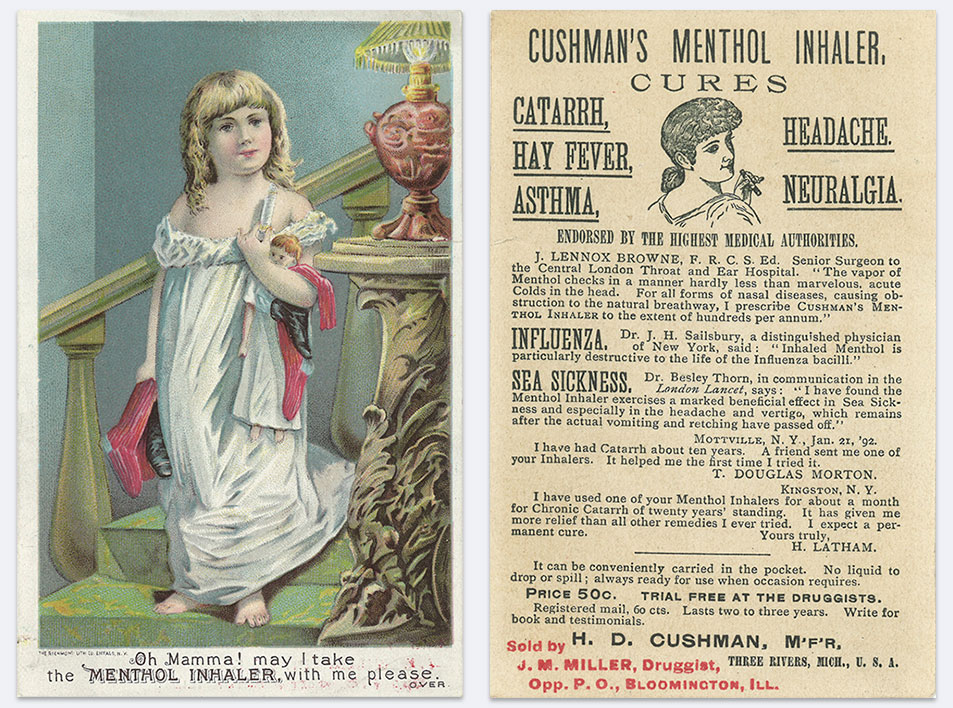 Shop owners gave out small cards featuring names and addresses to customers as an encouragement of repeat business. While some images relate to a specific product, such as a cologne or hair product, images on many cards do not appear to be connected to the business or product line printed on the card. These colorful images were very popular with children and adults, who collected them in scrap books or trimmed and glued them to create various handcrafted items. Trade cards offer us additional insights into different aspects of life in the mid to late nineteenth century. Although sometimes romanticized, they frequently offer humorous views of the mundane activities of everyday life; like doing laundry with a washboard and wooden tub or polishing a cast-iron stove. Some of these images show how various common objects (artifacts) were used, document some interesting alternative uses, and occasionally provide insights into how things were broken.
Postcards
Late-nineteenth- and early-twentieth-century postcards sometimes depict rooms in private homes, offering a look at how rooms were furnished and what objects were used in decorating. Like trade cards, postcards often capture some of the humor of the era.
Museum and Private Comparative Collections
Some photographs show similar or related objects from museum or private collections. The artifacts recovered during the archaeological excavations are often fragmented, and it can be difficult to imagine the pieces as whole objects. Images of complete objects in museum or private collections provide additional visual information to aid the viewer in understanding and interpreting artifacts. Many museums have photographs and descriptions of portions of their collections available to view online. Some of the collections we have accessed are held at the Corning Museum of Glass, the Museum of American Glass at WheatonArts, the Philadelphia Museum of Art, the Pennsylvania Historical and Museum Commission, and the Winterthur Museum.
Online Resources
Online sites created by individuals, groups, and organizations who have devoted themselves to the study of certain classes of material culture or artifacts from specific regions are instrumental sources to this project. Some of the sites most frequently used, among many others, include Bill Lindsey's Historic Glass Bottle Identification & Information Website, created for the Society for Historical Archaeology; Tod von Mechow's Soda & Beer Bottles of North America; Jefferson Patterson Park & Museum's Diagnostic Artifacts in Maryland; and the Transferware Collectors Club's fabulous database. Unlike printed books, catalogs, and newspapers, this online material can be quickly updated as more research is done and new discoveries are made, often making the information found on these sites the latest and most up to date that can be found. The individuals and groups who have created these sites have frequently done so out of their own passion for the material and have been generous in sharing their knowledge online. This sharing has fostered collaboration between archaeologists, collectors, historians, and many others, and this interactive report aims to move forward in that spirit.