Free-blown glass is formed without the use of molds. The glassblower inflates the glass on the blowpipe and manipulates it with tools to make the desired form, such as a bowl, pitcher, or drinking glass.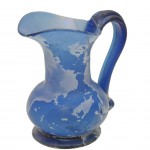 In a traditional glasshouse setting, the head glassblower of each team or "shop" is called the gaffer. To make a simple vessel, the gaffer or his assistant uses the blowpipe to collect a gather of glass from the pot in the furnace. He rolls it back and forth on a metal table (or extremely smooth stone) called a marver in order to shape and cool the gather. The gaffer blows through the blowpipe to form a bubble and begins to shape the glass. He may make it round by using a fruitwood tool, called a block, which looks similar to a cup on a long handle. Because the glass cools quickly and begins to harden, he must reheat the glass repeatedly at the glory hole, a reheating chamber at the furnace. While the glass is still on the blowpipe, he may continue building the object, by adding a stem and/or foot for example, as needed. In order to open the mouth of the vessel he is forming, his assistant helps to transfer the object to the punty, a long solid metal rod also called a pontil. Once the punty is attached to the bottom of the vessel, the glass is cracked off the blowpipe. He then opens the mouth of the vessel with a large tweezer-like tool called the jacks and may use additional tools to make the desired shape. He may apply handles or other attachments and hot decorative bits. When the piece is completed and cracked off the punty, it is immediately placed in an annealing oven to slowly cool; otherwise, the piece will break.
All of the illustrated artifacts were recovered from the I-95/Girard Avenue Project area in Philadelphia. Videos presented courtesy of The Corning Museum of Glass.