Improvements in lighting over the course of the nineteenth century changed the character of home life, making it possible for people to perform a wider range of work and leisure activities in the evening hours. During this time period, many different types of lamps and light fixtures were made of glass and/or metal. A large number of glass fragments recovered from Feature 1 are associated with lighting devices. Some of the glass sherds are kerosene lamp chimneys, other pieces are from globes and shades likely associated with gas lighting.
Chimneys
Most of the recovered fragments are thin, colorless chimney glass. A chimney was necessary on kerosene lamps to "provide the draft for adequate air supply and a steady flame." 1 The fragile chimney glass was susceptible to breakage due to sudden changes in temperature, as well as during cleaning and normal handling. Pieces from at least five thin glass chimneys were identified based on distinct characteristics of the bottom rims or flanges. Two of these bottom rims were complete, with two additional chimneys identified among the partial rims based on differences in the shape of the curved edge. The fifth chimney features a long, straight bottom rim to fit the collar on later burners. The upper rims of at least four chimneys were also present, each tapering to a straight, narrow-diameter rim. Although chimneys of this shape represent an earlier form, they continued to be used even after the flared, crimped rims were introduced. 2
Etched and Cut Shade
A single piece of colorless glass decorated with a band of small cut ovals appears to be a fragment of a lamp shade. This sherd is similar to more complete examples of bell- and tulip-shaped shades with etched and cut designs recovered from other parts of the project area. The exterior surface has a matte finish, while the interior appears shiny. The matte appearance is due to overall etching of the outside of the shade, done prior to cutting the decorative band of ovals. The etching on the shade is meant to decrease the intensity of the light and cut down on eye strain caused by glare, similar to our current use of frosted light bulbs. Shades of this type were often used on gas lamps.
Etched Globe
Several pieces appear to represent a round lead glass lamp globe similar to those used on gas lamps (Cat # 8.31.57). The mended portion appears to have overall acid etching on both surfaces, with only the curved rim remaining free of etching. This rim—also referred to as the throat of the globe—measures only 2.5 inches in diameter. The small dimensions of this globe may indicate that it was used on an earlier gas fixture. 3
Cut Crown Gas Lamp Shades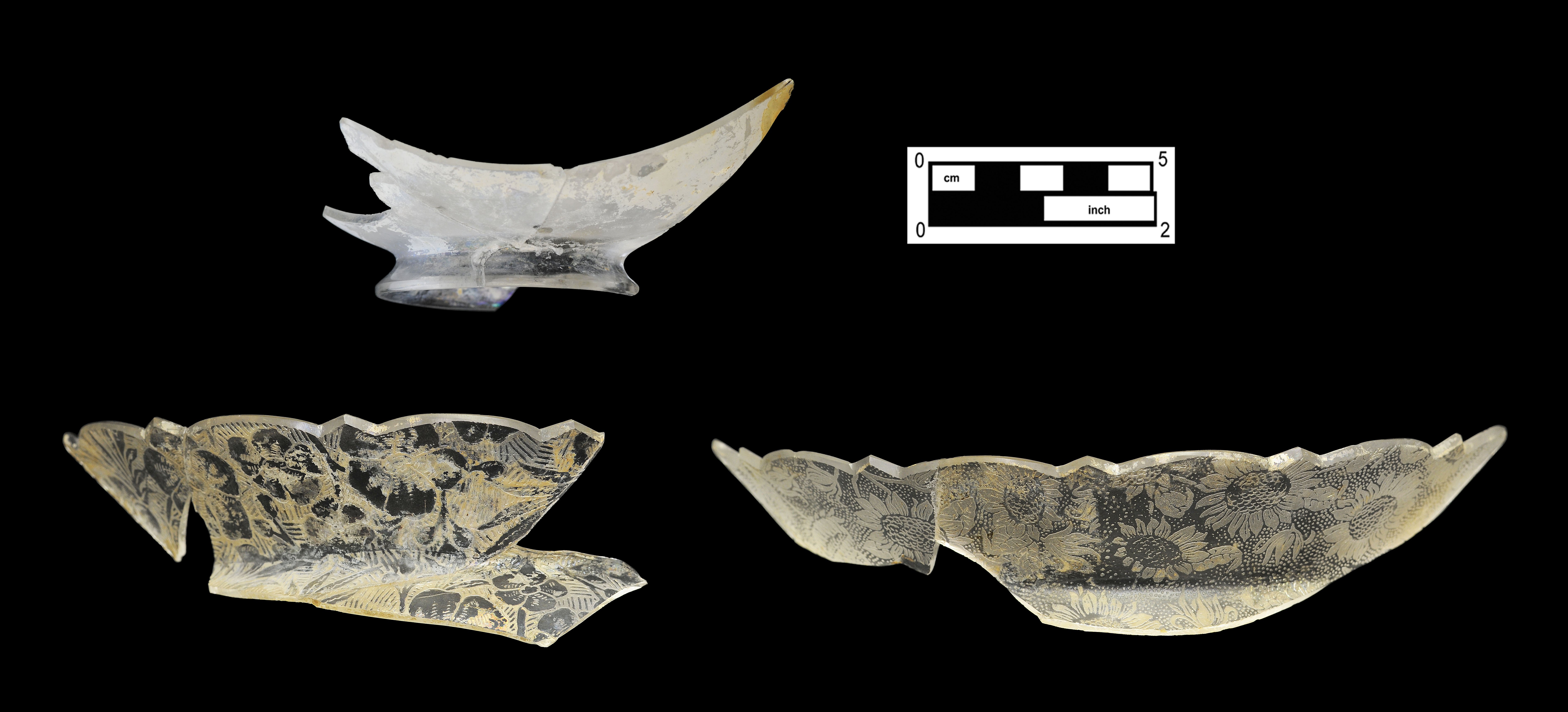 Two different lead glass lamp shades with elaborate floral designs are represented by partially mended rims (Cat # 8.28.6, 8.30.1 and 8.28.5, 8.31.9). Both fragments feature a beveled, scallop rim that flares at an angle from the upper edge of the globe. A reprint of the Phoenix Glass Company catalog from 1893 shows shades of a similar shape and refers to them as "crowns." 4 Locally, Gillinder and Sons, located at the corner of Oxford and Howard Streets, also advertised several styles of "etched crown globes." 5 One of the recovered rims has an overall acid etched floral motif that appears to represent sunflowers, while fragments of a second shade feature an unidentified flower with five large petals. The crown shades illustrated in the Gillinder catalog are all detailed landscape scenes. Similar floral patterns appear in the Phoenix Glass Company catalog on shades with a different design used on the crown rim. 6
Lighting from This Household
The identifiable pieces of lamp glass recovered from this feature consist of chimneys, shades, and globes used with kerosene and gas lamps. Both types of lighting were available and in common use during the mid to late nineteenth century. Because gas lighting relied on the placement of the pipes, it was not as portable as other types of lighting. It was not uncommon for different types of lighting to be used at the same time in various parts of the house.