An assortment of personal accessories was recovered from this shaft feature, ranging from somewhat commonplace items (such as ladies' hair combs and an eyeglass lens) to more unusual objects (like the stopper from a fancy cologne bottle and a portrait brooch).
Side Combs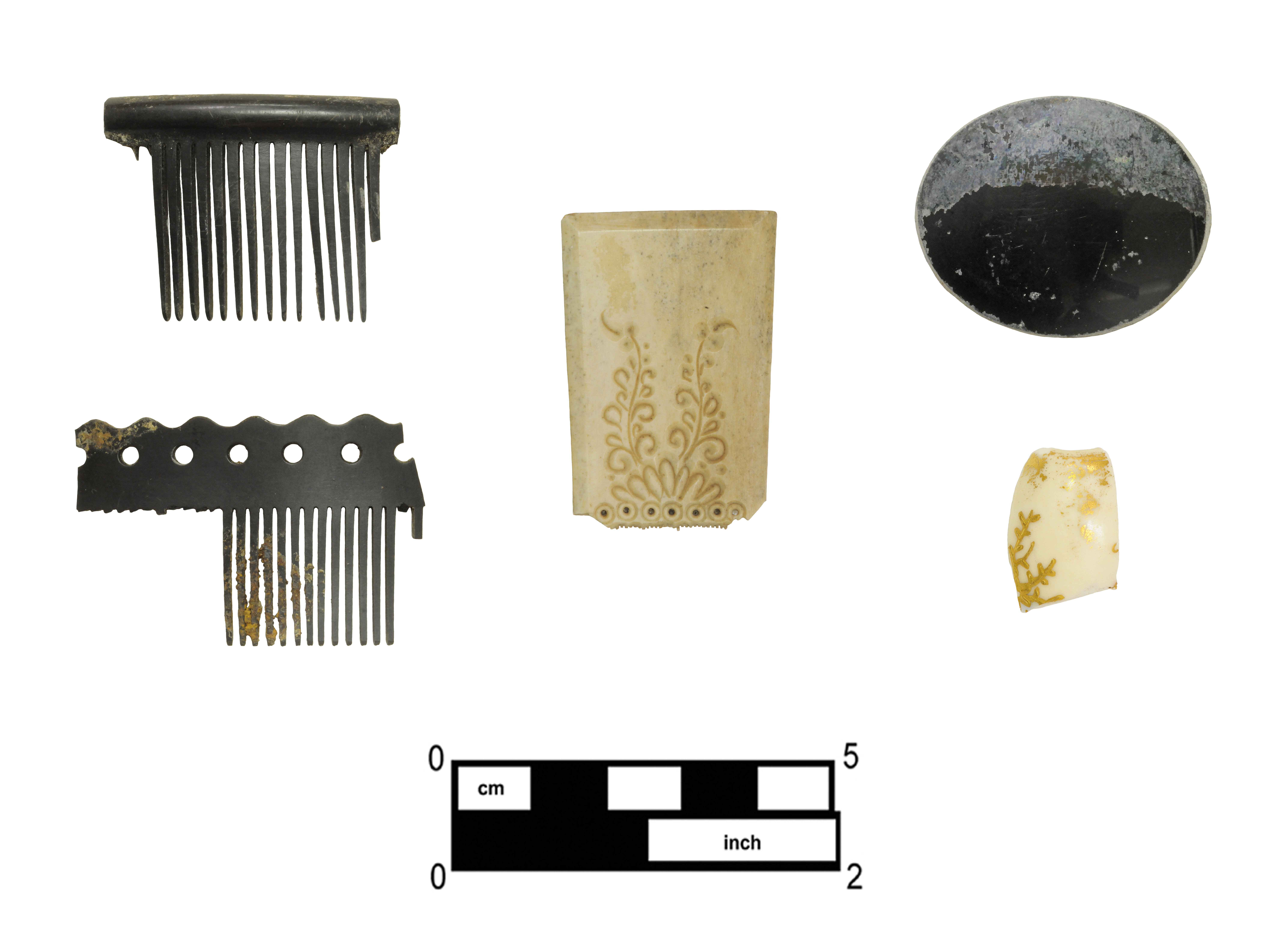 Typically sold in pairs, side combs were used in women's hairstyles as decoration, but also served to fasten and hold hair in place, particularly in conjunction with coiffure styles. While many late-nineteenth- and early-twentieth-century side combs could be quite elaborate—including finely detailed silver and gold-plated tops—the two comb fragments from Feature 1 are plain by comparison. 1 Both of the recovered combs were made of thin, hard rubber and feature different designs on the back edge. One comb has a plain raised horizontal rib that was probably somewhat hidden from view when positioned in the hair (Cat # 8.31.261). The other thinner comb features a scalloped edge with a row of small round perforations along the body (Cat # 8.31.262). The teeth on the two combs vary in length, with those on the plain comb measuring almost 1 inch and the teeth on the decorated comb measuring 0.75 inch. This variation in the length of the teeth may reflect differences between a woman and a girl's side comb or may correspond with a difference in hair styles.
Porcelain Hat Pin
A fragment of a large ceramic bead was likely once part of a lady's hat pin (Cat # 8.31.169). The surface of the bead features a pale yellow glaze with the remains of a gilded branch-like decoration. Portions of the branches are slightly raised in low relief. The surface decoration of this bead appears similar to Japanese Satsuma hat pins popular in the late nineteenth and early twentieth centuries. The broken edge reveals that the ceramic is of high-quality porcelain and not the semi-porcelain body common to Satsuma pottery. The pale yellow glazed surface is not the same cream color, crazed finish that characterizes Satsuma pottery. 2 Hat pins are long straight pins with large ornamental heads carefully positioned to pierce the fabric of a hat and go through a lock of hair, thereby fastening the hat securely on the head. Beyond adding ornamentation, the large head of the pin helped hold the hat and made it easier to find the pin when removing the hat. Hat pins were made of different types of material, including various metals, glass, and ceramic. Japanese themes became popular in America as a result of the Japanese Exhibit and Bazaar at the Centennial Exhibition held in Philadelphia in 1876.
Eyeglass Lens
The single coquille eyeglass lens recovered from Feature 1 is greenish-gray in color, likely the tint termed "smoke" in the period catalogs (Cat # 8.32.43). 3 4 Steel-framed "colored lens spectacles" without focus were advertised as "a great comfort to those whose eyes are weak, protecting them from strong light, and do much toward preserving the sight," and were offered with either smoke or blue lenses.5 6 Colored spectacles of "ordinary" quality ranged in price from 20 cents to $1.25 around the turn of the twentieth century. Goggles or eye protectors in the same catalogs were offered with blue, smoke, green, or white lenses, and ranged in price from 8 cents to 75 cents.7 While it is unknown whether this single lens came from a pair of spectacles or goggles, it was certainly protective in nature, as evident from its color and convex oval shape.
Portrait Brooch Pin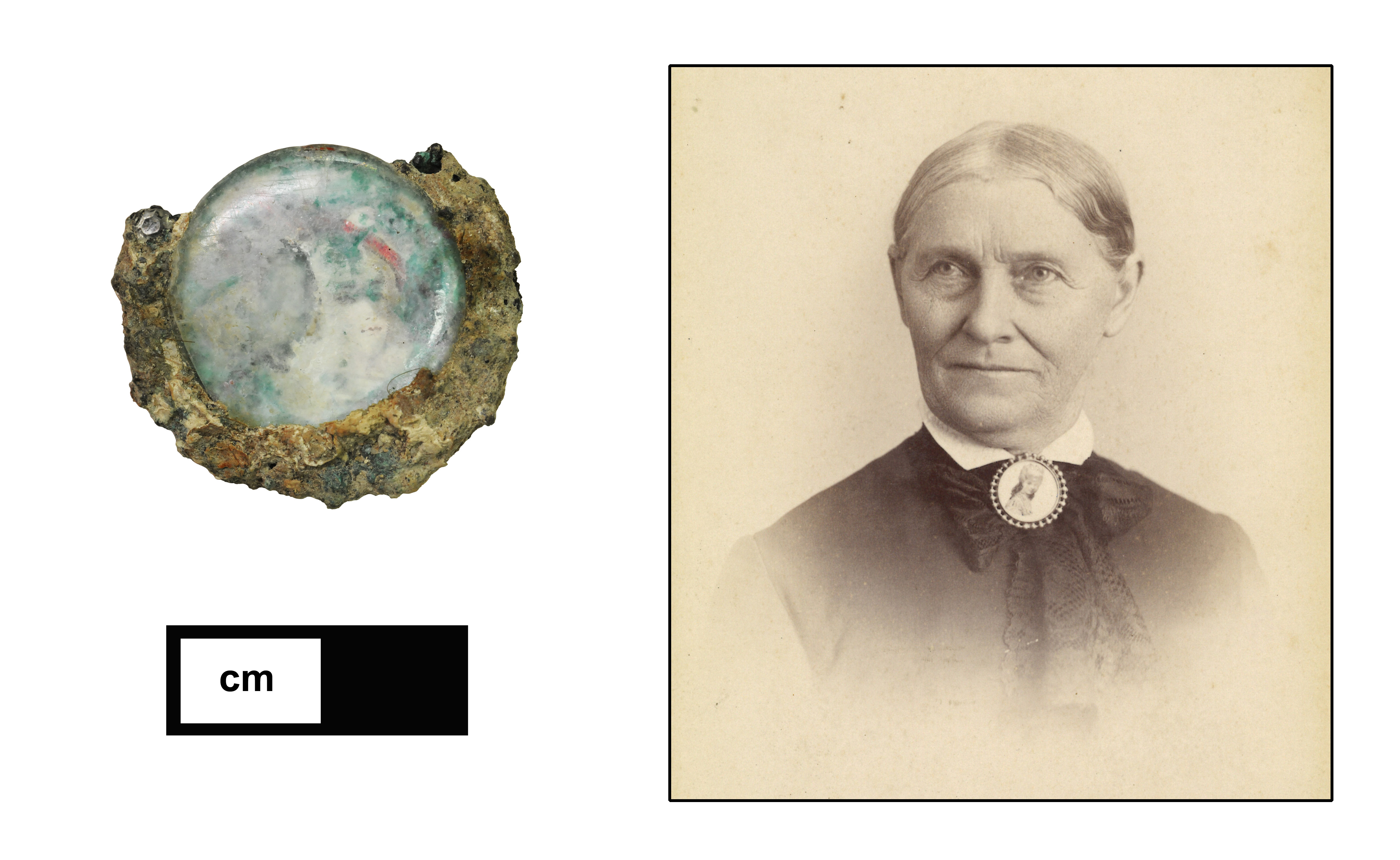 This small brooch pin with a setting of copper alloy contains what appears to be a miniature portrait under a slightly domed glass cover (Cat # 8.31.285). Close inspection of the broken portion of the setting reveals a single colorless stone, probably shaped from glass made to look like a semi-precious stone. The setting may have contained several small stones encircling the portrait at the center. Although the pin portion is missing, a section of the clasp and hinge mechanism remains intact on the back. It is difficult to determine if the image was painted, printed, or represents a tinted photograph. The subject appears to be a three-quarter view portrait of a young woman or child wearing a large red hat or other hair accessory.
Personalized pieces of jewelry were worn as tokens of remembrance for loved ones both living and dead. Brooches were available depicting famous figures from history, literature, and mythology, while others were simply romanticized images of young people. Portrait brooches became more affordable in the latter part of the nineteenth century through improvements in photography. Due to the metal corrosion from the setting, it is not possible to identify the subject of this brooch pin.
Fan
Folding hand fans were used throughout the nineteenth century, as both fashion accessories and cooling devices. Fans made of various types of material were advertised in late-nineteenth- and early-twentieth-century catalogs, such as Bloomingdales, Montgomery Ward & Company, and Sears, Roebuck. Two fragments of carved bone represent pieces of a folding hand fan. Both fragments, probably carved from cow bone, are beveled around the outer edge and are somewhat thicker than typical fan ribs. These characteristics aid in identifying them as pieces of the outer guard stick. The function of the guard stick was to protect the fragile ribs when the fan was closed. 8 The larger fan fragment is decorated using a variety of techniques (Cat # 8.31.99). The visible surface of the fan contains an etched stylized floral and scroll motif, with a pierced horizontal band of pinhole-sized perforations. Along the broken edge, there appears to be the remains of a carved and pierced net motif. Among the descriptions of fans advertised in the Bloomingdale's catalog of 1886 are some with "plain bone sticks" and others with "fancy" or "elegantly carved sticks." The pieces recovered from this site likely represent the latter style. 9
Amethyst Cologne Stopper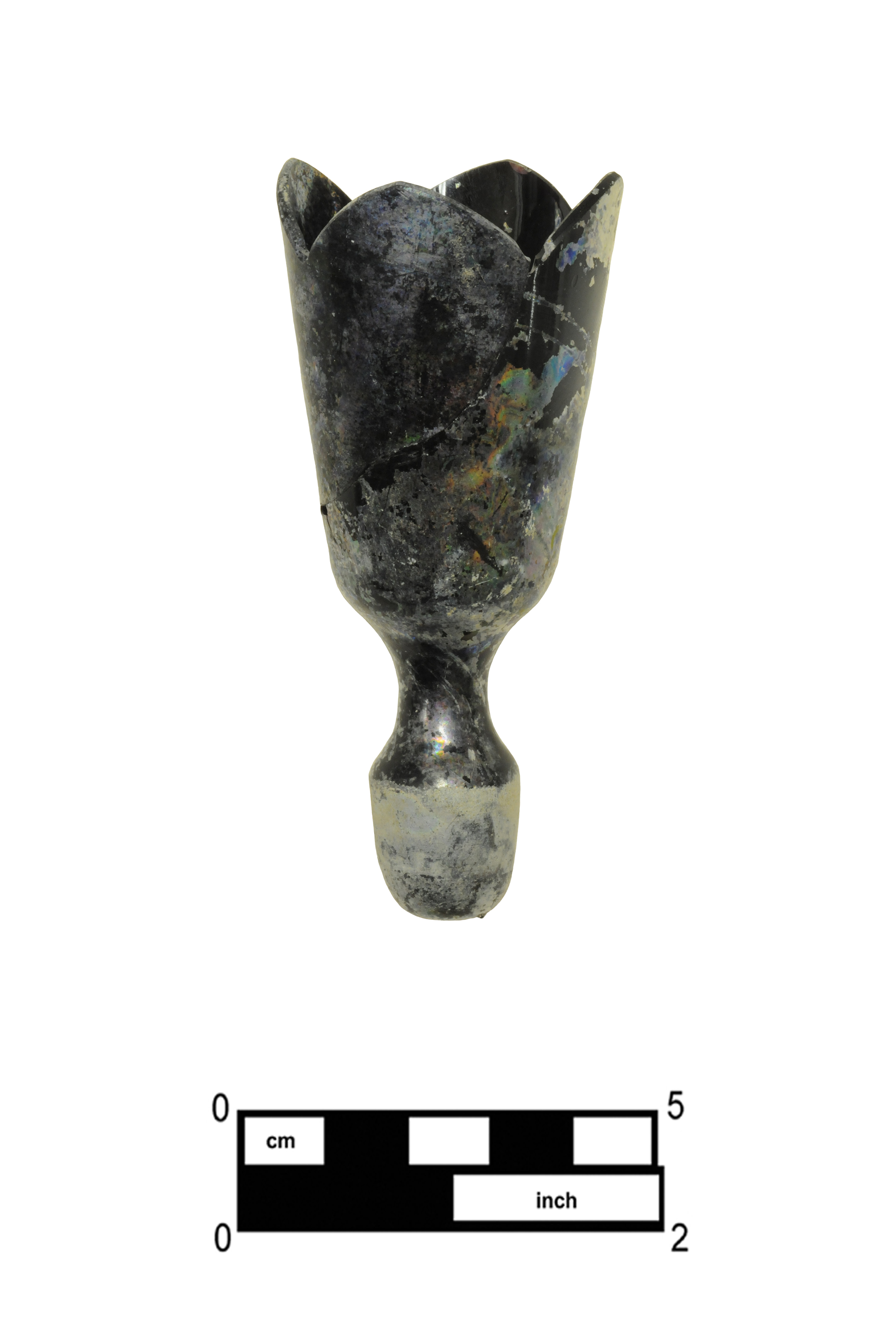 A very distinctive dark amethyst glass stopper was recovered in Feature 1 (Cat # 8.31.141). It is hollow, open at the top like a cup, and shaped like a tulip with four scallops, or "petals," cut around the rim. It is approximately 2 inches deep and 1⅝ inches in diameter. The stopper is almost identical to those found on toilette water bottles and powder boxes pictured in the 1886–1887 catalog of the Meriden Britannia Silver-Plate Company of Meriden, Connecticut. 10 Such toilette sets often came in decorative metal stands and could easily be moved about on a lady's dressing table. Meriden produced elaborate stylish mounts and stands for a variety of glass forms, including vases, epergnes, decanters and stemware, cruet bottles, and toilette sets. After initially buying glass from Italy and the New England Glass Company in Cambridge, Massachusetts, stockholders established the Meriden Flint Glass Company in 1876 in order to control their own supply of glass. The firm lasted until 1888, when—like many other eastern glass factories—it succumbed to labor unrest, stiff Midwestern competition, and other troubles. 11
Cahill's Bronze Bottle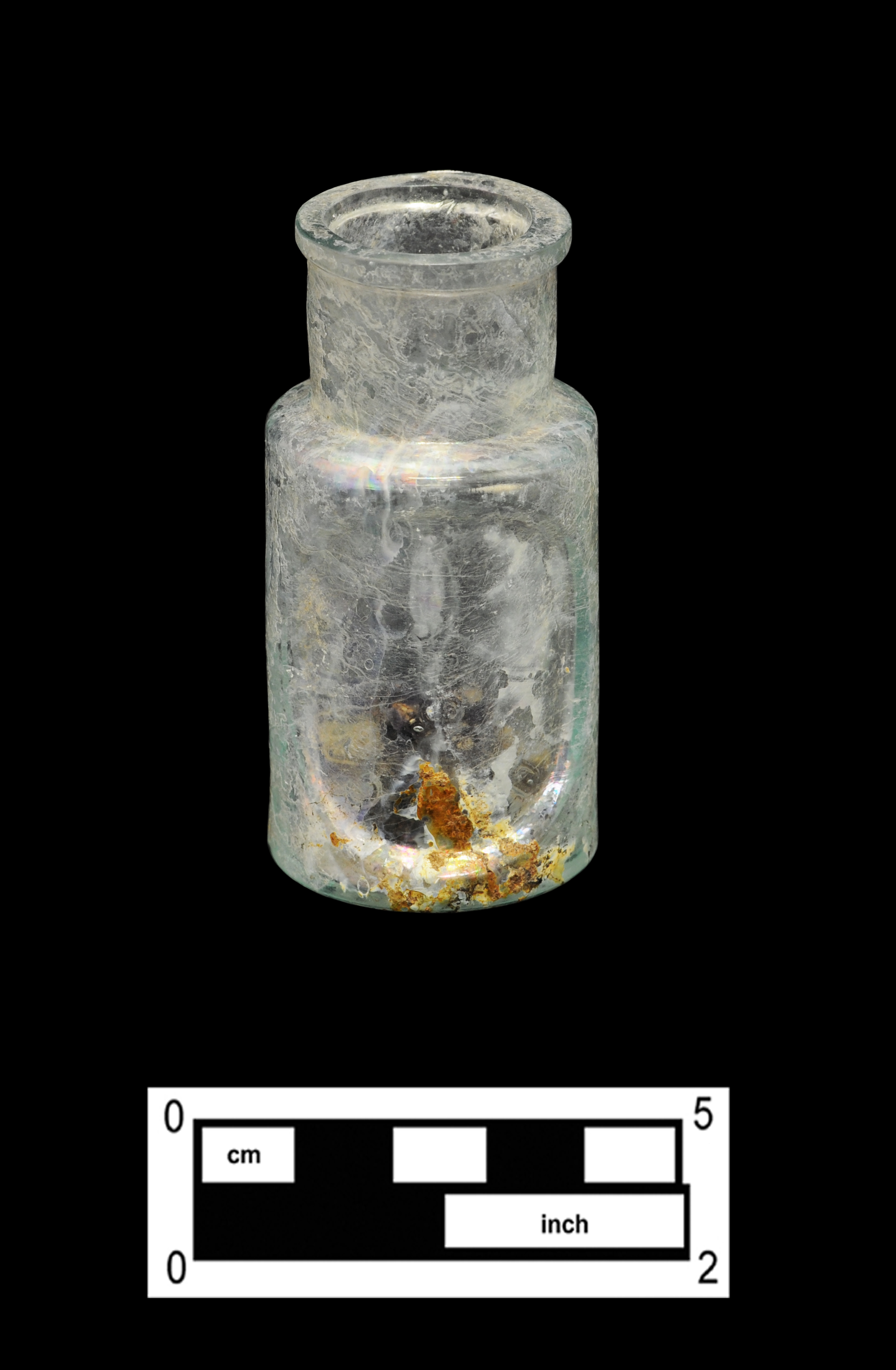 A short, wide-mouthed bottle was recovered from Feature 1 that bears an oval plate with the embossing: "CAHILL'S / BRONZE / PAT. NOV. 10, 1868 (Cat # 8.31.308)." Blown in a cup-bottom mold, this bottle features a tooled patent finish and shows no evidence of air venting, characteristics indicative of a manufacturing date in the decade between the mid-1870s and the mid-to-late 1880s. Patented by M. S. Cahill of Boston on November 10, 1868, the importance of Cahill's "improved bronze dressing for leather" is described for family use because "shoes become worn and unpleasing, as to the bronze hue, long before the shoe itself is worn out, thus causing the same to look dingy and unsightly as to be laid aside by the wearer." 12 As detailed by the patent, Cahill's Bronze consisted of aniline fuchsine, a chemical magenta dye, mixed with shellac or other varnish, sometimes with bronze powder or a blue dye (aniline blue) added, as well. The dressing was meant to be applied with a soft brush and dried one to two minutes after application. While this bottle was likely produced during the McCaulley family's occupation (1864–1882) or the Cotter family's occupation (1882–1887) of 2925 Richmond Street, depending on the time lag between production and final deposition in the privy, a member of the Steinmeyer (1887+) family could have used the product. Regardless, Cahill's bronze dressing was advertised to prolong the life of faded, worn-out shoes, a claim that was apparently put to the test by one of the late-nineteenth-century residents at 2925 Richmond Street.
Head-to-Toe Fashion
This odd assemblage represents a small portion of the broad array of fashionable goods available and in use during the late nineteenth century. These small pieces give us a head-to-toe look at personal fashion accessories.