Evidence of the Youngest Occupants
As documented in the property history, several families raised children in this household in the late nineteenth and early twentieth century. The excavation of this feature, located behind the former house at 2925 Richmond Street, yielded quite a few pieces of evidence confirming the presence of young children in this household.
Acme Nursing Bottle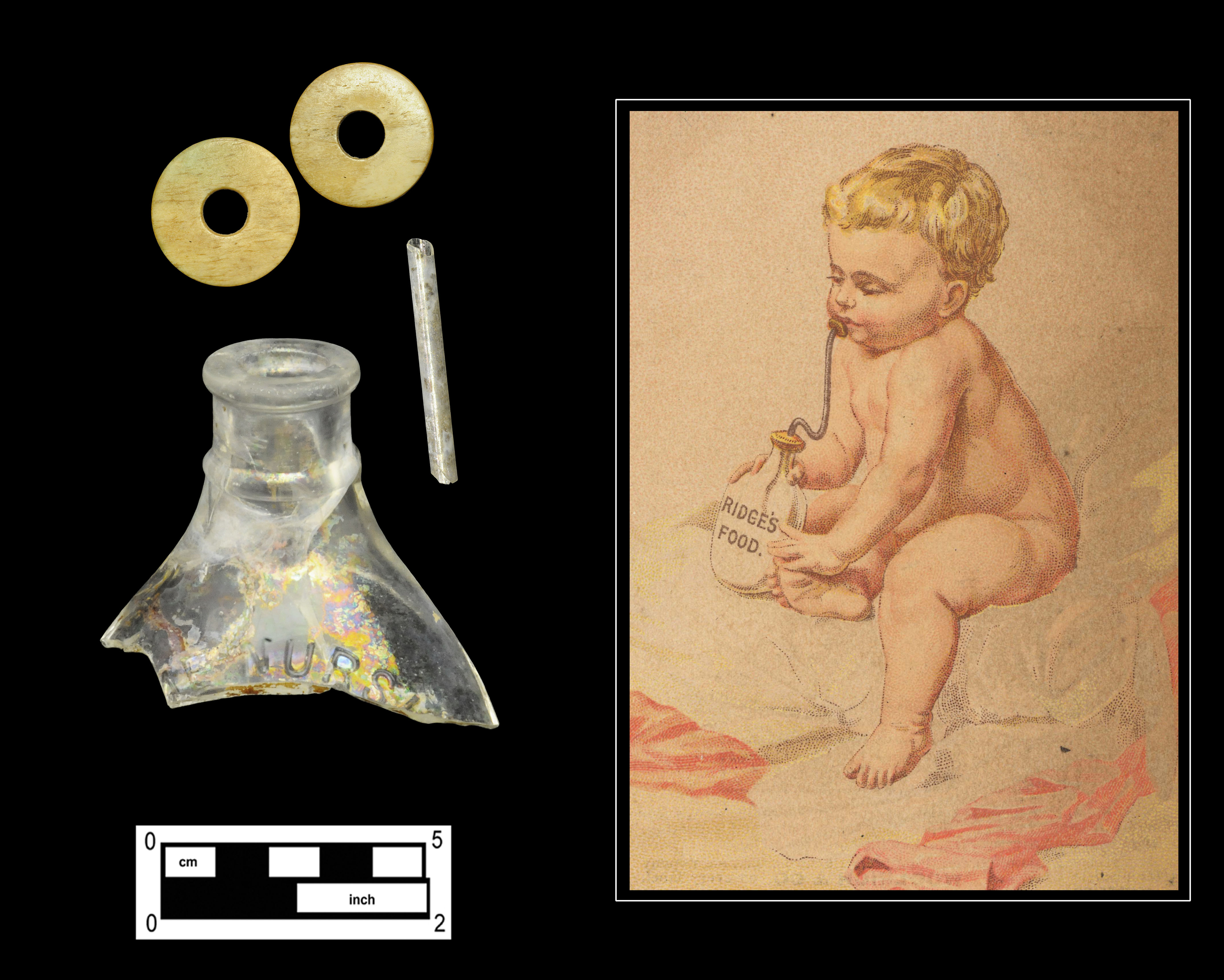 Some of the recovered artifacts represent pieces of a nursing or baby bottle, providing archaeological evidence of an infant or young child in the household. The neck and shoulder of a colorless, leaded glass bottle display enough of the embossed label to identify it as an Acme nursing bottle (Cat # 8.31.56). This style of bottle was in use during the late nineteenth through early twentieth century. The 1880 catalog of Whitall, Tatum & Company Glass Manufacturers of Millville, New Jersey, provides a description of the Acme nursing bottle noting specific features. The rounded shape of the Acme bottle provided ease in cleaning, since there were no sharp corners to trap milk and cause spoiling. 1 The angled or "bent neck" on the Acme bottle prevented the contents from leaking out when the bottle was positioned with the flat side down. The flat back also provided stability and convenience when propping the bottle during feeding.
Illustrations of nursing bottles in the Whitall, Tatum & Company catalogs of 1880 and 1902 aided in the identification of additional components from the nipple apparatus. The nipple for this type of bottle was not in direct contact with the mouth of the bottle. The nipple apparatus—referred to as the "fitting"—consisted of a glass tube positioned inside the bottle, attached through the stopper to a section of rubber tubing with a nipple attached to the end. 2 3 Two broken pieces of narrow-gauge glass tubing recovered from this feature are pieces of the fitting from inside the bottle (Cat # 8.30.82). Additionally, two flat bone disks, each with a round perforation through the center, were determined to be "nipple shields" from fittings (Cat # 8.31.254, 8.33.18). Both Whitall, Tatum & Company catalogs show a bone or ivory shield positioned between the nipple and the flexible rubber tubing. The shield probably prevented a child's mouth from drawing in too much of the rubber nipple, which could cause choking or gagging.
Mrs. Winslow's Soothing Syrup
A nearly complete medicine bottle, embossed "Mrs. Winslow's / Soothing Syrup / Curtis & Perkins / Proprietors," was most likely used to treat some of the young children in this household (G–0817). The soothing syrup was widely advertised to calm the symptoms that accompanied teething in babies and treat bowel problems in young children. Like many patent medicines of this time period, Mrs. Winslow's contained morphine and alcohol in a sugar syrup. Other ingredients of the syrup included aniseed oil, caraway, coriander, jalap, and senna. 4 Some of these natural plant materials were widely used to treat bowel complaints; others were probably used to mask the taste of the morphine and alcohol. Not unexpectedly, the morphine in the soothing syrup increased the already high mortality rates among infants and children.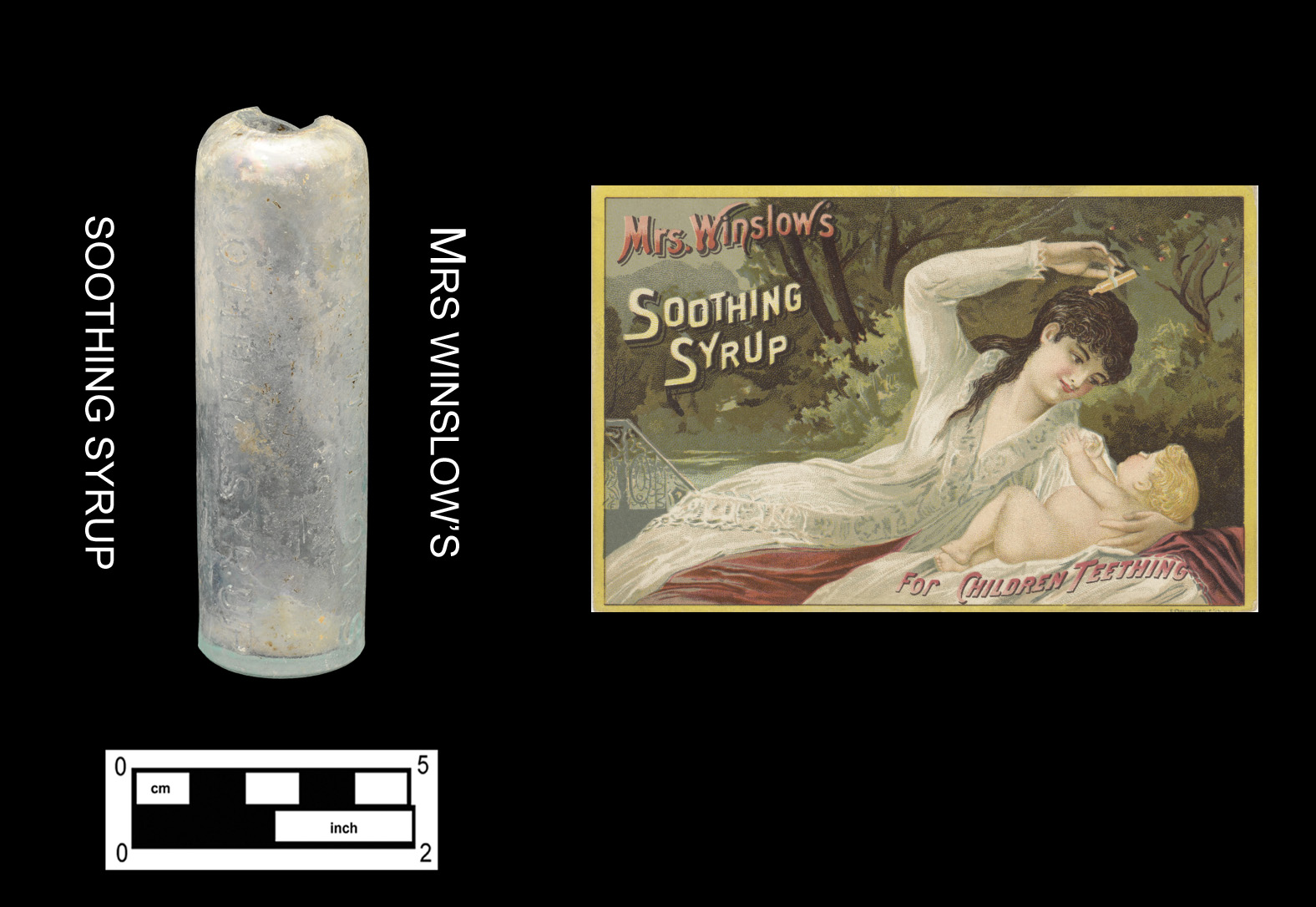 Mrs. Charlotte N. Winslow introduced the preparation in the 1840s. By 1844, she passed the recipe to her son-in-law Jeremiah Curtis, who formed a partnership with Benjamin A. Perkins the following year to manufacture and sell the product. 5 Their bottles were embossed with "Mrs. Winslow's / Soothing Syrup / Curtis & Perkins / Proprietors," as noted above. 6 When Perkins retired in 1855, Curtis' son joined the business. 7 The embossed label was changed to "Jeremiah Curtis & Son / Successors to / Curtis & Perkins." 8 By 1880, the father and son partnership had ended, and the Anglo-American Drug Company sold the syrup. 9
Although the recovered bottle is marked "Mrs. Winslow's / Soothing Syrup / Curtis & Perkins / Proprietors," bearing the name of a partnership that ended in 1855, it features a cup-bottom molded base and air-venting marks throughout the embossing. Air-venting marks integrated into the embossing typically date from the mid to late 1890s to the end of the era of mouth-blown bottles in the early 1920s. 10 Likewise, cup-bottom molds reached their peak period of use between the late 1880s and the late 1910s. 11 Even without the finish, other physical characteristics of the bottle suggest it was produced sometime between about 1895 and 1920. Given the probable manufacturing date range of the bottle, it was likely used and disposed of during the Steinmeyer family's residence (1887+) at 2925 Richmond Street. The two Steinmeyer sons, Ernest H. and Harry H., were born in 1892 and 1894, respectively, and it seems probable that this bottle of Soothing Syrup was directly related to their early childhoods.
Children's Mugs
Two mugs excavated from this feature are of a small size and typical of drinking vessels for children. The more complete example consists of half of a small, colorful child's mug made from pale blue refined earthenware (2.6 inches tall with a 2.7-inch base diameter). The mug features a raised sprig-molded floral vignette, painted in a somewhat crude fashion with colored enamels over the glaze (Cat # 8.31.184). Likely of English origin, the decorations on the mug closely resemble those typically seen on earlier luster-decorated children's mugs, and the blue clay body seems to imitate Wedgwood's jasperware. Based on its archaeological context, this blue child's mug is likely contemporary with recovered brightly colored glassware and a majolica pitcher, though it is difficult to determine which one of the three late-nineteenth-century families who occupied 2925 Richmond Street owned the mug.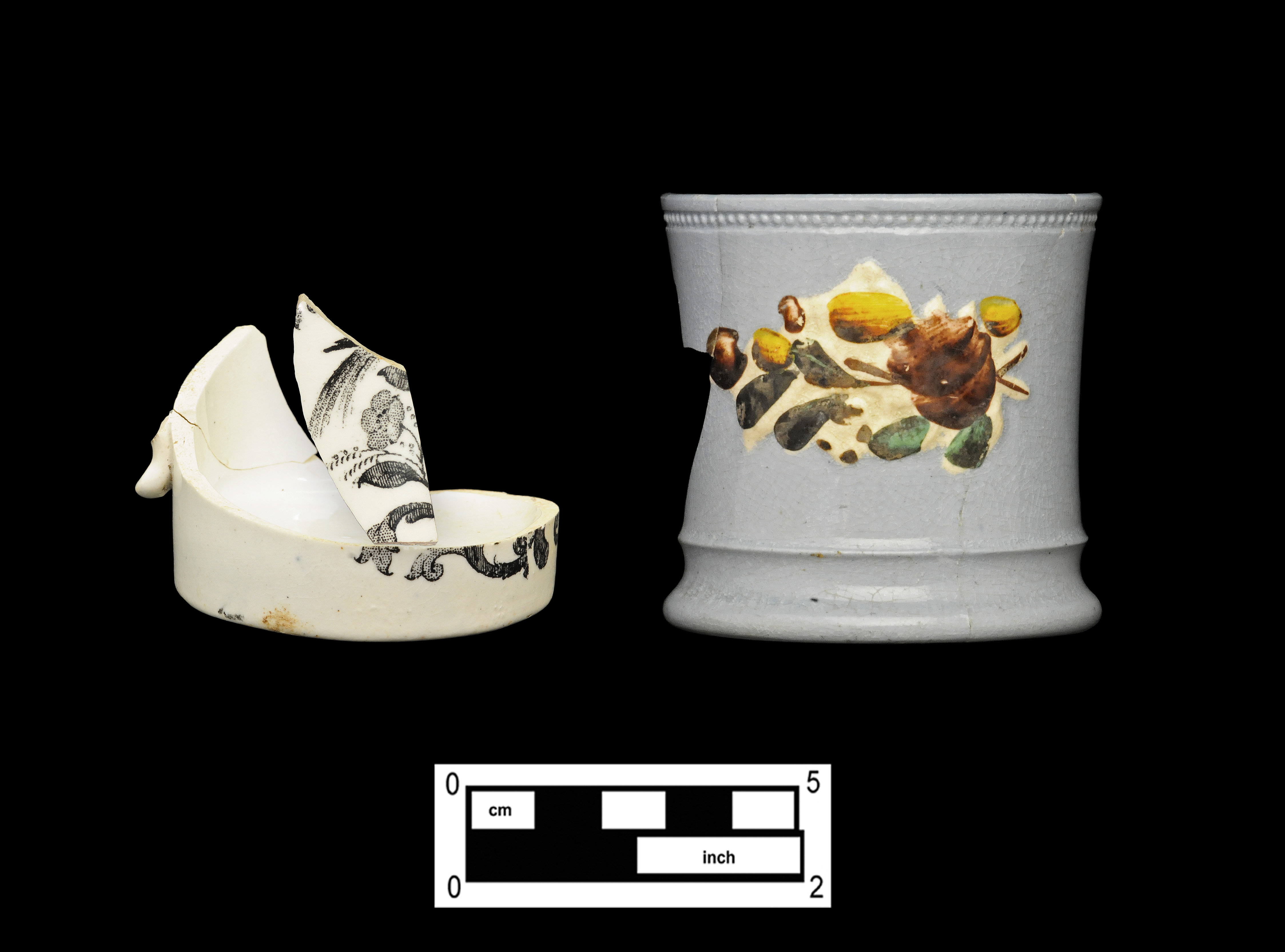 The second child's mug is represented by two body sherds and a complete base, measuring 2.25 inches in diameter (Cat # 8.30.12). The base section contains the remains of a narrow handle attachment that curves out slightly in a little tail at the lower edge. The front of the mug opposite the handle was decorated with a black transfer-printed pattern, consisting of flowers and scrolls that probably encircled a child's name or a few lines of verse. Small mugs and plates featuring printed, molded, and painted motifs were popular gifts for children throughout the nineteenth century. 12
Banks
Two nearly complete banks and several additional fragments recovered from this feature represent five "beehive-shaped" banks. All five of the banks are made of unglazed red earthenware clay shaped by hand on the potter's wheel. While all of these banks were probably made in the Philadelphia area, similar banks were for sale in "Norwalk, Connecticut in 1864 for forty cents per dozen." 13 The two most complete banks were formed from orange-colored clay and are similar in size, with a broad domed shape (C-0748, C-0747). One of the banks is topped with a decorative knob or acorn-shaped finial, a common feature on banks of this style.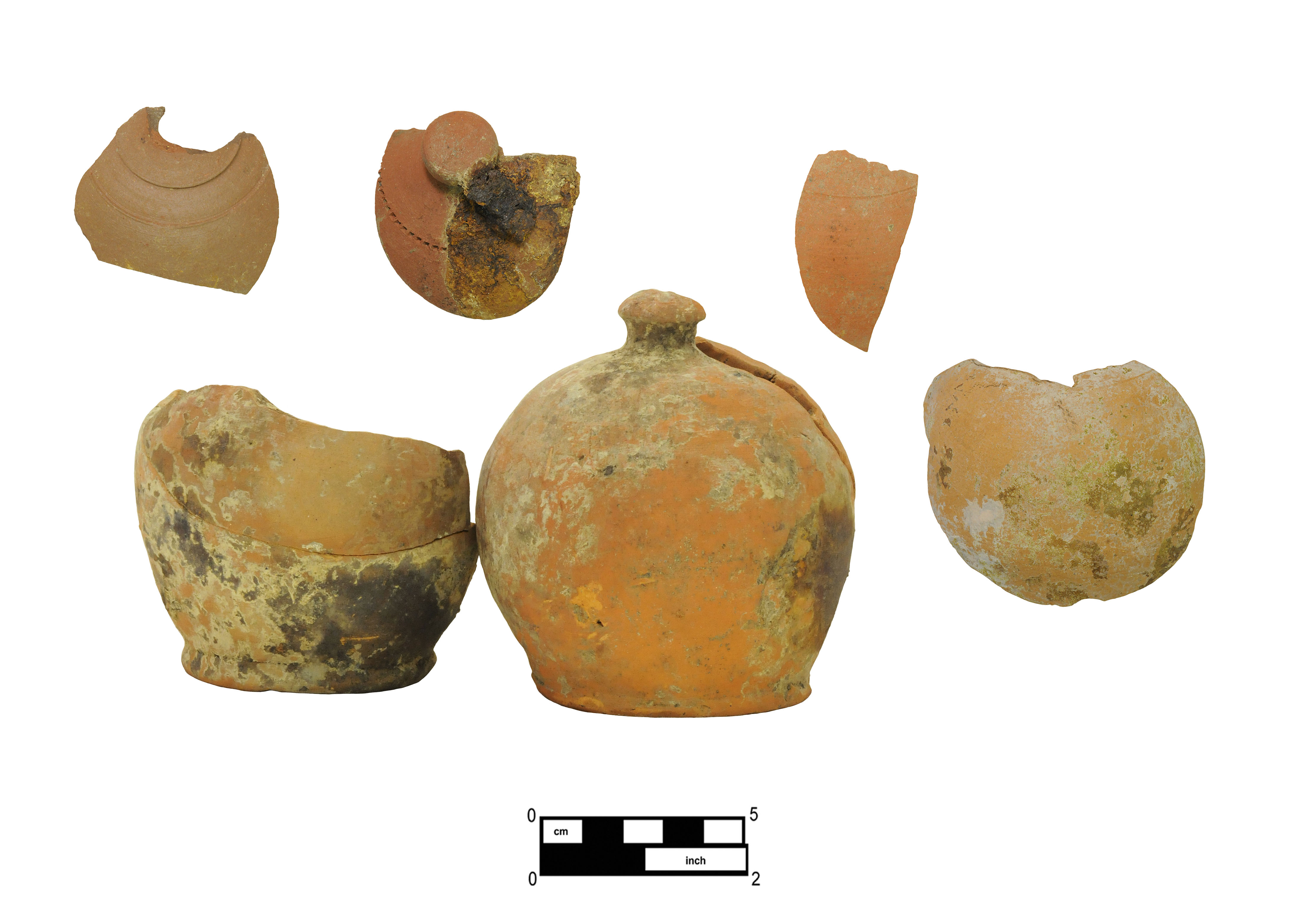 Three additional banks are each represented by a single distinctive shoulder fragment and appear to be made from a different type of redware clay, possibly fired at a higher temperature (Cat # 8.31.149). These three sherds are dark red to reddish brown in color and of a smaller dimension when compared with the dome fragments of the more complete banks. One fragment consists of a portion of a shoulder and the top of the bank, with an ornamental knob-like finial featuring a flattened top. The shoulder of this bank is encircled with an even band of small square notches formed with a roulette wheel. Another dark red shoulder fragment is circumscribed with a single narrow incised ring. The remaining bank shoulder fragment is dark reddish brown with a distinctive, wide tooled band around the shoulder, measuring about 0.3 inches in width.
A single fragment of a sixth redware bank was formed in a mold and shaped like a piece of fruit, probably an apple (Cat # 8.30.85). Although evidence of the mold seam was carefully hidden on the exterior, a thick rib of clay near the center of the interior sealed the two molded halves together. Fruit banks were often left unglazed and sometimes painted red, green, or yellow to imitate apples, oranges, pears, and lemons. This bank shows no signs of glaze on either surface; however, there is a small patch of what appears to be pink paint on the exterior below the coin slot. The Montgomery Ward & Company catalogue for 1895 lists a fruit bank as item number 54890: "Earthenware money bank, same shape, size and color as an orange for 5 cents each or 55 cents per dozen." 14
Both styles of earthenware banks feature a single slot opening, which made it difficult to retrieve coins after making a deposit. The quickest and easiest means of accessing the contents was to break the bank open. 15 Earthenware banks were used to encourage children and young adults to save money. The six banks from this feature may have been owned by children in one or more of the families who occupied the house during the mid to late nineteenth century.
Dolls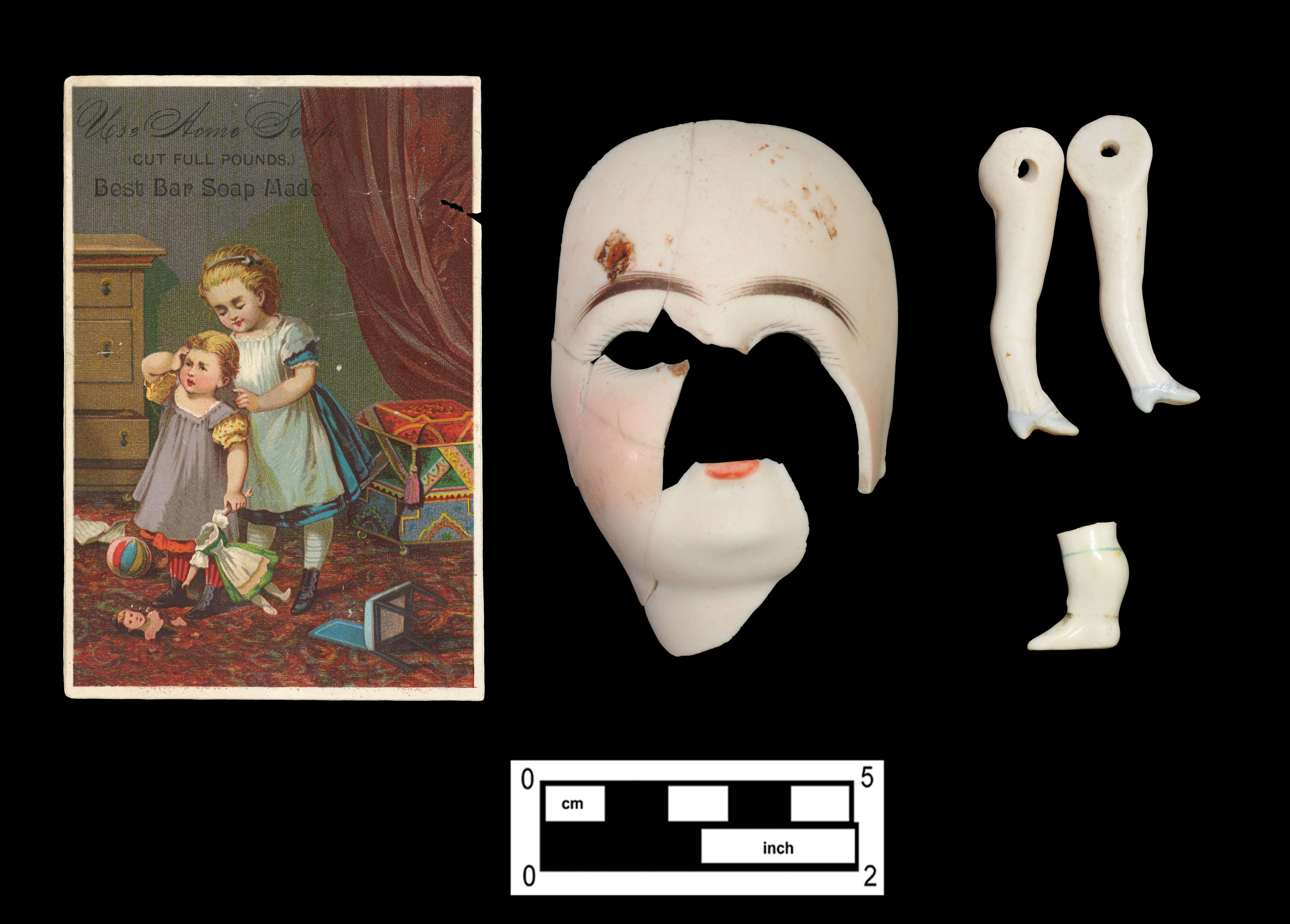 Several doll legs and a portion of a large bisque (unglazed) porcelain head represent parts from at least three different dolls. Some of the families living at this address during the later nineteenth century had young daughters that may have played with these dolls. In the mid-nineteenth through the early twentieth century, porcelain factories in Germany manufactured large numbers of dolls and exported them to the United States. All three of these dolls were probably made in Germany and are typical of dolls from the late nineteenth to early twentieth century.
Mending fragments constitute part of the face of a large doll with empty eye sockets that once contained a pair of glass eyes (Cat # 8.30.119, 8.31.178). Two bisque porcelain legs with perforated holes through each thigh were once attached to a small jointed doll, probably less than 6 inches in height (Cat # 8.30.94). A broken piece of a single glazed foot appears to be from a similar small doll of about the same height (Cat # 8.31.238). It is not uncommon to find doll parts on archaeological sites from this time period. The hollow heads of larger dolls were thinly molded in porcelain, which made them prone to break during a fall. The jointed limbs on smaller dolls were often attached with wire or elastic that wore out over time. Some dolls were carefully repaired with new heads or various parts made available in shops, while others may have been mended by simply using the intact pieces from another broken doll.
Toy Dishes
Pieces from at least seven different toy tea sets in two distinct sizes were recovered from this feature. Larger tea and tableware sets were made for children to have parties with their playmates, while smaller scale sets were designed for play with dolls. 16 Some of the excavated tea wares were made of porcelain, others of refined white earthenware.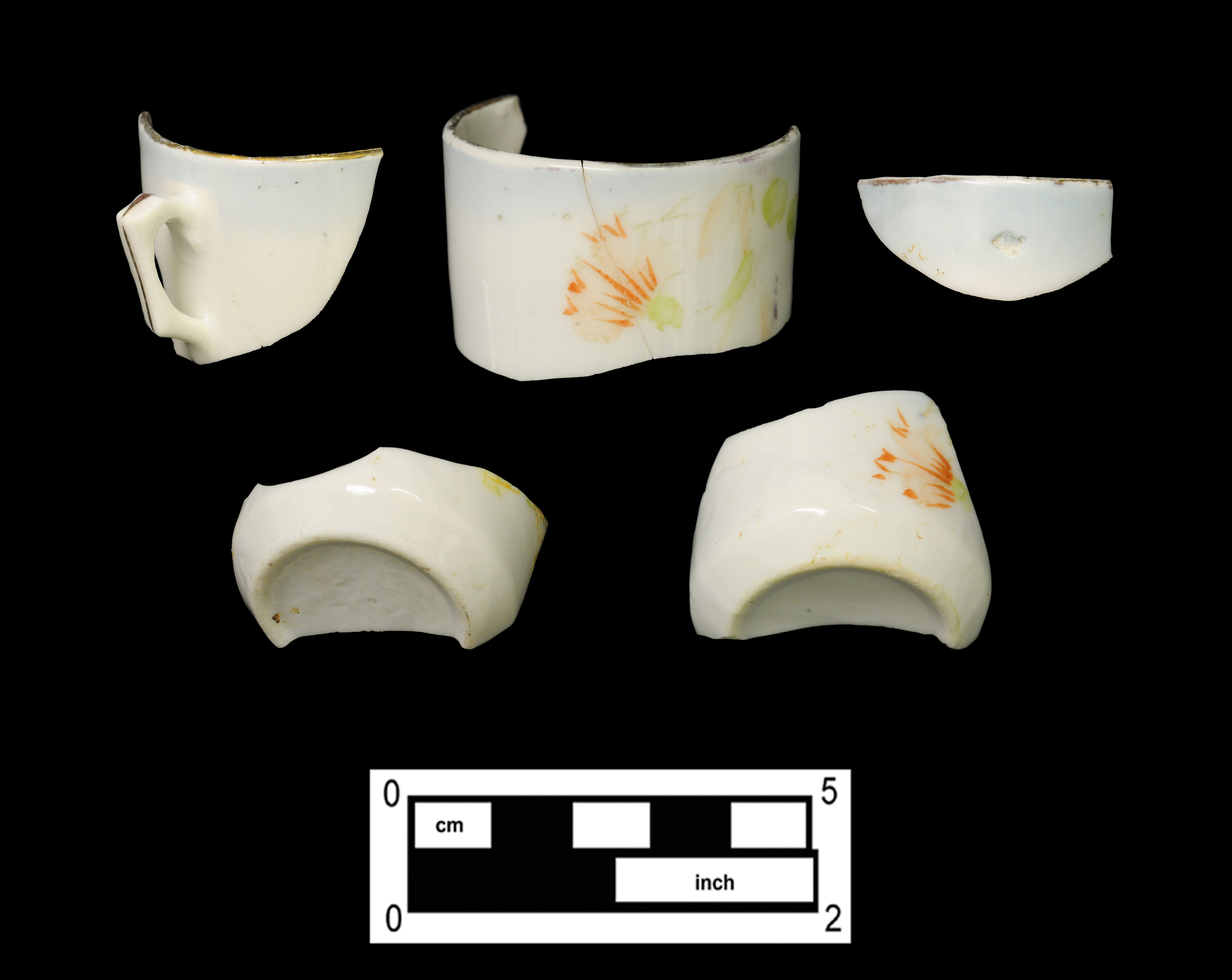 Porcelain dishes in two different sizes represent part of a matched child-sized tea set, and some small-scale pieces appear to be for playing with dolls. The remains of the larger set consist of fragments of two teacups and a matching saucer (Cat # 8.30.89, 8.30.90, 8.31.173). The handled teacups are decorated with orange flowers, blue bands at the rim, and gilt highlights atop the rim and handle. Pieces of a saucer or small plate were decorated with a similar blue band and gilding around the rim. A rectangular porcelain lid with a flower finial knob was probably the lid for a teapot or sugar bowl (Cat # 8.30.93). This lid features a band of impressed, diagonal lines around the rim in a style that does not appear to match any of the other decorative tea wares from this feature. The five smaller porcelain pieces appear somewhat mismatched and represent portions of two doll sized teacups, two saucers, and a sugar bowl or handless cup. Although these pieces are of similar scale, slight differences suggest that they were not part of the same set. Both of the teacups and saucers differ slightly in size, and one cup has a solid handle, while the other exhibits an open loop handle (Cat # 8.31.170). The other doll-sized vessel features a hand-painted floral motif in blue, olive green, and brown, with a gilt band around the rim (Cat # 8.28.26).
Two plain, white granite plates contain portions of an impressed maker's mark: "MADDOCK'S PATENT IRONSTONE CHINA." This variation of the Maddock's mark does not appear in Goeffrey Godden's book of British marks or on the Staffordshire potteries website. The mark is probably related to John Maddock's pottery in Burslem, Staffordshire (1842–1855), or John Maddock and Sons (1855–1896). 17 These two plates, measuring 4.75 inches in diameter, were large enough for children to use during play. The fragments of a third white granite plate, with a diameter of 4 inches, does not show evidence of a maker's mark.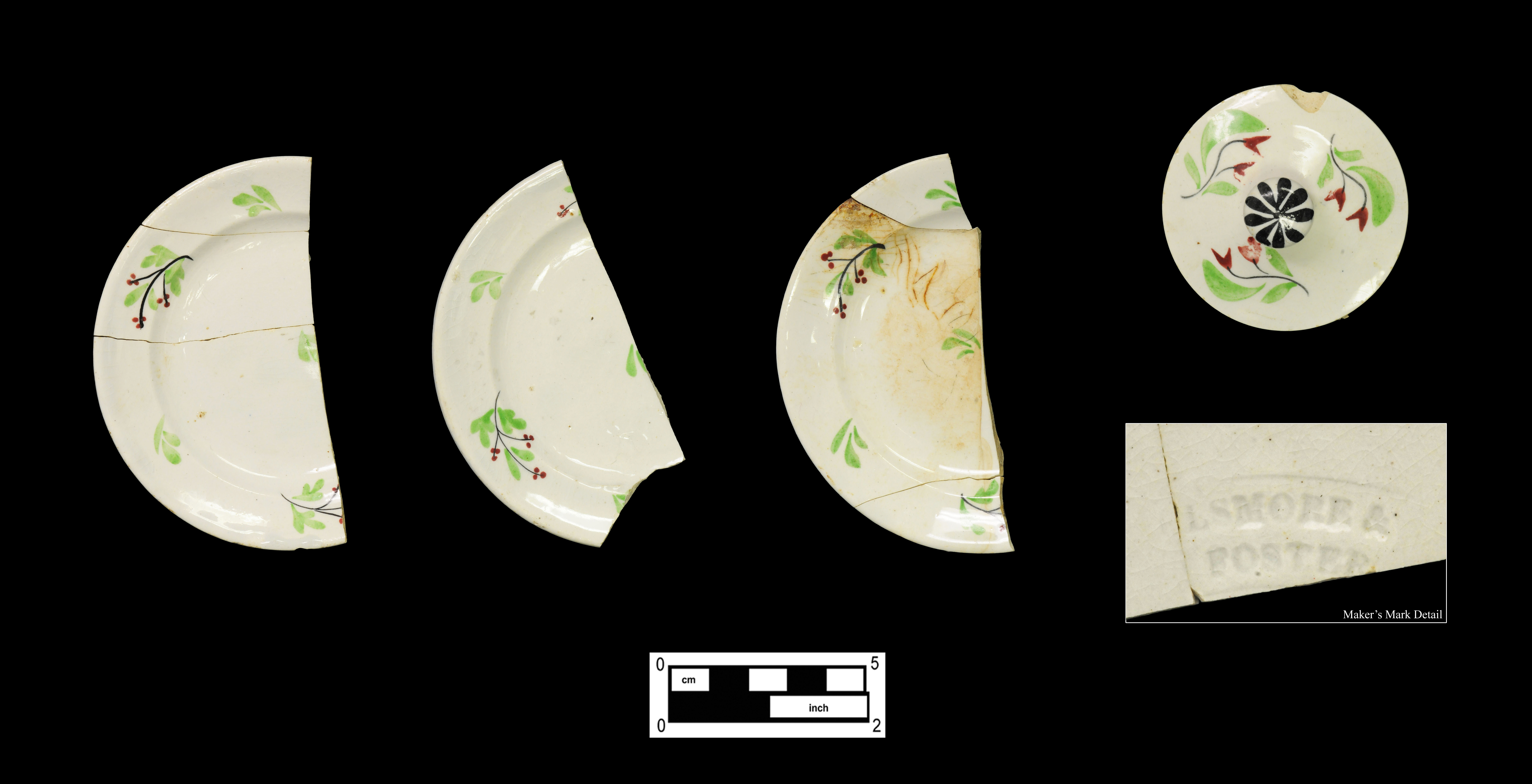 The most complete set of children's tea ware consists of three matching plates, portions of two saucers, a cup, and the lid of a teapot or sugar dish (Cat # 8.30.5, 8.31.193, 8.31.194, 831.197). All of the pieces are refined white earthenware decorated beneath the glaze with a small hand-painted floral sprig motif in red, green, and black. 18 Although the red flowers on the teapot lid are different than those on the rest of the pieces, they were probably close enough to pass as part of the same set. The three plates contain portions of an impressed maker's mark lettered "Elsmore and Foster"—a misprint of the actual firm name, "Elsmore and Forster." This impressed maker's mark was one of several Thomas Elsmore and Thomas Forster used at the Clayhills Pottery in Tunstall, Stoke-on-Trent, England, from about 1855 through 1871. 19 Elsmore and Forster manufactured a wide range of patterns in white granite tea and tableware, including some sets scaled for children. 20
Another set is represented by the lid of a teapot or sugar dish, a complete saucer and fragment of a small plate, all decorated with a matching floral decal pattern identified as "Morning Glory (Cat # 8.31.203, 8.31.204)." 21 Although the pieces are unmarked, they are similar to sets made in England around 1890 and may have belonged to Marguerite Steinmeyer. 22 It is interesting to note that this pattern is similar to pieces with a brown printed pattern from a full-sized set of tableware, possibly belonging to Marguerite's mother.
Toy Caster Bottle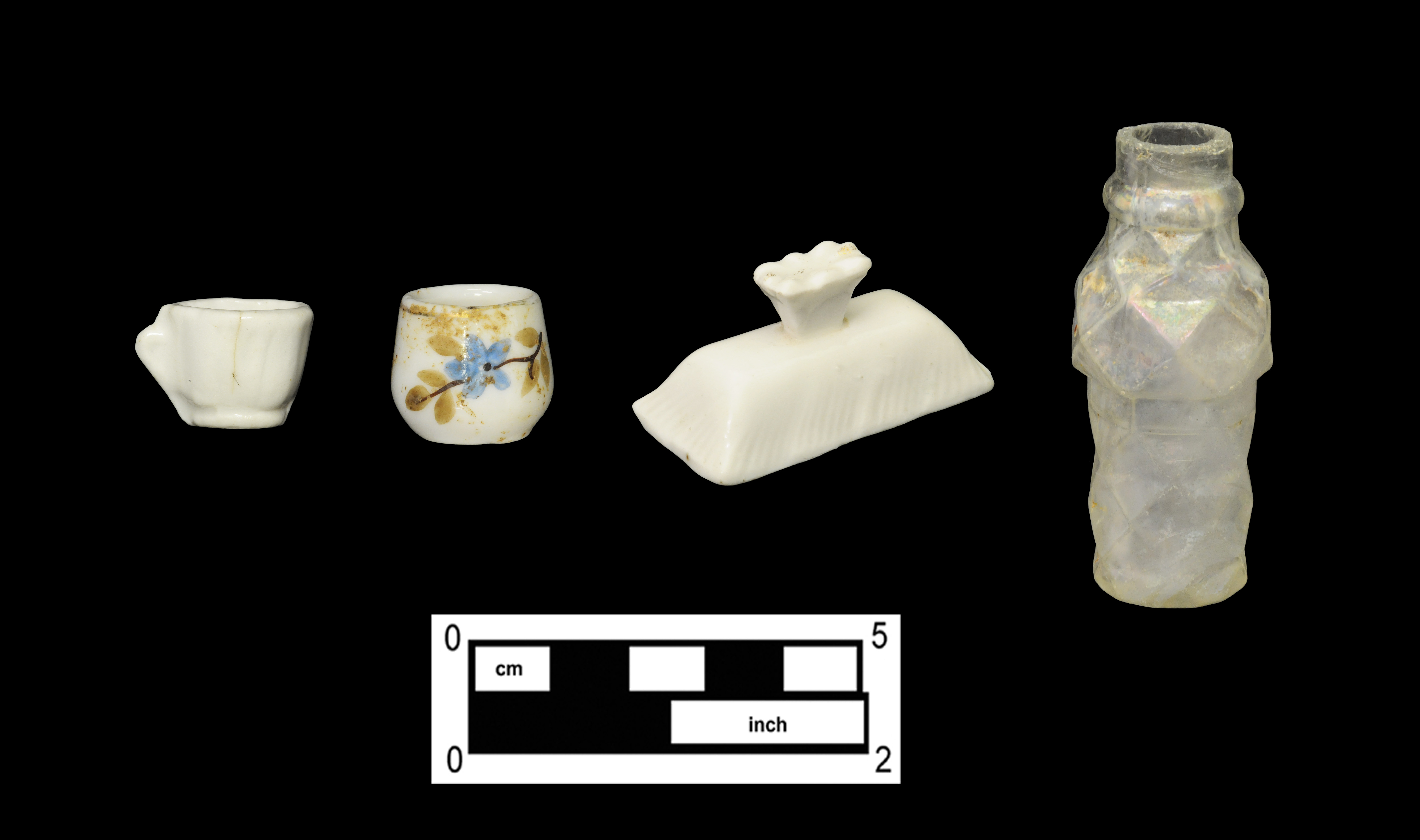 A small glass bottle, covered with a molded diamond decoration, is the single surviving container from a toy caster set (G-0813). Throughout the nineteenth century, matching sets of glass bottles in metal stands or frames were used to carry and serve condiments at the dining table. Toy caster sets were made in imitation of the elaborate stands used in adult dining and entertaining. 23 While there are variations in the decorative patterns of these small bottles, there is little information available to aid in attributing the toy casters to a specific glass factory. Newspaper advertisements from the late nineteenth century often listed toy caster sets among the assorted toys offered around the Christmas holidays. This bottle has a bulging shoulder that allowed the caster to sit in a small metal stand. The rough ground mouth on this bottle was most likely covered by a perforated metal cap in imitation of a pepper shaker. The motif is known as "diamond" pattern among toy caster collectors, but is very similar to the "smocking" pattern found on glass tableware adults used. 24
Marbles
Toy marbles were used in playing a variety of different games, both indoors and out. Seven marbles were recovered from this shaft; six were formed from clay and the remaining example was shaped from stone. The marbles vary in size from 0.45–0.8 inches in diameter. The ceramic marbles were formed from several different types of clay: one of unglazed pink clay (Cat # 8.30.20), two of unglazed yellow clay (Cat # 8.31.234), two more from unglazed white clay (Cat # 8.31.234, 235), and one of white clay with blue glaze (Cat # 8.31.237). The stone marble (Cat # 8.31.236) was probably shaped from limestone, possibly made in Coburg, Germany, which was well known in the eighteenth and nineteenth centuries for its marble production.
Slate Pencils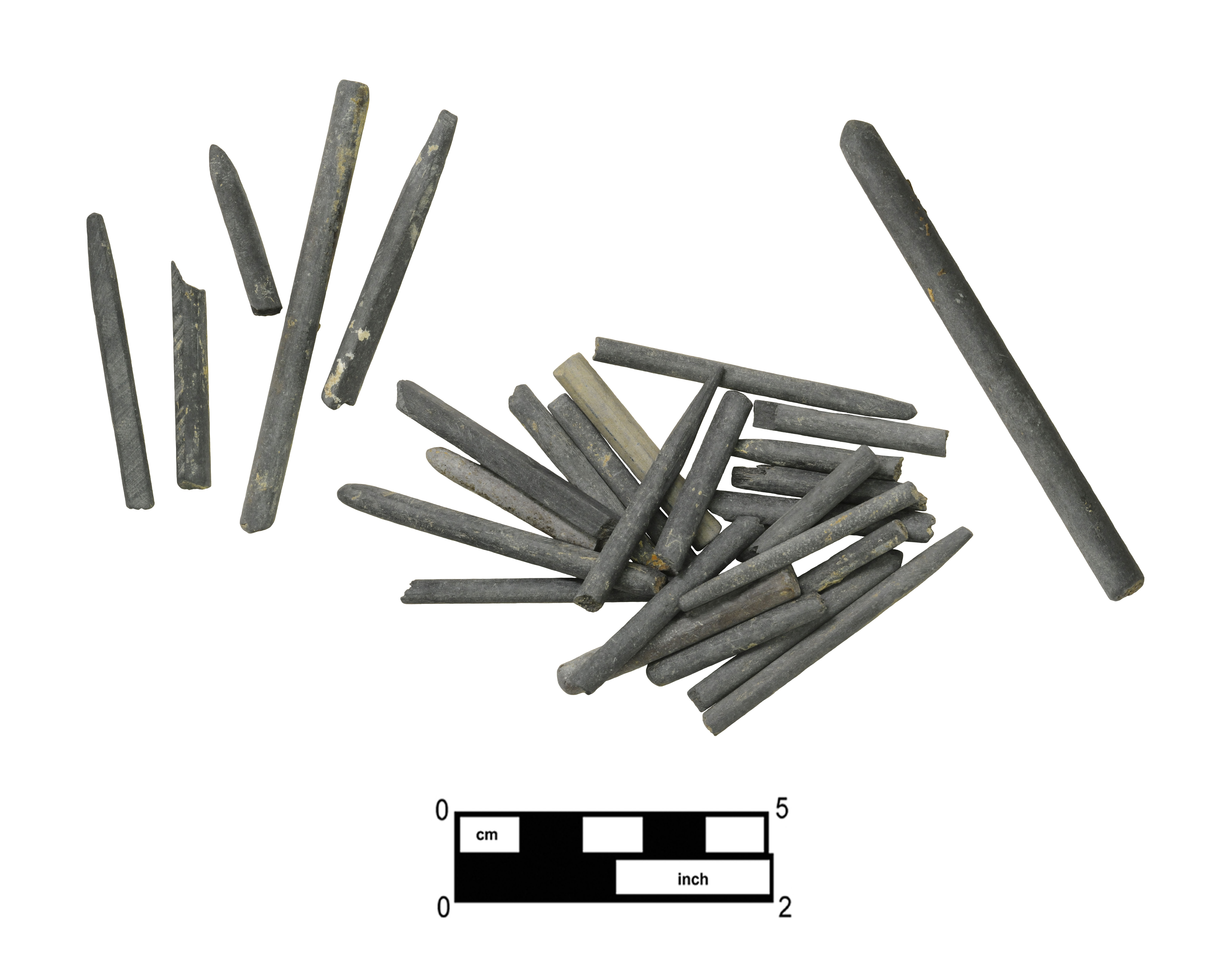 A total of 28 fragments of slate pencils, most measuring only 1–2 inches in length, were recovered from this feature (Cat # 8.31.255). Although this is a large number, some of the fragments are likely pieces from the same pencil. Closer inspection reveals that 12 of the fragments were sharpened to a point at one end and appear to represent individual pencils. Slate pencils are often associated with school children and the development of early writing skills, although adults also used them for keeping lists and accounts at home and in business.
Glimpses of Childhood
Although it is difficult to connect some of these items with a family or specific individuals, the quantity and assortment of artifacts provide details about the lives of the often overlooked young occupants of this household.