The use of colored glassware was not just confined to the dining table—it was also incorporated into the overall décor of the parlor or sitting room. Porcelain vases and figurines were also used on mantles and shelves to decorate living spaces.
Vase (or Basket) with Rustic Handles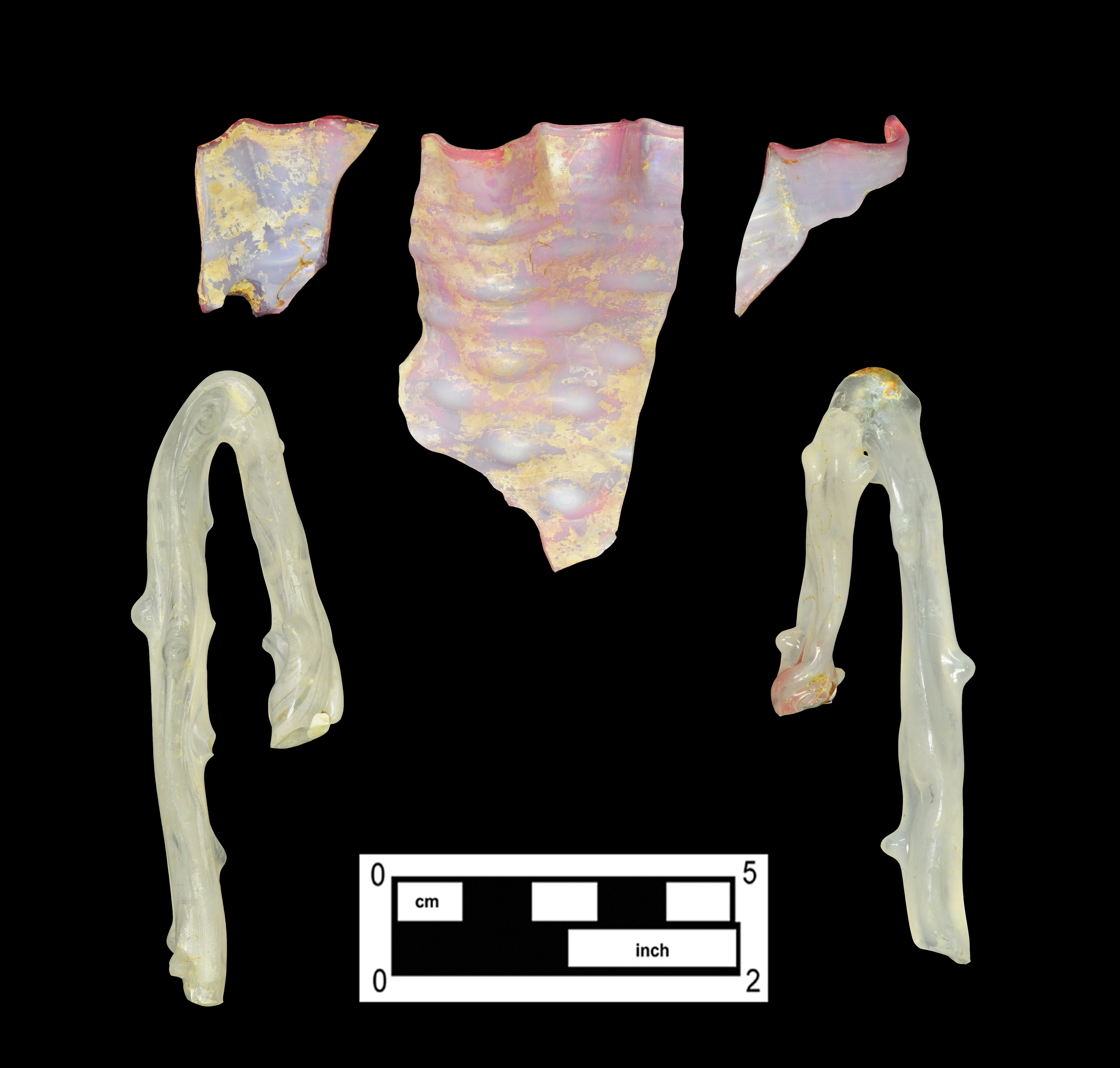 During the last quarter of the nineteenth century, glassworkers experimented with color, applied ornamentation, and added internal and external decoration to make glass that was often more decorative than functional. Sometimes called "art glass," or "fancy glass" in England, this exuberant glassware suited the densely layered, richly colored, and heavily ornamented décor often seen in late Victorian interiors. Seven sherds from an art glass vase or basket were recovered in this feature (Cat # 8.31.135). The vessel would have appeared pink, but actually the glassblower used a very thin inner layer of ruby glass and a thin outer layer of clear heat-sensitive glass. 1 The gather was blown into a mold resembling a basket weave, and the rim was crimped, creating a wavy edge, which was very popular at the time. After being allowed to cool somewhat, the piece was reheated and the outer layer turned opalescent, making the thicker, protruding surfaces created by the design in the mold appear white. Three sections of "rustic" thorny branch handles with a matte (acid-etched) surface were also recovered. While highly decorative and sculptural in nature, this vase or basket may have been used to hold flowers. The techniques used and the specific shape of the handle fragments indicate that the piece was probably made in England circa 1885. 2
Pink Glass Rim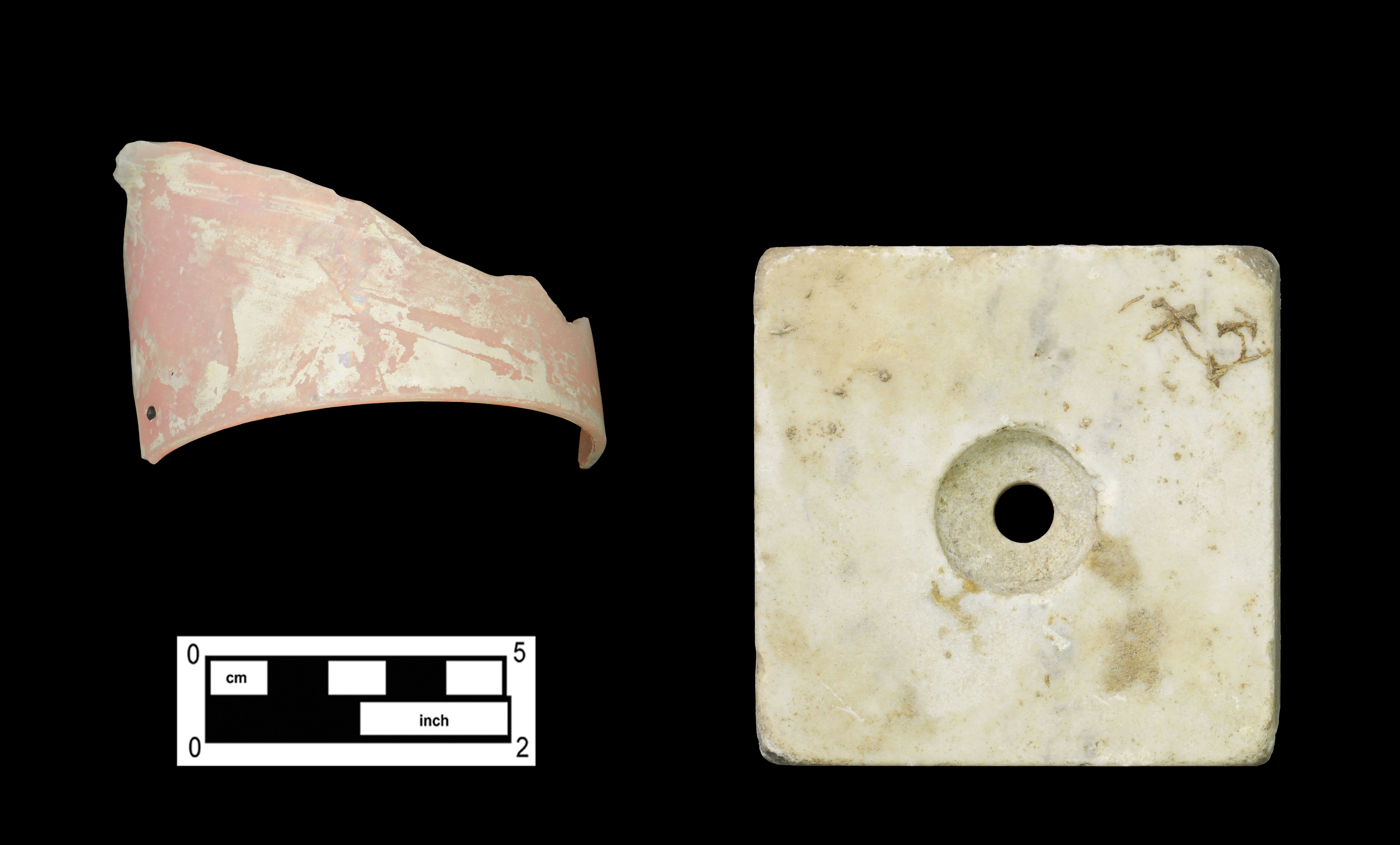 Approximately half of a deep, vertical rim that would have measured about three inches in diameter is all that survives of a piece of pink art glass —a term given to a variety of colorful, ornate, exotically shaped glass popular in the last quarter of the nineteenth century. The rim is ground flat and is most likely the upper section of a large shade for a kerosene lamp, or perhaps a vase (Cat # 8.31.137). The glass was exposed to hydrofluoric acid to create a matte or "plush" translucent finish. Because there is so little of the object remaining, it is impossible to tell if this was heat sensitive "peach-blow" parti-shaded glass. A few darkened spots indicate that it had enameled decoration. Displaying such elaborate glass, which was popular with the growing upper middle class, indicated good taste and an awareness of "art." 3
Marble Base
A finished piece of marble is likely the base of a "composite" style lamp (Cat # 8.31.185). The marble block is 3.5 inches square, with a height of 1 inch. There is a round hole through the center with a larger diameter on the bottom for concealing the fastener that connected the other parts of the lamp to the base. While a few early-nineteenth-century lamps featured square marble bases, they became more commonplace with the introduction of coal oil or kerosene lamps of the late 1850s. 4 This style of lamp was advertised as a composite lamp and often consisted of a marble base, brass stem, and glass font. By 1865, the Illustrated Catalogue of American Hardware offered three full pages of composite style lamps. 5
Porcelain Mantle Vase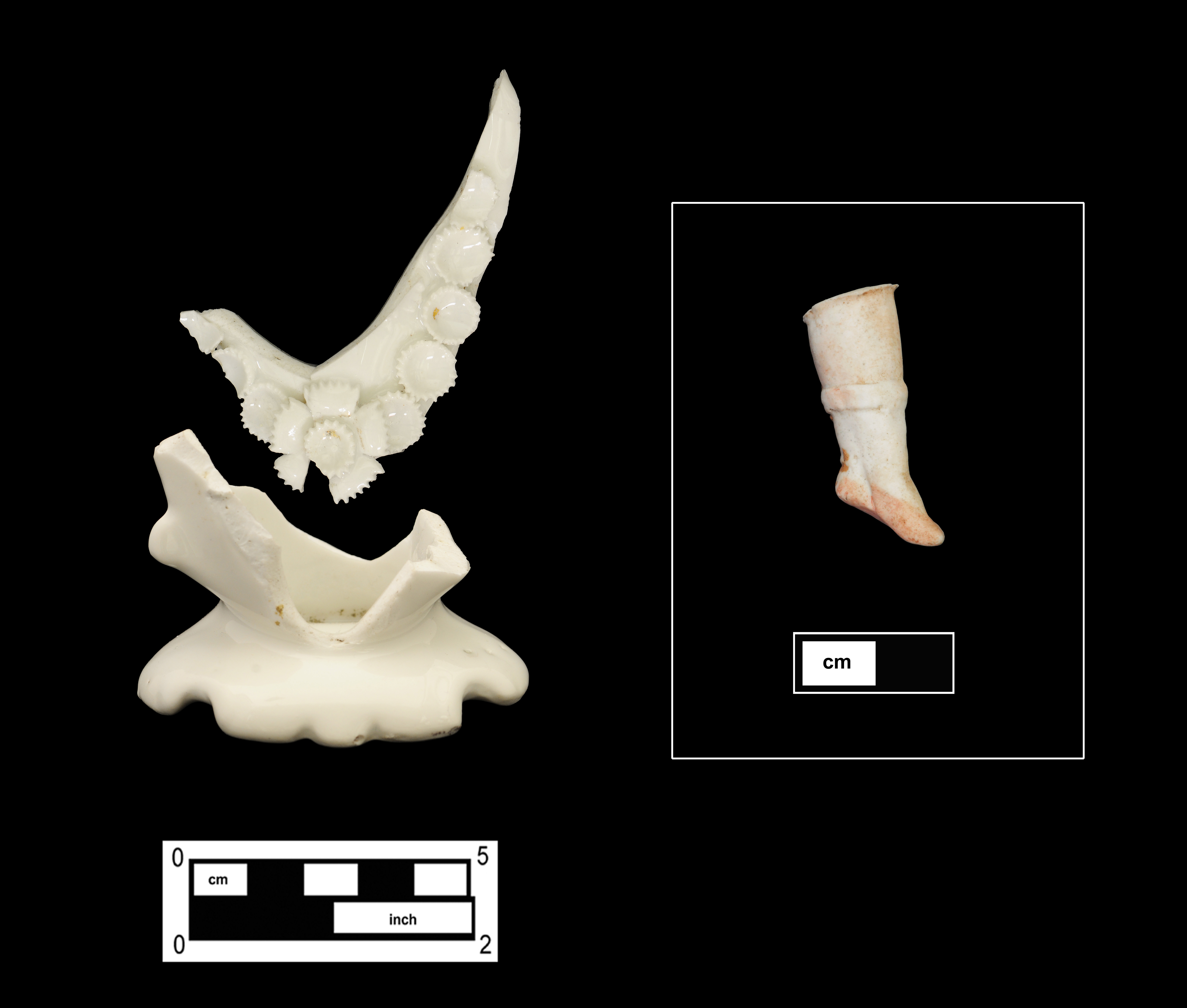 The base and two body fragments from a porcelain mantle vase were also recovered from this feature (Cat # 8.31.163). The body sherds of this vase are ornamented with applied decoration formed by means of a small stamp used to cut out shapes from clay in a method similar to a cookie cutter. The small clay pieces were applied to resemble flowers, and several were grouped like petals to create a single larger flower. Faded gilding is evident on some of the flowers. The Conta and Boehme factory in Poessneck, Germany, made similar vases of different sizes and a wide range of decorations. 6 This type of vase was often displayed on mantles in pairs. Several other vase fragments with different styles of decoration have been recovered from other domestic sites within the I-95 project area. To date, the most complete examples are a pair of matching vases from a household located on Richmond Street.
Porcelain Figurine
A single bisque (or unglazed) porcelain leg is the only evidence to suggest the presence of a small figurine (Cat # 8.32.18). The upper portion of the leg flares slightly, as though it had been attached to a skirt or short pants, and this feature distinguishes it from a doll's leg. The bare leg is a pale pink color to mid-calf, where a partially rolled white stocking covers it. The foot is contained within a simple red slipper and the toes are extended as though the figure was seated or perhaps dancing on its toes. Several porcelain figurines recovered from other parts of the project area suggest that they were a common and popular object for interior decoration.
Porcelain Cuspidor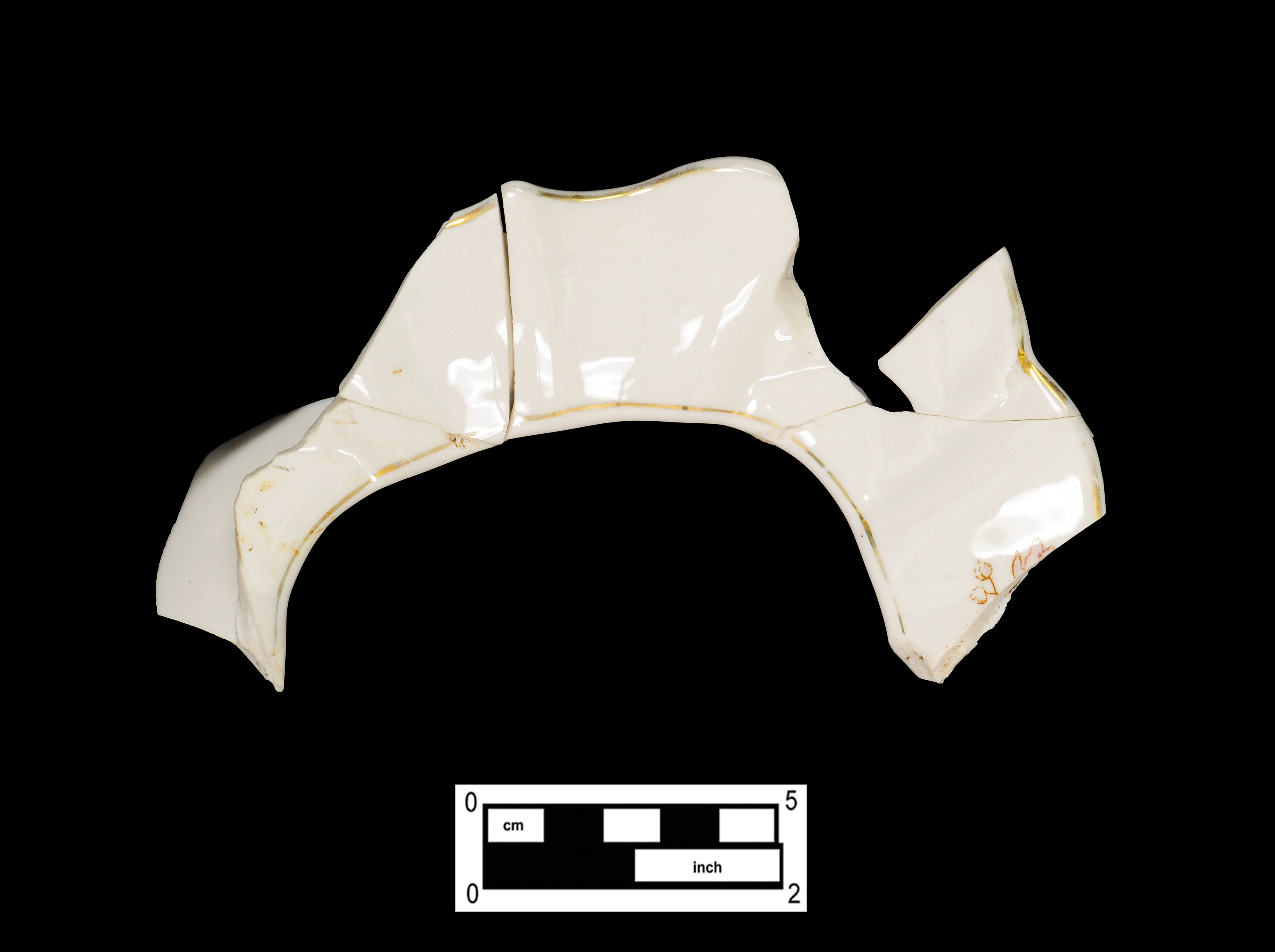 Several fragments of a porcelain vessel with a wide, flared rim appear to be part of a cuspidor or spittoon (C-0461). Due to the popularity of chewing tobacco, spittoons were a necessary device in homes and public buildings during the nineteenth century. In many instances, the words "cuspidor" and "spittoon" were interchangeable, and both terms are defined as receptacles for spitting. Spittoons made of ceramic or metal were also used to deposit smokers' ashes and cigar butts.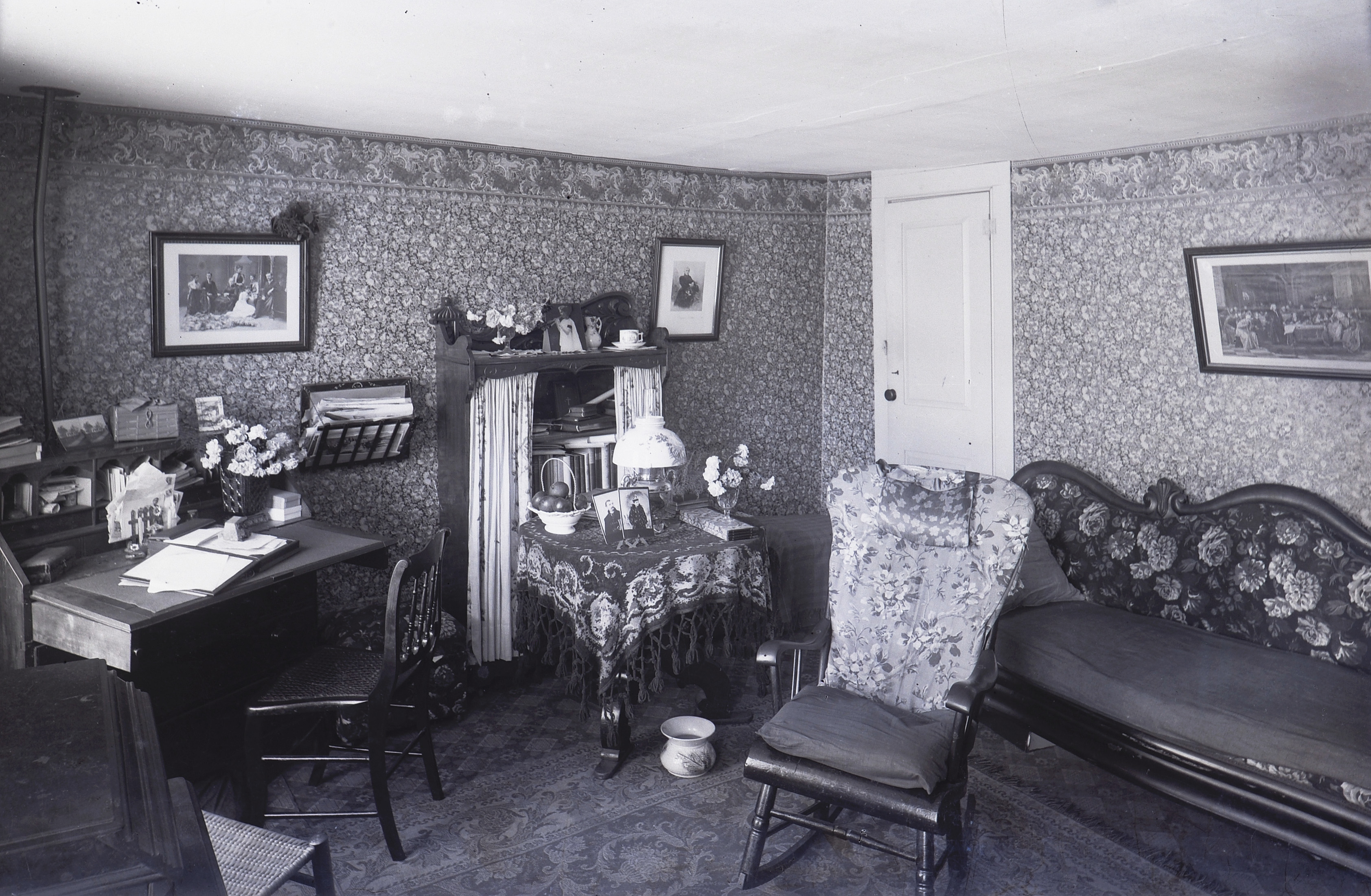 The 1895 Montgomery Ward & Company catalog offered "cuspidors" in seven different styles, with illustrations of vessels featuring broad, flared rims, narrow necks, and large globular bodies.[7. Montgomery Ward & Co., Montgomery Ward & Co. Catalogue and Buyers' Guide Spring & Summer 1895 (New York, NY: Dover Publications, Inc., 1969), 535] Some of these cuspidors were advertised as "new shapes," and one style was described as "heavy and not easy to tip over"—no doubt a desirable trait, considering the contents. The accompanying descriptions suggest that floral decorations were popular. The recovered rim fragment features a scalloped edge with a molded design, two narrow gilt bands, and the remains of a pink and brown floral decal decoration. This decorated porcelain cuspidor may have been selected to match the furnishings in a stylish parlor.
Hints of Home Décor
Although these objects are all fragmentary, they reflect the popular and individual tastes of the late nineteenth century. Some objects are similar to those used in other households in these neighborhoods, while others are somewhat unique.