Among the molded white granite tea cups and fragments of decal-decorated plates recovered from this feature, several pieces of ceramic and glass emerged that brought current fashion and color to the dining table.
Majolica Pitcher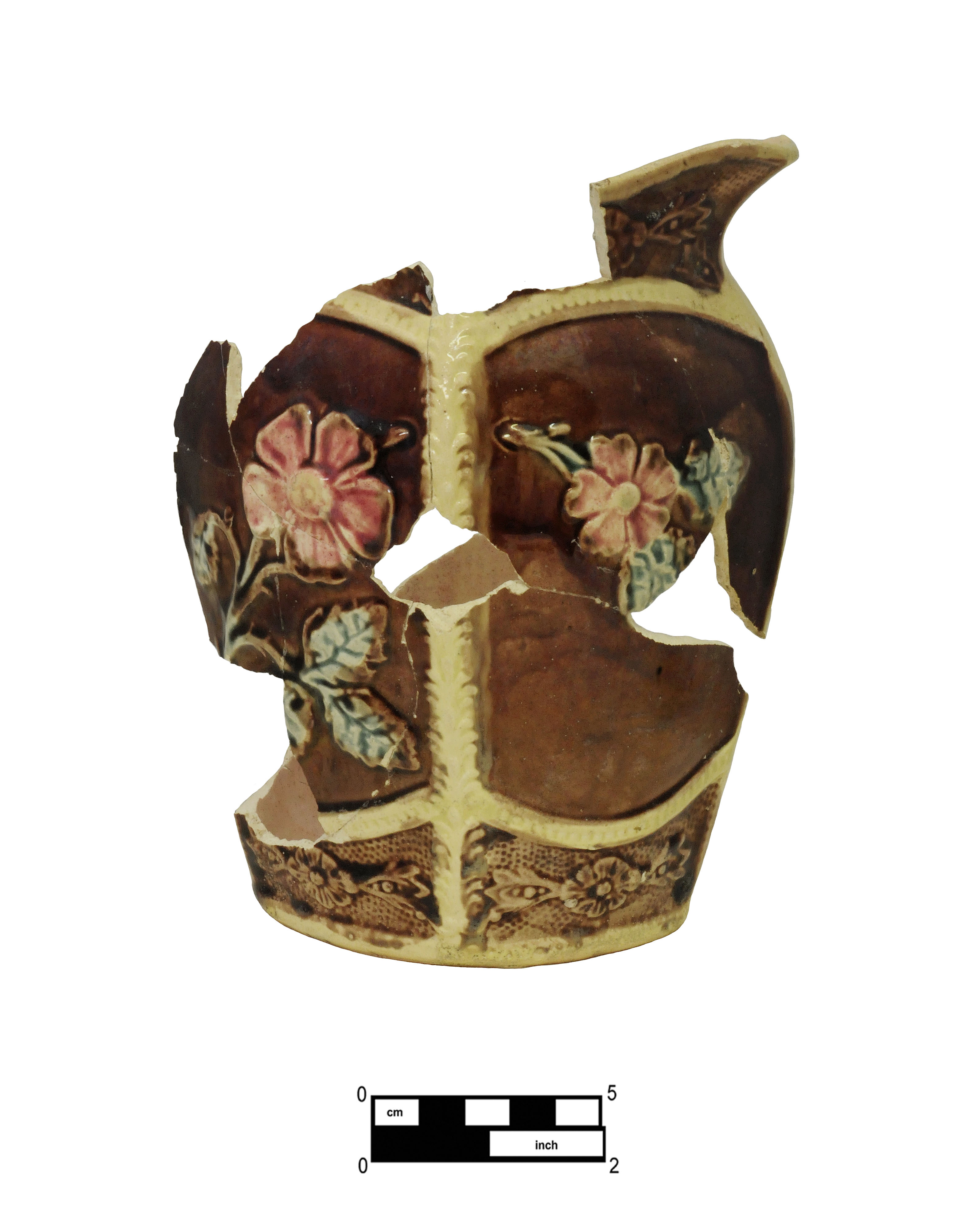 A Victorian majolica pitcher is part of the ceramic assemblage discovered in Feature 1 (C-0619). Though the stamped mark on its base is illegible, the pitcher was probably produced sometime in the last quarter of the nineteenth century. While Victorian majolica was first introduced at London's 1851 Great Exhibition, it did not become popular in the United States until its appearance in Philadelphia at the 1876 Centennial Exposition. 1 The ware reached its peak popularity in America in the 1880s, but quickly fell out of fashion by the turn of the twentieth century. 2 Indeed, American production of majolica had ceased by the First World War. 3 Given the period of peak popularity for Victorian majolica in the United States, and taking into account depositional lag time, it is likely that this pitcher once belonged to either the Cotter (1882–1887) or the Steinmeyer (1887+) family, and fits the pattern of very colorful ceramics and glassware recovered from the feature.
"Mikado" Pressed Tableware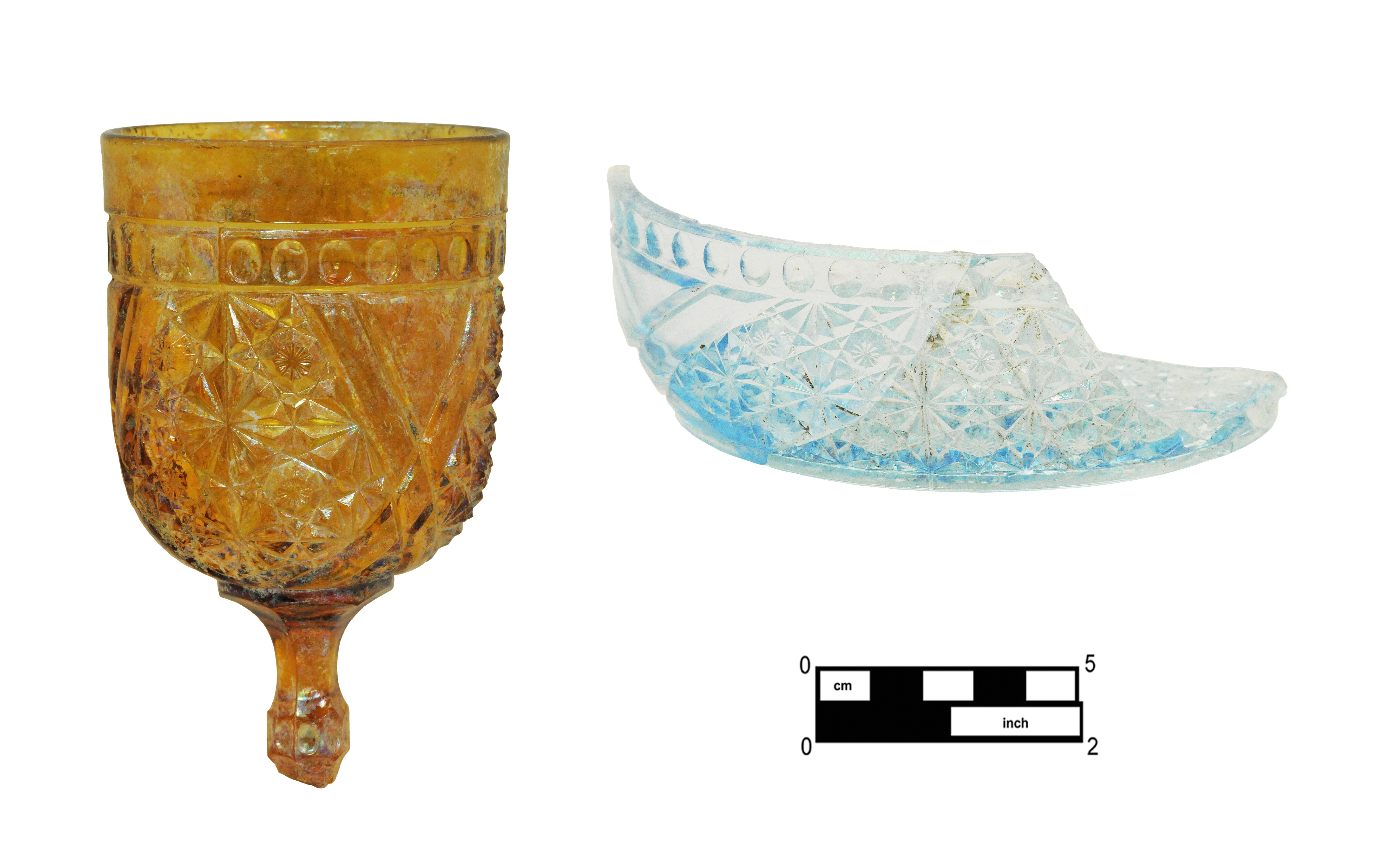 In the second half of the nineteenth century, many American glass factories produced and marketed pressed glassware in a variety of forms and colors with matching pictorial or geometric patterns. Three examples of pressed tableware in the Mikado pattern—also called daisy and button with crossbar or daisy and button with crossbar and thumbprint band—were recovered in this feature: the intact bowl and stem of an amber goblet (Cat # 8.31.131), three sherds of a light blue shallow bowl/dish with a flat rim (Cat # 8.30.117, 8.31.132) and two sherds of a smaller light blue vessel with a scalloped, undulating rim. Like much pressed pattern glass, they are made of soda-lime glass, a relatively inexpensive type of glassware available to consumers after 1865. Richards and Hartley Glass Company made this pattern (factory pattern #99) in clear (colorless), canary-yellow, light and dark amber, and light blue. It dates to about 1885, when the factory was located in Tarentum, Pennsylvania, near Pittsburgh. The extended table service made in this pattern consisted of more than 45 pieces, including individual and table size covered sugar bowls, individual and table size creamers, a covered butter dish, a milk pitcher, a water pitcher, a water tray, an oblong pickle dish, preserve dishes in three sizes, a covered pickle jar, syrup pitcher, a salt shaker, a finger bowl, a waste bowl, oval bowls in three sizes, four sizes of lamps, a celery vase, a ketchup bottle, a bread plate, eight variations of compotes, and flat and footed sauce dishes—illustrating the affinity for specialized glassware for dining in the Victorian era. 4
Heat-Sensitive Glass Tumblers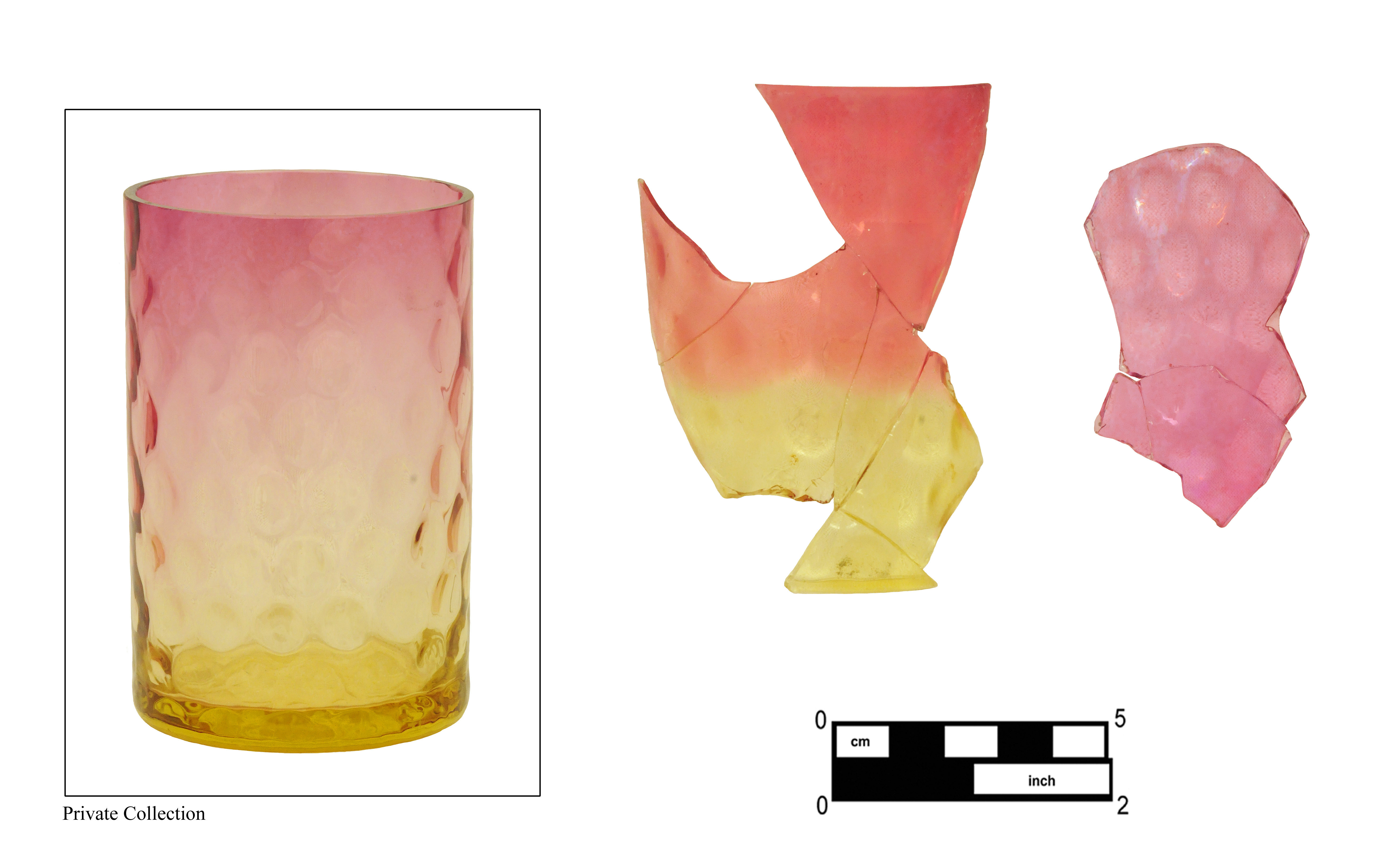 The popularity of colored glass in the last quarter of the nineteenth century went hand in hand with glassmakers having a greater understanding of glass chemistry. Adding specific metallic oxides to the glass batch made the glass strike—change color—when reheated at the furnace. Heat-sensitive glass can gradually shade from one color to another, such as amber or yellow to red or pink, or pale blue to pink. For this reason, such glass is sometimes called "bi-partite" or "parti-shaded" glass. New England Glass Works in Cambridge, Massachusetts, patented this technique in 1883 and called it "Amberina." Other companies in America and Europe also made heat-sensitive glass, and "amberina" became a generic term for glass shading from amber to ruby. 5 Feature 1 contained sherds of a lead-glass heat-sensitive tumbler that shades from light amber at the base to pale pink (G-0830). It was blown in an optic mold to produce an overall thumbprint pattern. Sherds of another lead-glass heat-sensitive tumbler were recovered in the same feature. It was also blown in an optic mold with oval thumbprints, but it is pale cranberry in color (G-1044). While not the most expensive glass of the period, the tumblers were the height of fashion in the late 1880s.
Glass Engraved with the Initial "M"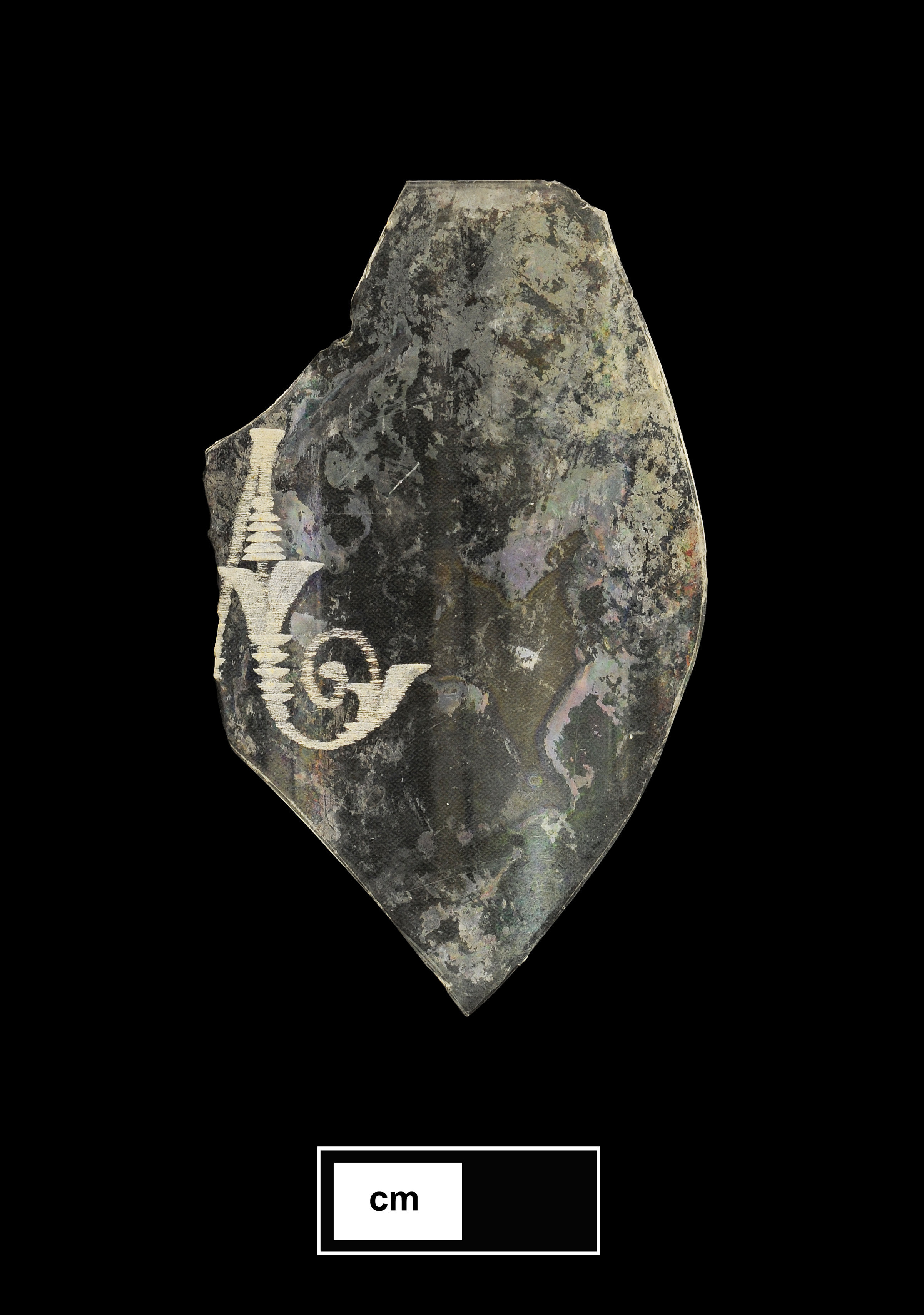 The Feature 1 assemblage includes a colorless lead-glass vessel sherd bearing the right half of the initial "M," copper-wheel engraved in a curvilinear script (Cat # 8.31.26). Stylistically, the engraving is similar to that found on other glass dating from the 1860s to 1880s, but it lacks the refined execution found on the best luxury wares of that period. Retailers sometimes purchased "plain" glass tableware, so it could be engraved upon request, either with a family's monogram or to celebrate a special occasion, such as a birth or a marriage. With the artifact being incomplete and several occupants of the home at 2925 Richmond having the initial "M," it is impossible to determine who owned this piece. The McCaulley's lived in the house from 1864 to 1882. William Cotter and his wife Mary owned the property from 1882 until 1887, and had children named Margaret and Mortimer. Ernest H. Steinmeyer moved into the home in 1887. His mother's name was Margaret and his new bride, Wilhelmina, went by "Minnie." 6
Glass Casters
The bottom half of two mold-blown colorless lead-glass caster bottles feature the same molded pattern and represent pieces from a matched set (Cat # 8.28.12 and 8.30.37). Caster frames or stands usually held at least three containers: a tall bottle for pepper, a tall cruet with a pouring lip for oil, and a shorter, wider bottle for mustard. The two caster bases found during excavations are of the same size, suggesting that they represent two of the taller bottles. A few fragments of the upper body show a molded design that appears similar to the "Excelsior" pattern made by McKee and Brothers in Pittsburgh, Pennsylvania. 7 Other pieces of matched tableware in this pattern were illustrated in their catalogs from about 1859 through 1871. It is interesting to note that a toy caster in a different pattern was also recovered from this feature.
Gottlieb F. Bauer Beer Bottle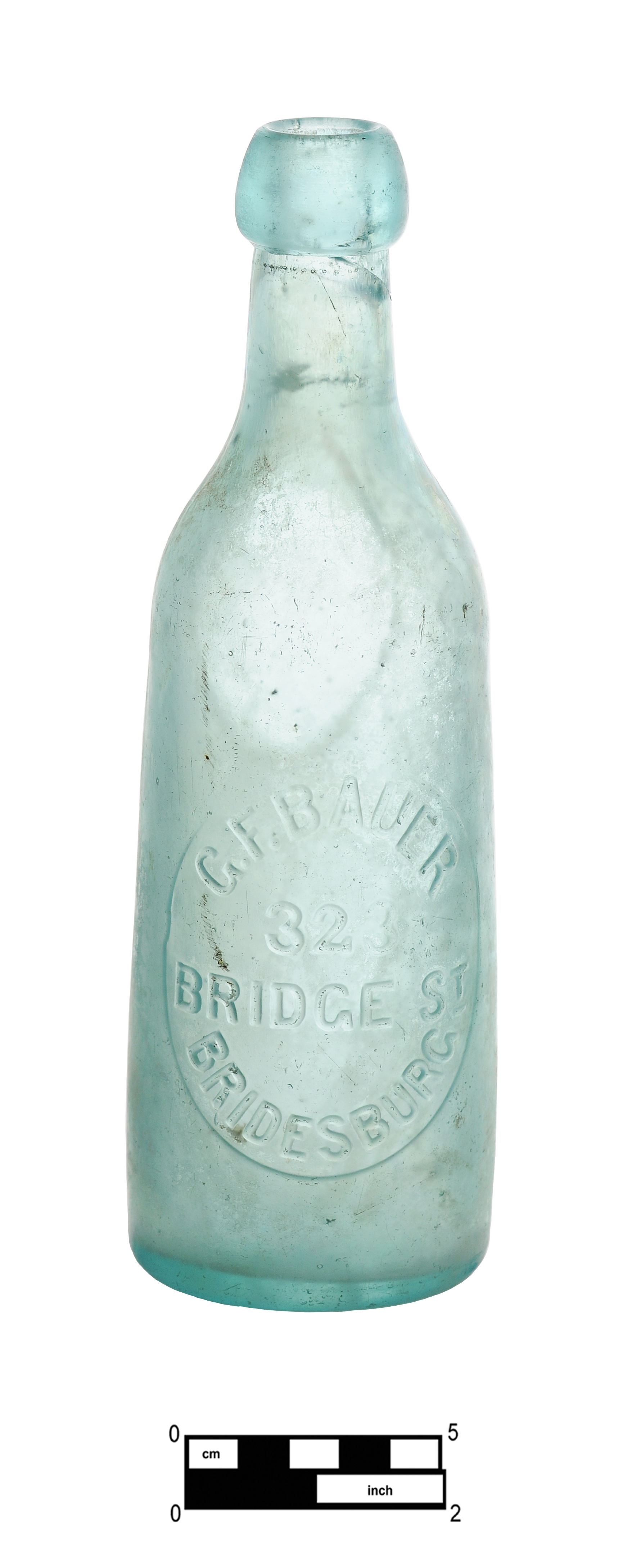 Feature 1 produced an aqua beer bottle (G-0814) embossed "G. F. BAUER / 323 / BRIDGE ST / BRIDESBURG" within an oval plate on its front and "THIS BOTTLE / NOT TO / BE SOLD" on its back. Gottlieb F. Bauer (b. 1848–d. 1938) worked as a bottler at 323 Bridge Street in Bridesburg between 1875 and 1891, though based on its physical characteristics (particularly the applied finish and lack of air-venting marks), this bottle was likely made no later than the mid-1880s. 8 The heavy use-wear on the base of the bottle and the wording on the back indicate that this bottle was probably returned to the bottler and recirculated numerous times before ultimately being deposited into Feature 1—possibly circulated during Bauer's entire period at 323 Bridge Street and potentially even beyond. Bauer, who came to the United States from Germany around 1865, was last listed as a bottler in the city directories in 1910. 9
Richmond Bottling Company Beer Bottle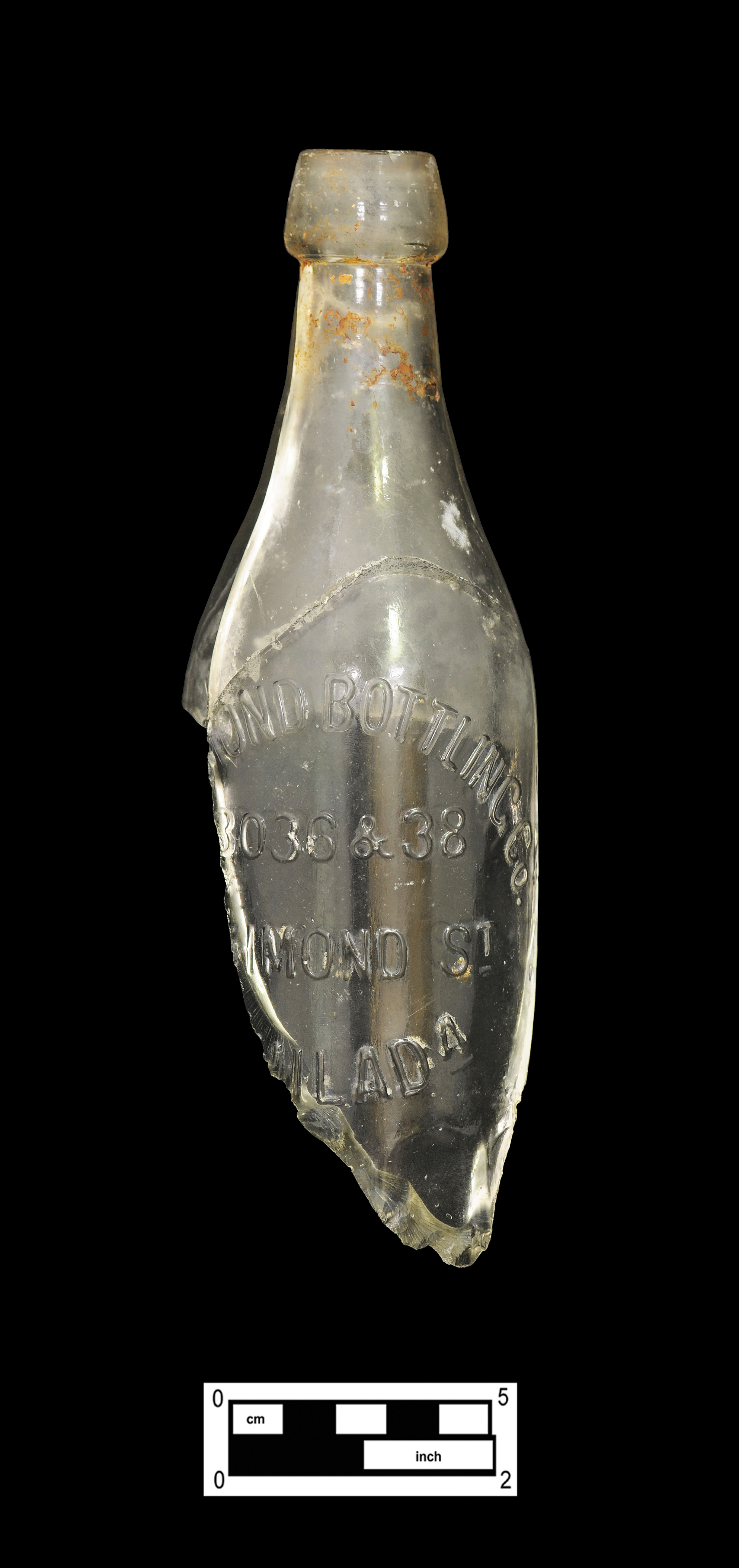 A large portion of a gray-tinted, colorless beer bottle (G-1035) was also recovered from Feature 1, and is embossed "[RICH]MOND BOTTLING Co. / 3036 & 38 / [RIC]HMOND ST / [P]HILADA." This bottle would have also once had the letters "F & K" on the bottom of its paneled "mug" base (now missing). The partnership of Albert M. Fischer (b. 1848–d. unknown) and Christian W. Kauffman (b. 1860–d. 1905) is described in the Philadelphia city directories as "bottlers" in 1889 and 1890, though both men appear at the addresses embossed on the bottle by 1888: Albert Fischer at 3036 Richmond Street 10 and Christian Kauffman at 3038. 11 Fischer & Kauffman, as a partnership, is listed at the rear of 3036 Richmond Street during the two years it appears in the directories 12; 3036–3038 Richmond Street is located on the block between Indiana Avenue and Clearfield Street, just across from where Elkhart Street intersects Richmond. While Fischer moved away from Richmond Street after 1890, Kauffman remained at 3038 Richmond as a bottler into the early twentieth century, though probably operating independently of Fischer. Given the "F & K" embossing that would have existed on the base of the Feature 1 bottle, it likely dates from the period of the Fischer & Kauffman partnership, spanning only 1887–1890. Interestingly, the name "Richmond Bottling Company" never appears in the city directories during the years of the partnership.
Though Christian Kauffman's first child was named after his eventual business partner (Albert Fischer Kauffman, b. 1885–d. 1885) several years before the partnership formed, the nature of the relationship between the two men is unknown beyond their bottling business. Christian Kauffman was, however, the brother-in-law of Ernest H. Steinmeyer, the head of household at 2925 Richmond Street from 1887 until his death in 1898. In 1884, Kauffman married Mary Zimmerman, the older sister of Ernest Steinmeyer's wife Minnie. The Richmond Bottling Company bottle from Feature 1 was not only recovered behind 2925 Richmond Street, but was also circulated (circa 1887–1890) during the Steinmeyers' period of occupation at the property, a clear remnant of that family's (and extended family's) presence there.
Latest Styles
During the mid to late nineteenth century, consumers had a greater variety of ceramic and glass tableware to choose from, and many new techniques were introduced to entice customers to purchase the latest styles.