Through our engaging exhibitions, diverse audiences discover how archaeology, artifacts, and other period resources reveal how life along the Philadelphia Waterfront has evolved over the past 6,000 years. What evidence do we have of the city's original Native American inhabitants? Who were the families, tradesmen, and merchants who lived and worked in these neighborhoods? What do the artifacts tell us about the daily lives of people living on the waterfront? What occupations and industries shaped the identity of these neighborhoods? We are excited to partner with local museums to explore these questions and much more.
Current & Upcoming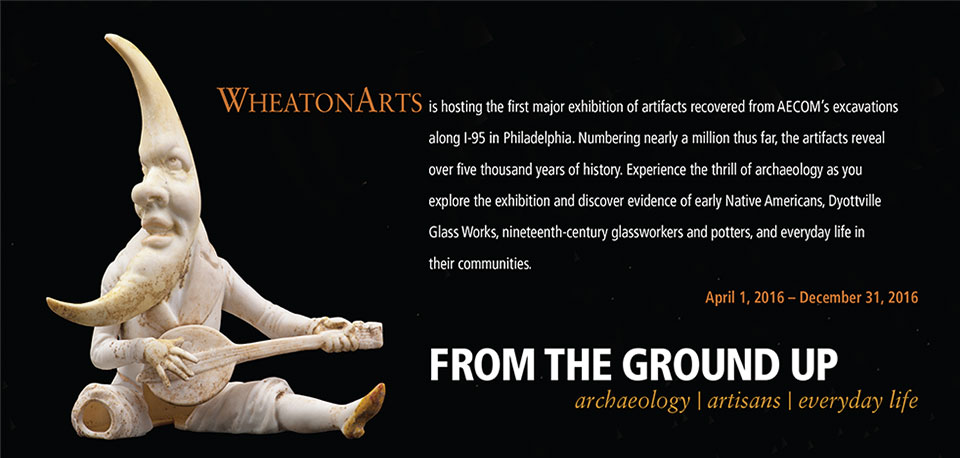 Save the Dates: October 15 and December 17
Digging Deeper Family Activities and Gallery Talk
In conjunction with From the Ground Up: Archaeology, Artisans, & Everyday Life
Museum of American Glass, WheatonArts, Millville, New Jersey
From the Ground Up: Acknowledgements & Contributions
Past Exhibitions and Programs
Digging Deeper: Family Activities and Gallery Talk
Saturday, July 16, Gallery Talk 1:30-2:30
Museum of American Glass, WheatonArts, Millville, NJ
Explore the exhibition and special activity stations with AECOM archaeologists, historians, and digital media staff. Be among the first to see newly discovered artifacts that are not in the exhibition. Learn first-hand about archaeology, prehistoric (Native American) artifacts, 3D visualization and printing technologies, historical research, and handwriting in the past. Free with Admission
Future Digging Deeper programs related to the exhibition are scheduled for October 15 and December 19 at WheatonArts.
September 21, 2012 – February 4, 2013
Digging the City
Independence Seaport Museum
Philadelphia, PA
Programs in conjuction with Digging the City
Independence Seaport Museum, Philadelphia
January 17, 2013
"The Dyottville Glassworks: One of the Greatest Curiosities of this Country"
December 13, 2012
"Living along the River: 18th and 19th Century Artifacts from Fishtown"
November 15, 2012
"A Glimpse of Native American Life along the Delaware Waterfront"