Development and Early Residents, 1843–1864
In July 1844, Philadelphia lawyer Eli K. Price sold a 20-x-200-foot lot located on the southeast side of Richmond Street—240 feet northeast of William Street (now East Cambria Street), and extending to Larch Street (now Melvale Street)—to William Maughan on a ground rent of $45 a year. 1 This lot was composed of two smaller lots numbered 25 and 26 on the plan of the village of Richmond. Maughan, who may have been the same individual as a 35-year-old Irish immigrant named William Mahon enumerated by the 1850 census in the Richmond District, sold the property after about six months to contractor Charles Smith for $600. 2
Smith, who owned other properties on the block, was forced into a sheriff sale in March 1849. Grocer Thomas Fey purchased the lot and another property at the corner of William and Larch Streets for $8,075 in March 1849. 3 According to the deed, at the time of the sale a double two-story frame dwelling was located on the Larch Street side of the property. Though it is possible that this structure was constructed during Maughan's ownership of the property, it seems more probable that Smith built it. Fey divested himself of both properties he had bought in the sheriff sale in April 1853, when he sold them to Philadelphia merchants Patrick Levy and Andrew McBride for $18,000. 4 Levy became the sole owner just over two years later when McBride sold him his half share of the lot, as well as other properties in the neighborhood, for $1,500. 5
In the late 1850s, Charles Lennig, who had previously owned and operated a chemical works at the intersection of Richmond and Ann Streets before moving it to Bridesburg, acquired the half of the lot that fronted on Richmond Street (lot 25). 6 He sold it to Edward Laing, a resident of Bristol Township in Bucks County in August 1859, who in turn sold it for $1,450 in January 1860 to Alexander Cathers, a gentleman resident of Buckingham Township, Bucks County. 7 By the time Cathers purchased the property, a dwelling had been constructed on the lot—presumably the three-story brick structure that stood until Interstate 95 was constructed.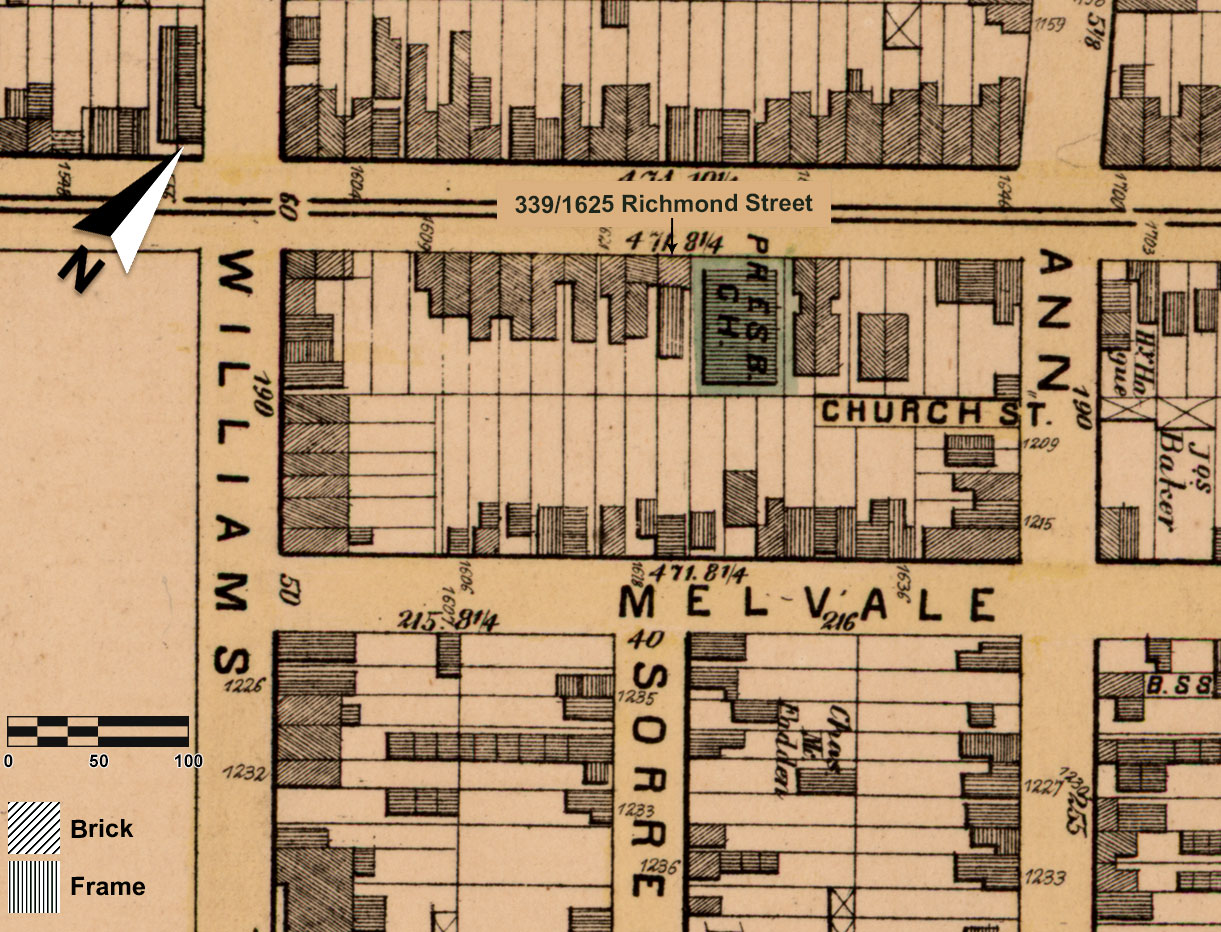 Though the exact date of construction is unknown, a structure would seem to have been situated on the property by 1854, when John Craven and John R. Haslett were listed in the city directory as running a painting business at 339 Richmond Street, the address initially assigned to the property. 8 Craven and Haslett were both Pennsylvania-born painters in their early 20s when they began their partnership, and both resided at locations on Somerset Street while their business was located at 339 Richmond. 9 In about 1856, a child was born to Haslett and his wife, and Craven moved to what is now Center City Philadelphia. The partnership may have briefly continued, but by 1857, James M. Cathers occupied the property. 10
James M. Cathers is presumably related to Alexander Cathers—possibly a younger brother, as only 14 years separate their births. 11 James M. Cathers may initially have been a merchant, as indicated in some directory entries and the 1860 census, which recorded his wife Margaret, and two young sons living with him at 339 Richmond. 12 Eventually, he seems to have accumulated enough wealth to live off of, as he was also listed without an occupation or as a gentleman in several directories. 13 In May 1864, Alexander Cathers—now keeping an inn in Raritan, New Jersey—sold the property to Samuel A. McCaulley for $1,100. 14 James M. Cathers moved his family to Greenwich Township in Warren County, New Jersey, where he eventually became a farmer. 15 Interestingly, the family would once again own property on the block decades later, when Margaret's brother William Righter, who owned the house at 2922 Melvale Street, bequeathed to her sons shares of the property in his will. 16
The McCaulley Family, 1864–1882
Samuel A. McCaulley, who purchased the property at 339 Richmond Street in May 1864, was a Pennsylvania native in his mid-30s. 17 McCaulley had married Elizabeth Hinerman at the First Presbyterian Church of Kensington in 1848, and within a year they had moved to Salmon Street in the Richmond District. 18 Shortly after moving to Richmond, Samuel opened a grocery store on William Street. In 1852, he was appointed the postmaster of the Port Richmond Post Office, a position he seems to have held until about 1855, at which time he left the grocery business and a partnership with local grocer Francis Edwards. 19 He found work as a clerk/superintendent on the Philadelphia and Reading Railroad's coal wharves, the job he held when he purchased the property and moved his family into it. 20 At the time, the McCaulley family included his 33-year-old wife Elizabeth and their children Lemuel, Edward, Catharine, Lillian, Frances, Anne, and Henry, who ranged in age from 15 to two. The McCaulleys were relatively well off by this time, especially considering that Samuel was able to hire a substitute to fight for him in the Union Army in July 1864. 21 Shortly after the McCaulleys moved to the property, the houses on the street were renumbered, and 339 Richmond became 1625 Richmond. 22
In the late 1860s, McCaulley began working as an agent selling coal, possibly for firms in which coal merchant John E. Graeff was partner. 23 In 1868, when the family's youngest surviving child was born, he was named Graeff W. McCaulley—presumably in honor of his father's employer, though he may also have been named after prominent Port Richmond lawyer Edward C. Graeff. Samuel McCaulley's two eldest sons also went to work in the late 1860s—Lemuel as a machinist and Edward as a clerk on the coal wharves. 24 By late 1872, Edward had moved off the Reading's wharves and was working in the office of one of the coal companies located at 205 Walnut Street, possibly Girard Mammoth Coal, John Rommel, Jr. and Bro., or St. Nicholas Coal. 25 Perhaps due to this experience, within the next year he and his brother Lemuel started selling coal under the name McCaulley Bros. at the corner of Frankford and Lehigh Avenues, right on the Philadelphia and Reading rail line to Port Richmond. 26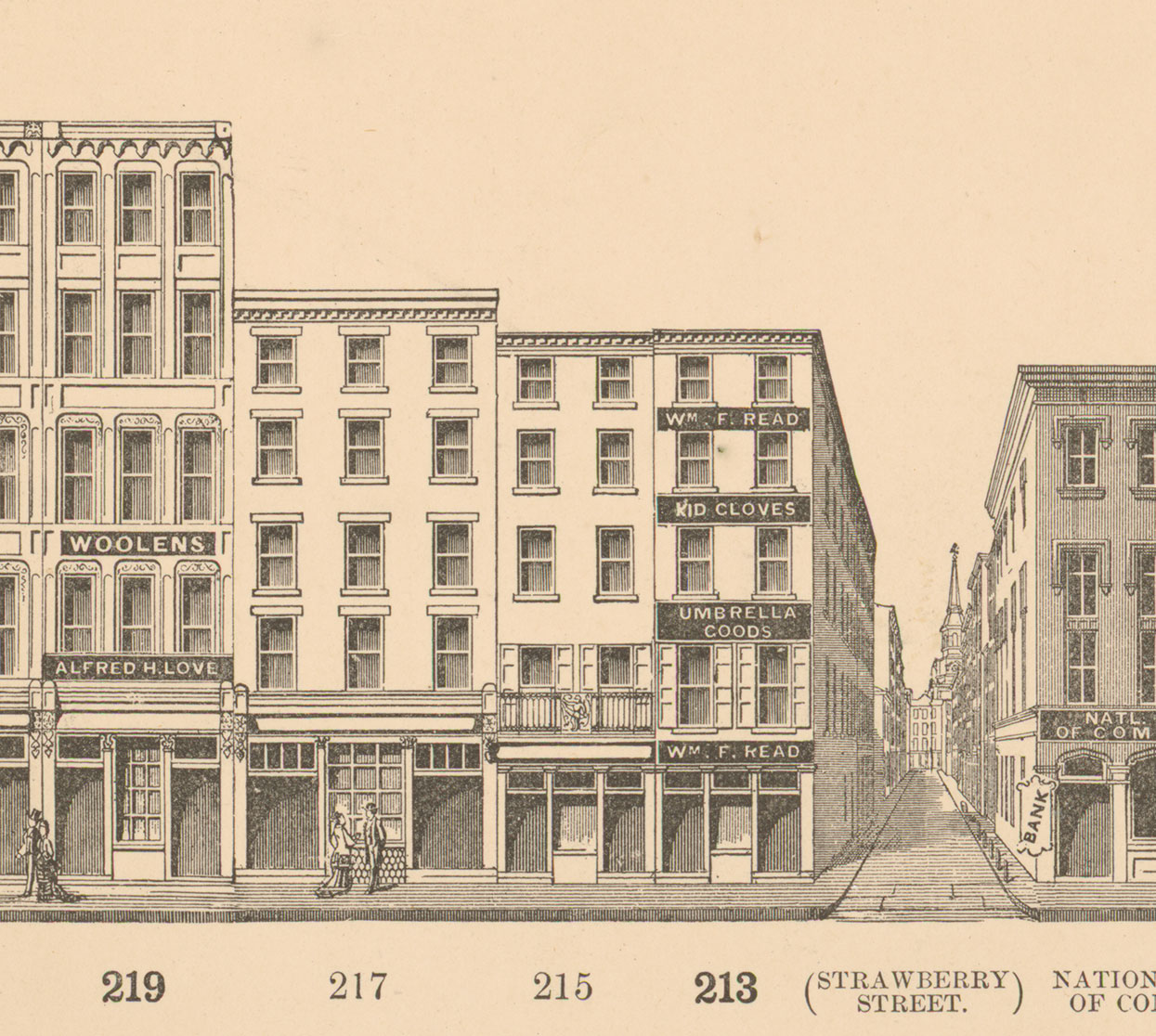 By late 1877, Samuel A. McCaulley had left Graeff's firm and started S. A. McCaulley & Sons with Lemuel and Edward, the two of whom may have kept McCaulley Bros. as an independent concern. According to the 1878 city directory, the two firms were operating at three sites: both S. A. McCaulley & Sons and McCaulley Bros. were listed at Frankford and Lehigh, as well as the corner of Diamond and North Delhi Streets; while S. A. McCaulley & Sons operated on its own at 118 Chestnut Street. 27 The location at Diamond and Delhi seems to have closed shortly after, and the 118 Chestnut Street office moved to 215 Chestnut Street before again moving in favor of a location at 206 Walnut Street, where Samuel's brother James McCaulley operated a tugboat business. 28 A location on the corner of Trenton and Lehigh was also opened in the early 1880s. 29 Though less than a fifth of a mile from their Frankford Avenue location, perhaps the McCaulleys were seeking to take advantage of the Pennsylvania Railroad line that ran down the length of Trenton Avenue. In 1880, the family's business interests expanded and diversified when Samuel A. McCaulley joined with Samuel J. Goucher to form Goucher & McCaulley, a ship brokering firm. 30
By that year, Lemuel, Edward, Catharine, and Lillian McCaulley had all married and moved out of the family home at 1625 Richmond. 31 The remaining members of the family would not stay for long. Samuel A. McCaulley sold 1625 Richmond in December 1882 for $3,400 and moved his family close to the homes of his sons Lemuel and Edward on Cumberland Street, where he would die just four years later at the age of 58. 32
The Cotter Family, 1882–1887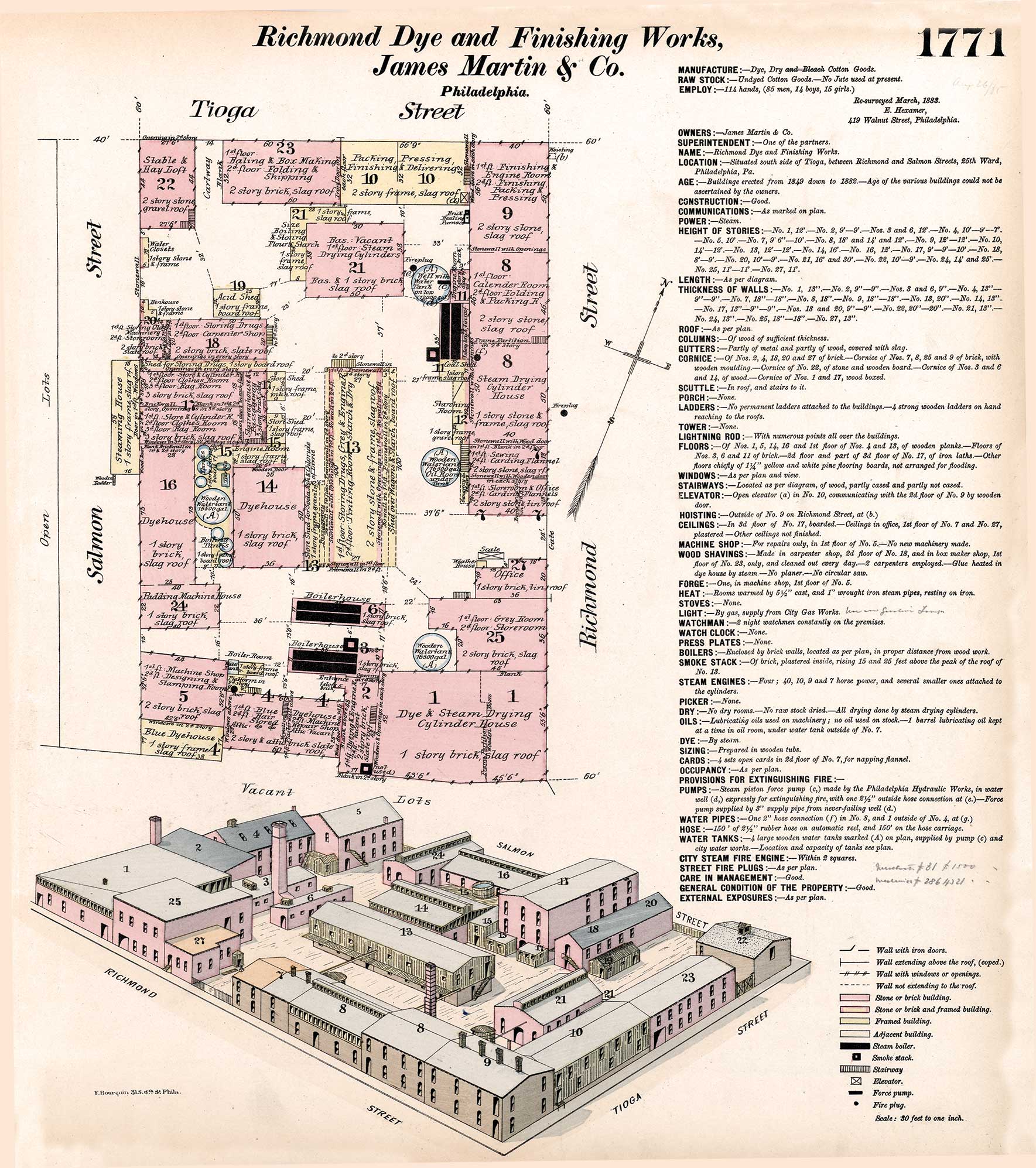 The man who purchased 1625 Richmond (renumbered 2925 Richmond in about 1885) from Samuel A. McCaulley was William R. Cotter, a bookkeeper and clerk, likely in the James Martin & Co. dye house at Richmond and Tioga Streets. 33 The Cotter family—consisting at the time of 40-year-old William, his 35-year-old wife Mary, their eight-year-old son William, four-year-old daughter Lottie, three-year-old son Frederick, and infant daughter Elizabeth—had been living on Thompson Street, but perhaps moved to 2925 Richmond due to its proximity to the home of Mary's parents at 2915 Richmond Street. 34 Mary's father, John Thornley, was a partner in James Martin & Co., and likely helped his son-in-law secure a job with the firm.
The family had its share of high and low moments while at 2925, with the first low one being the death of Mary's father months after the family moved to Richmond Street. 35 The Cotters had three more children while at 2925 Richmond: Margaret in 1884, Mortimer in 1885, and Thomas in 1886, though this final child died when he was six months old. 36 That same year, six-year-old Frederick Cotter was run over by a wagon at Richmond and Somerset Streets, breaking his leg, though luckily he recovered and lived 73 more years. 37
In July 1887, after less than five years of ownership, the Cotters sold the property to Ernest H. Steinmeyer for $3,350. 38 The Cotters initially rented a house on Keystone Street in the Tacony neighborhood of Philadelphia before purchasing a home on a double lot at what is now 6818 Ditman Street in September 1887. 39
Ernest H. Steinmeyer and Family, 1887–1898
In July 1887, flour and feed merchant Ernest H. Steinmeyer purchased 2925 Richmond Street from William R. Cotter for $3,350. This purchase began over 75 years of Steinmeyer ownership—decades longer than any other owners of 2925.
Twenty-five years before he purchased 2925 Richmond, Ernest Henry Steinmeyer was born to German immigrants Ernest H. and Margaret (Beltz) Steinmeyer. He was their third of four surviving children, with the others being Charles Ernest, born 1859; Anna, born 1860; and Henry, born in 1868. 40 The elder Steinmeyer had run a hotel and tavern on the 1100 block of Ridge Avenue with his in-laws in the early 1860s, before moving to the Northern Liberties section of Philadelphia, where he sold flour. 41 In late 1867, he moved his family and business to 1716 Richmond Street, which he purchased in April 1868. 42 Just one year later, he died of tuberculosis at age 39.43 The widowed 29-year-old Margaret took over the flour business, and in 1870 married Joseph Becker, a 24-year-old teamster. 44 Together, the couple had at least five children—George in 1871, Hannah in 1872, Mary in 1874, William in 1876, and Louisa in 1878—the last two of which died as infants. 45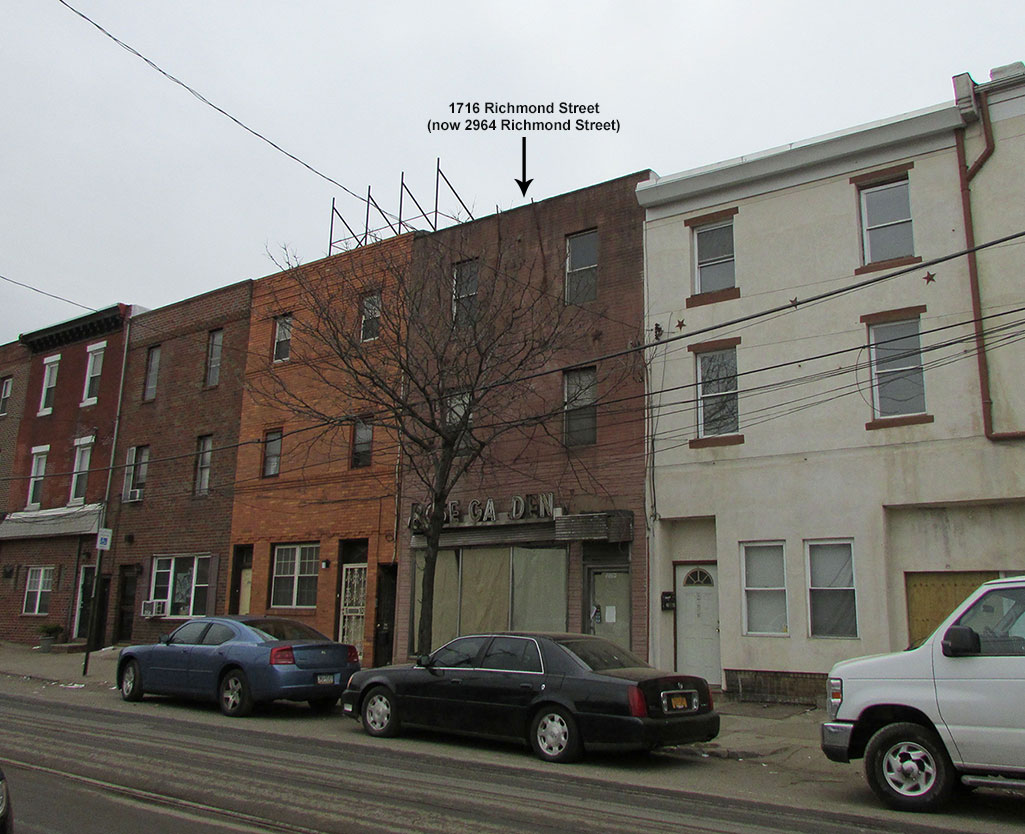 Though Becker took over running the store, by the late 1870s, the elder Steinmeyer sons were playing a more active role in the business, with Charles E. Steinmeyer even representing feed and flour in an 1879 parade in honor of Ulysses S. Grant. 46 It was not only the male children who were stepping into business—Anna Steinmeyer may have been running her own millinery business at 1720 Richmond by the early 1880s. 47 Around this time, Joseph Becker made some shady real estate and business deals and apparently left the region, after which Margaret eventually obtained a divorce. 48 Charles soon left the flour business and ran a number of saloons and cigar shops in Port Richmond before eventually drifting down to Old City Philadelphia, where he ran a bar on Dock Street until his death in 1896. 49 Ernest took over the grain business, selling flour and feed from the family home at 1716 Richmond, which was renumbered 2964 Richmond in the mid-1880s. 50 In 1884, Anna married jeweler Oscar Spiess and moved up the block. Anna operated a millinery business from their home at 2984 Richmond, while Oscar had a jewelry store at 2970 Richmond. 51
In 1886, Ernest opened a feed store to 2949 Richmond Street, at the northeast corner of Ann Street. 52 The next year, he married 24-year-old Wilhelmina "Minnie" Zimmerman and purchased the house at 2925 Richmond, perhaps funded in part by the sale of property he owned on the 3000 block of Melvale Street. 53 Over the next seven years, the couple had three children: Marguerite, born about 1889; Ernest Henry, born 1892; and Harry Herbert, born 1894. 54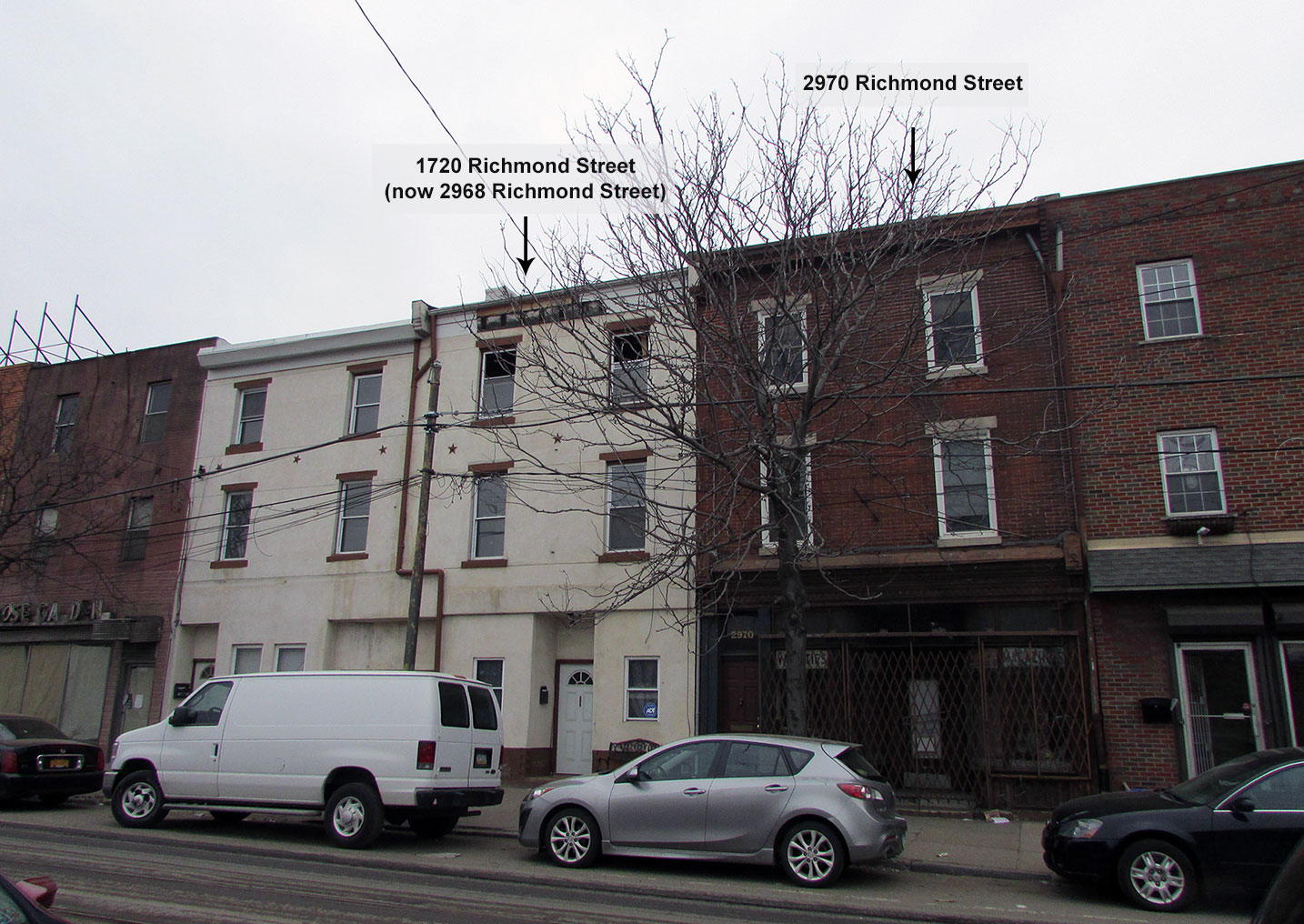 In about 1889, Ernest's brothers Henry S. Steinmeyer and George J. Becker officially joined him in the flour business, with the new enterprise being known as E. H. Steinmeyer & Bros. 55 Interestingly, within a year of the establishment of the partnership, George J. Becker changed his name to George J. Steinmeyer. 56 The reasons for this change are unknown—perhaps it was because of loyalty and filial affection, or it may simply have been for business reasons. Ernest Steinmeyer's business continued to expand; he apparently began selling animal feed in addition to flour, and in 1890 opened a short-lived livery at 3037 Richmond Street. 57 In 1892, E. H. Steinmeyer & Bros. opened a feed store about a mile away from their flour business on the 3200 block of Frankford Avenue. 58 At the end of that same year, Ernest purchased the building recently vacated by the Port Richmond Methodist Episcopal Church at 2963 Richmond, and moved his feed business there. 59 For unknown reasons, Henry left the partnership with his brothers in 1893, and continued to run the flour business at 2964 Richmond in a separate partnership called Steinmeyer Bros. with Ernest. 60 Ernest seems to have been involved in partnerships with both brothers in addition to his feed store at 2963 Richmond for a short time, but by 1897, it appears that Henry was running the flour business alone. 61
From his early 20s, Ernest Steinmeyer had been an active member of the Port Richmond community. A member of the board of trustees for the Richmond Presbyterian Church, in 1885, he served as secretary of the affiliated Richmond Local Relief Committee as it assisted the community in recovering from the tornado in August of that year. 62 In later years, he joined a campaign to have new water mains laid in the neighborhood and was an active backer of former governor Robert E. Pattison in the Democrat's unsuccessful bid to be elected mayor of Philadelphia. 63 On the social scene, Ernest and his wife Minnie seemed to be a part of the wider Philadelphia-German business community, as evidenced by their attendance at an 1898 25th wedding anniversary party for insurance agent Benjamin Houseman and his wife Fanny Ballenberg (the former of which had grown up around the corner on William Street). 64 Other guests at the party included prominent figures such as Nathan and J. J. Snellenburg, George Widener, and Edwin S. Stuart. More evidence of their relatively well-off status was the live-in driver they employed in the 1890s, Martin Engel, who presumably roomed in the third-floor bedroom. 65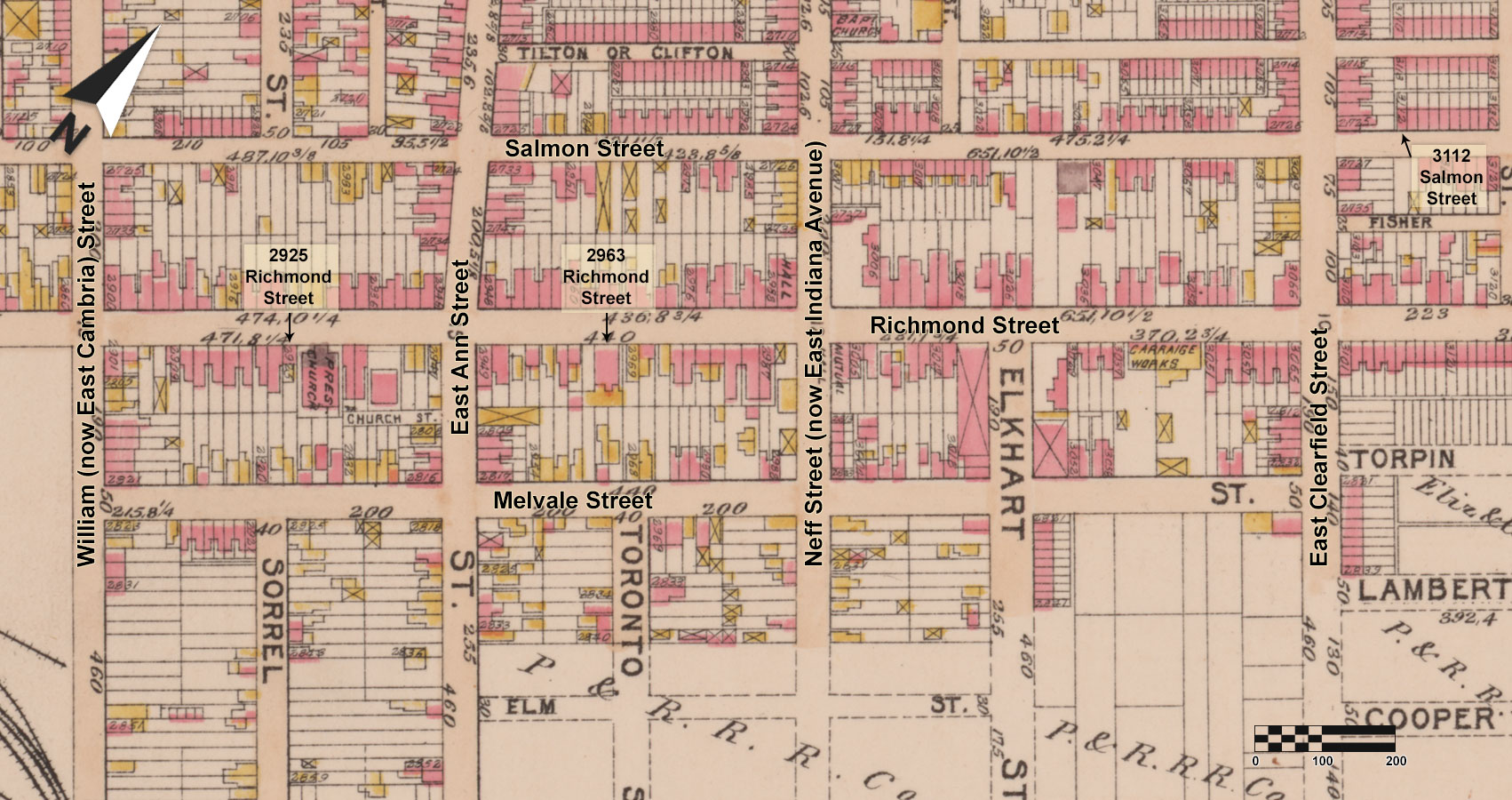 In October 1898, Ernest H. Steinmeyer died of cirrhosis of the liver at age 37. 66 In his will, he left his entire estate—including the properties at 2925 and 2963 Richmond, as well as a rental property at 3112 Salmon Street—to his wife for the remainder of her widowhood. The inventory of his possessions taken upon his death gives a snapshot of the family's business and lifestyle at the close of the nineteenth century. At the time of his death, Steinmeyer owned two horses, three wagons, and four carriages. In the feed store at 2963 Richmond was a boiler and engine that presumably powered his gristmill. Also in his possession were around 4,900 pounds of hay, 5,000 pounds of feed, and 300 pounds of straw. In the house at 2925 Richmond were four bedrooms—three on the second floor occupied by the family, and one on the third probably used by a servant or boarder. On the first floor, moving from front to rear, were a parlor, sitting room, dining room, and kitchen. The parlor would likely have been used for entertaining guests, while the sitting room was for the family's private use. 67
The Steinmeyer Family in the Twentieth Century, 1898–1966
The widowed Minnie Steinmeyer and her brother-in-law Henry S. Steinmeyer—the two executors appointed in Ernest's will—quickly moved to settle the estate. An auction of the feed store's stock was held at the end of November 1898, and the house at 2925 Richmond was sold to Minnie's sister Mary Kauffman for $250 on December 30, though Minnie and her children continued to reside in it. 68 The property on Salmon Street was sold a week later, and the feed store at the end of March 1899. 69 By late 1899, Minnie had rented a one-story brick building at 2907 Richmond Street and reopened the feed store there. 70
Minnie continued to run the store into the 1910s with the assistance of her son Ernest, and in December 1913 bought back the house at 2925 from her sister. 71 Marguerite found employment as a bookkeeper at a local steel works (possibly I. P. Morris), while Harry became an office manager while attending the University of Pennsylvania. 72 He entered the U.S. Army during World War I as a second lieutenant, but left the service for unknown reasons in May 1918 after only eight months. 73 After his return from the service, Harry was elected to the board of trustees of the Richmond Presbyterian Church, holding a seat on the board into the early 1920s. 74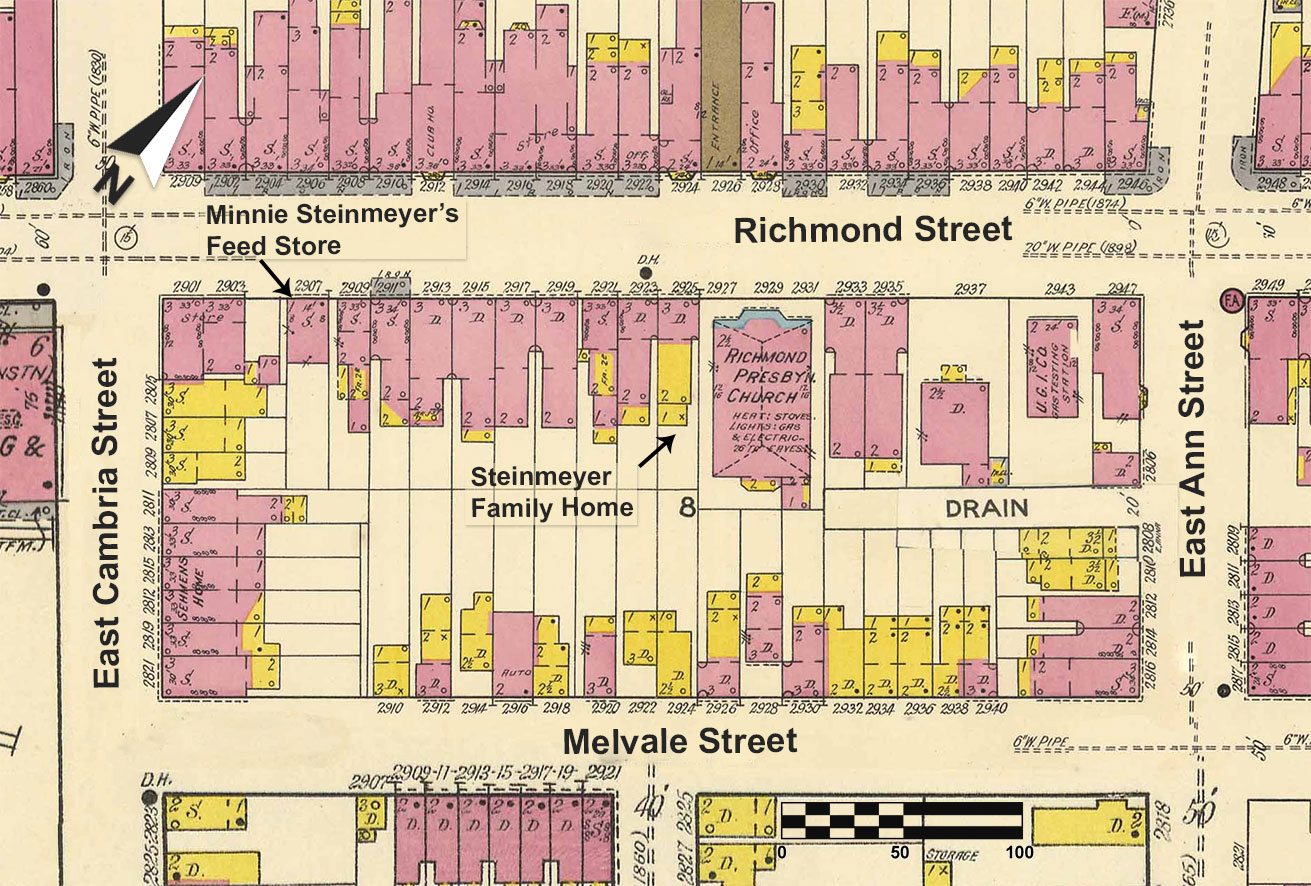 In 1919, Ernest married May E. Stevens and moved to the 1100 block of Herbert Street in the Frankford section of Philadelphia. 75 Two years later, Harry married Dorothy Maneely and moved to 3064 Thompson Street. 76 After Ernest's wife died in 1922, he moved back to 2925 with his mother and sister. 77 Though he had continued to run the feed store into the early 1920s, the continued urbanization of the area and rise of the automobile likely forced him out of business. By 1930, a year after his sister Marguerite had married and moved to East Orange, New Jersey, he was employed as a salesman in a department store. 78 In early January 1949, Minnie Steinmeyer died at age 87, and—at least according to her obituary—was one of the oldest residents of Port Richmond. 79 Harry and Marguerite sold their third shares of the property to their brother Ernest, who may have still been residing at the address. 80 In the early 1960s, the structure was demolished for the construction of Interstate 95.