Items associated with the architectural structure of the house at 1018 Palmer Street comprise nearly 20% of the recovered artifacts. In addition to large amounts of fragmented window glass, corroded iron nails, and bits of mortar, there are several artifacts that stand out amid the more commonplace pieces of construction and demolition debris.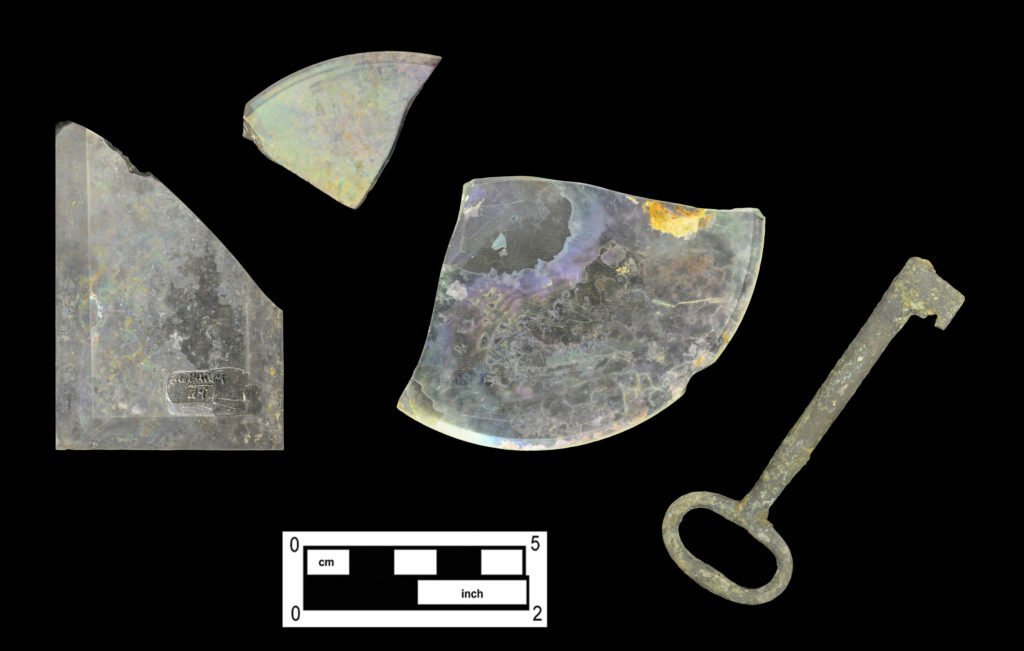 Beveled Glass
Of note among the architectural materials are three pieces of beveled glass that may have been part of a leaded window or door. 1 One of the panes is rectangular and features a wide bevel on three surviving edges (Cat # 4.24.492). The other two fragments were probably part of the same rounded pane, with a narrow bevel and ground edge (Cat # 4.24.606, 4.27.141).
Brass Key
A brass key, similar to those used to open mortise type box locks, was also recovered (Cat # 4.29.61). The 1865 edition of the Catalogue of American Hardware of the Russell and Erwin Manufacturing Company illustrated four pages of keys made from brass or iron and identified them as "door keys." 2 While brass locks and keys were more expensive than those made of iron, they were recommended:
There is no economy in finishing a house with door-locks of inferior price and quality; as they are so often out of order that the frequent expense of having them repaired soon becomes greater than would have been the additional cost of having good ones at first. Brass locks and keys are the best and therefore the most economical… 3
It is likely that this key was lost to the depths of the privy after falling unnoticed from a pocket.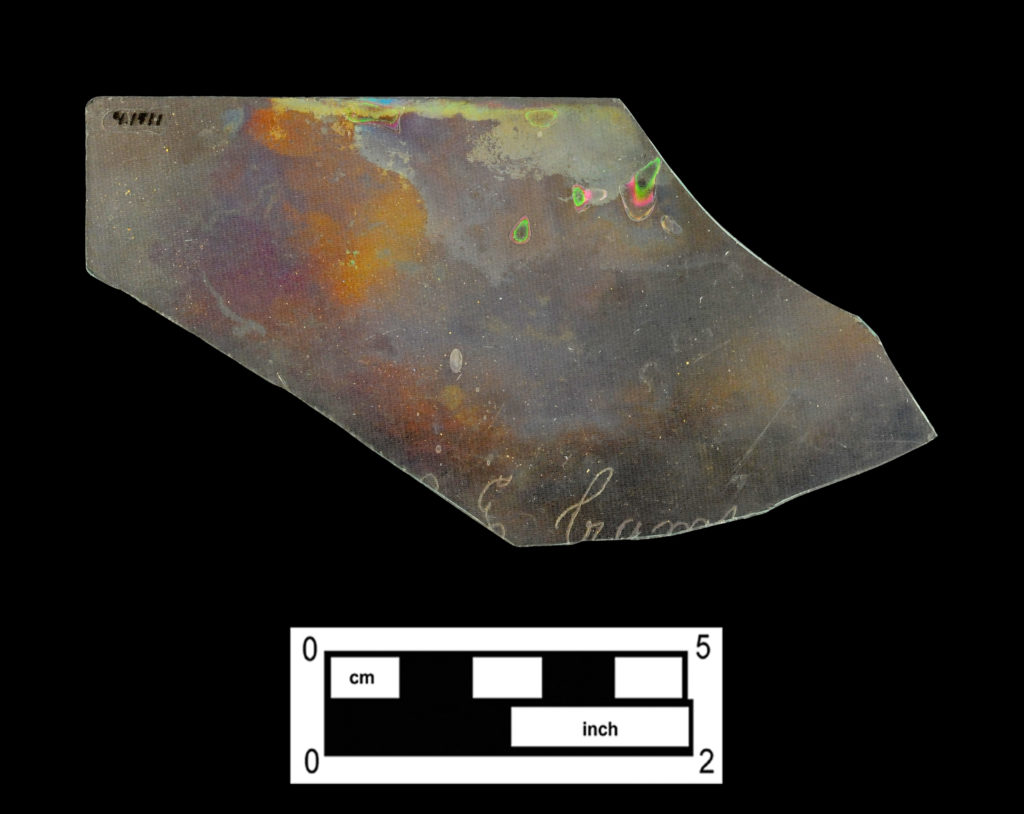 Signed Window Pane
This piece of broken glass pane was one of over a thousand shattered window fragments excavated from this privy (Cat # 4.37.1). Closer inspection of the broken edge revealed that it had been etched in elegant yet simple script lettering with the name "… Cramp." There appear to be two capital letters preceding the surname, which may correspond to the first and middle initials of the individual's name. While it is not known which family member personalized this window pane, this carefully etched signature may have commemorated a significant event, such as an engagement, marriage, or the completion of the construction of the house.
Some historical accounts describe women and men using a diamond ring to etch names, dates, or lines of poetry into glass panes. By the early nineteenth century, inscribing window panes was an established practice and special implements were available for that purpose. An advertisement published in The Evening Post on December 22, 1826, announced: "The Penman's Repository – For sale at Stout's Establishment, at the corner of Wall and Nassau Streets…Diamond Pens, to write on glass…" 4 This is the only piece of personalized window glass recovered from the I-95 project excavations to date.